Terror Films, one of the most recognizable, digital distributors of indie horror, is about to have its best October season yet.
OCTOBER 1st & 2nd
The horror label will kick off the month by attending the premiere event of HorrorCon Los Angeles, being held at the LA Convention Center on October 1st and 2nd. The company will be giving away various goodies to fans who stop by their booth to take a photo in front of the Terror Films step-and-repeat. Tickets to the event can be found here: https://horrorconla.com
OCTOBER 6th to OCTOBER 14th
Beginning on October 6thth, Terror Films will release the entire Hell House LLC franchise for free on their official YouTube AVOD channel as a lead up to the premiere of "Hell House LLC III: Lake of Fire" on October 14th. This will mark the first time the 3rd installment in the popular franchise has been available on an AVOD platform in the US, Canada, or UK since it was first acquired as an exclusive by Shudder in 2019. The premiere will include a live chat event with Writer / Director Stephen Cognetti and Producer Joe Bandelli. Rumor has it that there will be some sort of pre-film announcement about the future of the Hell House LLC film franchise, but the fans will have to wait and tune in for the premiere on the Terror Film's channel to find out. Save the date at the link here>>>>>>>>> https://www.youtube.com/watch?v=k3BpmE10u4E
OCTOBER 19th to OCTOBER 31st
To wrap up the Halloween season, the genre label will kick off its 13 NIGHTS OF TERROR promotion beginning October 19th on their official AVOD YouTube Channel. One new film will release every night for 13 nights between October 19th and October 31st. The films will consist of 7 library titles yet to be released on the channel and 6 new releases, all of which will include live chat events with the filmmakers and cast. The complete list of the films can be found on the attached promotional banner.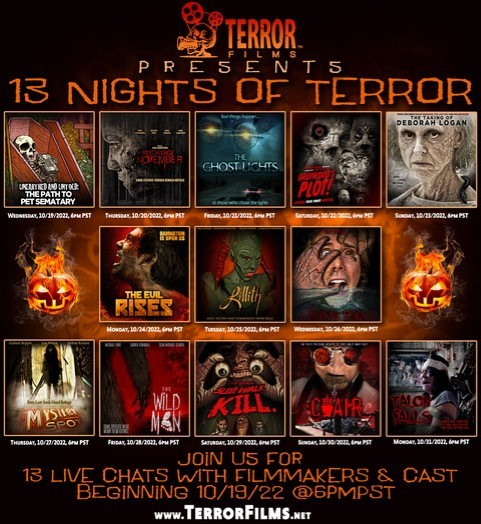 On top of all of this, the genre label has over 30 films from its popular library going live throughout the month of October on the premiere AVOD platform ROKU. It is certainly going to be a Happy Halloween from Terror Films this season.
To learn more about Terror Films, visit: www.TerrorFilms.net
Official Terror Films Channel: https://www.youtube.com/channel/UCqoWfNP5nYndE47qJ6KSYYg