EMMY and Telly – winning voice actress Tasia Valenza – Poison Ivy in the Batman: Arkham Series, Venisa Doza in Star Wars Resistance, Shaak Ti in Star Wars: The Clone Wars, Sniper Wolf in Metal Gear Solid games – has just released a dynamic TedxTalk – #GiveGreatVoice the remarkable power of tone and intent in everyday speech. She stopped by The Movie Elite to chat with us about it.
I recently watched your TEDx Talk on Give Great Voice and found it incredibly inspiring and moving. What made you decide to do one?
Thank you for your kind words. It means so much to me that you found it inspiring and moving since those were my intentions when I set about to make it.
The Tedx talk evolved over the last seven years when I first thought it would be fun and educational to translate what I do as a voiceover artist. Which is to interpret different roles and the intentions of each one and to Give Great Voice to those intentions to convey my message successfully. I thought it would be a novel way to approach public speaking, especially to college and high school students who might appreciate learning from the perspective of a voiceover artist how to play their roles more successfully. It deepened into a much more personal and poignant message as technology, and social media have dramatically changed how we communicate. We've seen a significant decline in our overall verbal communication in that time, which has made it more convenient and efficient, but much less personal and connective. I feel it's more important than ever to use our voices in addition to our fingers to convey our most intimate and emotional communication.
Â
What was your process of putting the talk together?
I took the essentials of a Giving Great Voice workshop that is usually three hours and tried to par down the essential messages of what the most important takeaways are.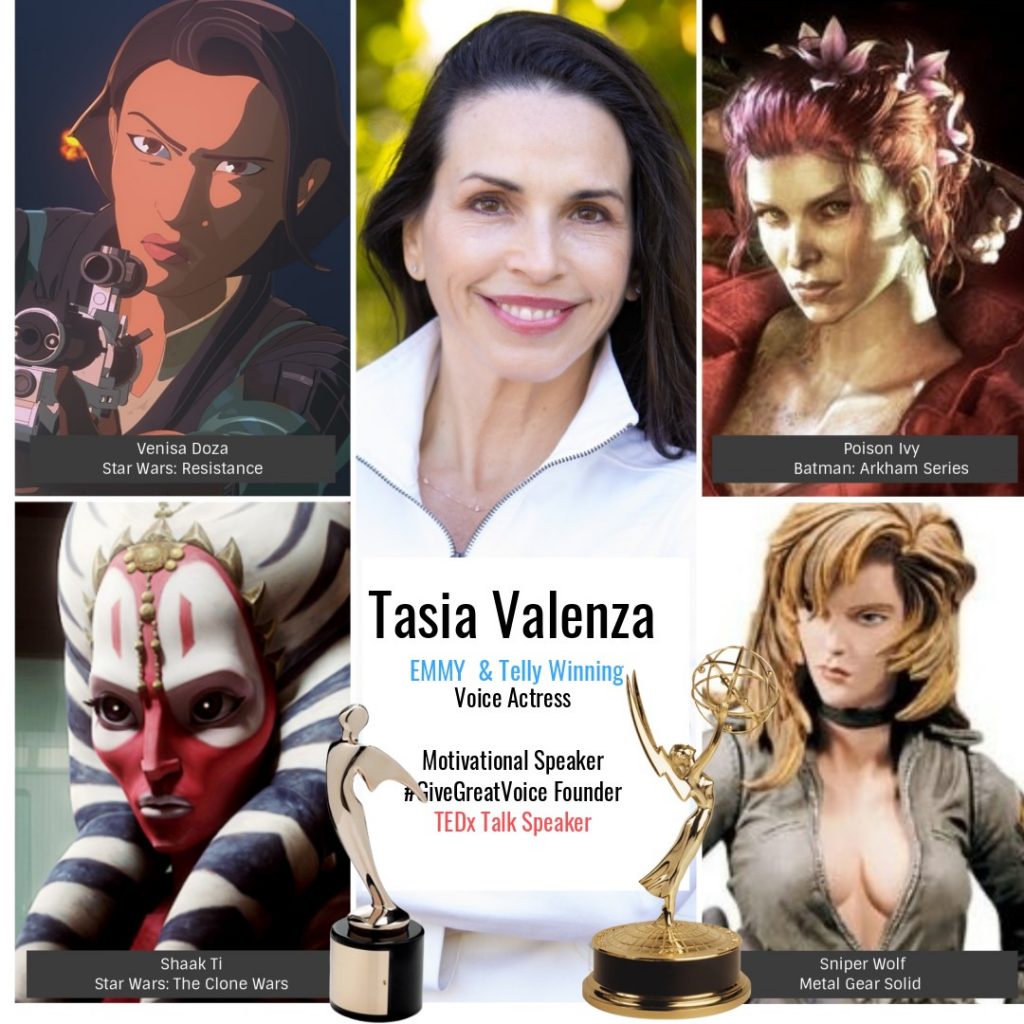 What would you like people to take away from the talk?
I'm glad you asked. LOL! The most essential ones are: to know that our voices matter, and we need to be aware that when we speak with intention, we can communicate much more successfully in many of the magnificent multifaceted roles that we play in our daily lives.
Through simple "voiceover techniques," we can become more conscious of how to Give Great Voice in three areas: to affirm and empower ourselves. We can further our goals and intentions by landing our messages as we intend them to be more successful in our careers and professional lives. And lastly, in our personal roles,to understand how important it is to make an effort to "give great voice" to those we care about. No emoji can replace our voice with a loving intention, and it truly makes a difference to those we care about.
You created a kindness campaign called the #GivingGreatVoiceChallenge; can you tell us about that?Â
The Giving Great Voice Challenge was a kindness campaign I started during the Christmas holidays, which can be a very joyful time and also a very lonely time.
So instead of sending the ugly sweater and the Amazon tchaki, the gift of our voices could be the best gift to give. So I asked friends, family and fans to post how and who they gave great voice to, so we could all be inspired to do the same, and I reposted each one to spread the love. It was my variation of the "Ice bucket challenge" but without getting cold and no money needed. I was so moved and delighted with each GGV post that people so vulnerably shared of who they touched with their voices. I was blown away by two particularly brave people ,who have both become my friends from the experience who took it the GGV challenge for thirty days and posted daily how they gave great voice! Some of the posts were hilarious, and some were incredibly moving, all were very sincere, which made me feel like it really resonated with people and made me feel like I was really on the right track with this idea.
You've also worked on creating a science-based affirmation meditation app called Haven (which I feel I will 100% need to use); how did that idea come together?
I was very fortunate to be asked to voice an affirmation meditation app called Haven as a voiceover artist.
I was so taken with the idea of an "affirmation meditation app" as opposed to other mediation apps I asked if I could wave my fee and become a partner. I believe in serendipity and synchronicity ,and it turned out they really needed help to write the masteries and affirmations for the app. And I was passionate about being part of such a powerful tool of self-kindness, which totally supports the platform of GGV… only this time it's to ourselves.
It's a totally free app, and a powerful tool to practice learning to "speak the language of self-love," which I've found is a foreign language for most people.
What has to appeal to you when you receive a script?
I'm at a point in my life that I love my VO work in every medium, and I love narrating stories and playing animated characters who have depth and are sheroes'. I also believe in Giving Great Voice by donating my voice for projects and organizations that I believe in and have been blessed to be paid back in unexpected ways. I recently won an Emmy for donating my voice to a campaign for the Wildlife animal sanctuary and a Telly for giving my voice to help the Freedom fund's campaign to end Sex Slavery around the globe.
Have you ever played a character that you identify with so much that it's been difficult to let them go?
I take a little of all of my characters with me, and I fall in love with each of them. I recently played my meaningful role to date, as Venisa Doza from Star Wars Resistance because she's the most like me in terms of being an actual human and mother. Yet she's so much braver than I'd ever be. She was a badass resistance fighter and a warm, wise mother. I admired her so much that I would be honored to continue her storyline to channel her integrity and courage.
When creating a voice for a fantasy character like Shaak Ti in Star Wars, how do you go about finding your voice, and when do you know you've got it right?Â
That's interesting because she really didn't speak in the actual movie, so I took what the writers especially the amazing Dave Feloni who created The Clone Wars what he shared and hoped I had done Shaak Ti proud and it turns out I did.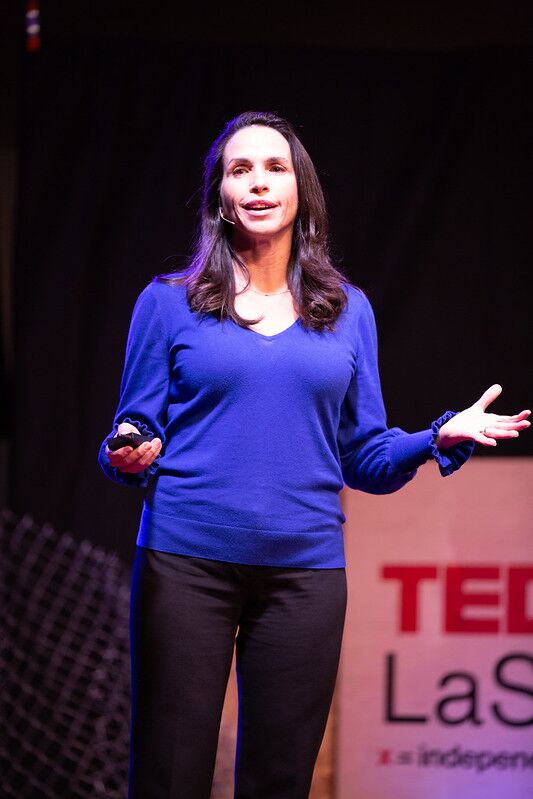 What steps do you go through to create a character's voice?
I take all the information the writers share about the character's background and characteristics and combine that with an illustration if I'm lucky to have them.
Then I take my own experiences and try to merge them with theirs and hope it works. It's an intuitive process after all these years. Because I play mostly adults in my range, I'm mostly channeling intention, which alters my voice more than character voices that some of my peers are more famous for doing so well.
Having worked on TV, video games, movies, mentoring, and doing talks do you have a preference or do you enjoy them all for different reasons? Which gives you the most satisfaction?
That's a great question because they all go under the umbrella of what it means to me to Give great voice and fulfill me in different ways. I love the creativity of taking words off the page, and as I said in my TEDx talk and breathe and speak life into two-dimensional roles and channel my talents and life experience to create rich and multidimensional characters.
But more importantly, I want to be able to take those to be able to those same life experiences both professionally and personally and combine with my desire to be of service.
I truly feel impassioned to make a difference in people's lives, which feels very purposeful and brings me great joy.
It definitely feels like the last thirty-five years of expressing my creativity and gaining some wisdom along the way have to lead me to this mission to share with the world what it means to "Give Great voice,"
It's a great privilege to spend the rest of my life to continue to inspire and empower people to use their voices to do that as well.