For nearly 30 years, Steve Latshaw has added a creative touch to the cult film industry, with 30 writing credits and almost double digit director credits to his name since 1990.  The man behind such films as Vampire Trailer Park and Bikini Drive-In, this midwestern Decatur, Illinois native has managed to be an artist and maintain influence in showbiz via the niche B-movie market, to the delight of diehard fans.  His most recent effort, Return of the Killer Shrews, comes to VOD starting on October 12 via iTunes presale.  Steve is kind enough to provide his time and thoughts on his career in this interview.
Let's start with your earlier career. How did you get into the film business, and what would you consider to be your first big break?
I'd worked in cable TV and broadcasting for about 8 years out of college.  The goal was always to get into the film business.  I read an interview with Bill Grefe in the Monster Times, in 1973, about his career.  I'm living in Decatur, Illinois, a confirmed Monster Kid and I had just seen his film STANLEY in theaters.  I thought, maybe that's the way to do it.  Get to Hollywood via Florida.  That went on the back burner.  Fast forward 17 years.  I'm living in Florida, working in television.  My work includes on air reporting about the Orlando film industry (then called "Hollywood East").  I do a story on Bill Grefe (actually a 90 minute career-spanning interview) and he becomes a friend and mentor (some of this interview can be seen on Retromedia's new MAKO-JAWS OF DEATH DVD).  I also do a story of Fred Olen Ray and he is kind enough to offer advice and support as we made our first film, VAMPIRE TRAILER PARK.  Early the next year, Fred publishes his essential book about indy producer/directors who became distributors, THE NEW POVERTY ROW (1992-McFarland Press).  The last chapter details Fred's own career, and includes info about his own exec producer ventures… where he is financing 16mm features for other enterprising filmmakers.  I immediately tell Pat Moran we need to go out to LA and pitch him something.  I just knew this was a chance we had to take.  In August of that year, we went out and met with him.  Based on Vampire Trailer Park, he was confident we could put together a feature film and he liked a story we pitched called SPACE MONSTER.  We made a deal and a few weeks later, back in Florida, we were prepping DARK UNIVERSE, the first of three very successful films for Fred.  BIOHAZARD – THE ALIEN FORCE and JACK-O were the other two. The big break was Fred financing that movie.  I got another huge break from Fred four years later, after I'd moved to LA.  He hired me to write INVISIBLE DAD, which jump-started another career as a screenwriter.
How is it that you were able to get James Best to return after half a century to reprise an old B-movie role?
I was a pest.  I brought it up the first time I met him.  And frequently thereafter.  After about 3 or 4 years I wore him down.
What was behind the decision to revive The Killer Shrews for a sequel, in particular?
It was a successful film in the drive-in days.  It became a beloved creature feature on TV and a cult film by the time it hit MST3K.  It was known.  And I just wanted to do it with Jimmie.  We wanted to bring Thorne Sherman back to Shrew Island.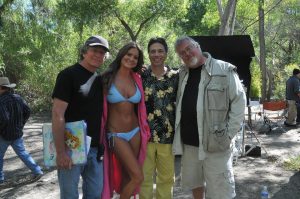 Were there any ideas thrown around to use dogs as shrews again for this one, or was it always set to be CGI?
It was always going to be a CGI film.  The original concept was going to feature little animated scarab-like creatures. They'd devour people on land like piranha.  But as we got deeper into the project we felt we should go with something resembling the shrews of the first movie.
Are there any fun stories from the cast during filming? Any "war stories" from James Best or behind the scenes chemistry between Best and John Schneider?
John and Jimmie were friends and compadres for years, from the Dukes.  Same with Rick Hurst.  So they'd swap all sorts of stories about that show.  The crew was filled with Dukes fans so it was a fun set.    Jimmie experienced some real deja vu when he saw how we'd almost perfectly recreated the compound exterior and interiors from the first film.  Lots of laughs, lots of stories told.  Jimmie and David Browning did running comedy skits between takes and Jimmie and I did dueling W.C. Fields impersonations.  It was the most fun I've ever had on a film set.  Just lots of laughs all day long.
A fun plot point involves behind the scenes tension between several cast and crew members of the "reality series" as seen in the film. Was this something you had been privy to seeing over the years in your role in the industry?
On most of our sets there's usually not a lot of tension.  We have fun and we work hard.  I think we exaggerated some stories we'd hear or seen on other sets.  Certainly some of the dialog from the Director (C.W. Goodman) was based on real people we knew.
What is the biggest difference, in your opinion, in approaching a directorial role now as opposed to the beginning of your career?
At the beginning of my career I was doubling as line producer and director.  Doing all the breakdowns, scheduling, contracts, vendor and lab deals, which didn't give me a lot of time to focus on working with the actors and actually directing the movie.  These days, I'm able to focus on the creative things.  Having said that, doing double duty in the early days enables me to look at things from a producer's viewpoint, which saves time and money when you are trying to make your day.  You know the short cuts and all the tricks.  Director Steve is not going to make Producer Steve worry.  We also had tremendous help from Line Producer Dan Golden on Shrews – and, of course, my old partner Pat Moran.  We couldn't have pulled it off without Pat.  He's a gifted writer, producer and actor.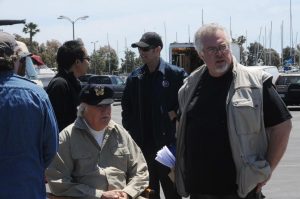 Is there any one particular project of yours, past or present, that you are most proud of, or emotionally attached to in some way?
Shrews because we got to make the movie we wanted to make, and with James Best.  It was a 20 year dream for Jimmie and I.  I'm also partial to one of the early ones, BIOHAZARD – THE ALIEN FORCE, because we pulled off the impossible.  A huge speaking cast, 30+ locations, big action (For one massive foot chase we did 56 setups in 8 hours – my record), helicopter shots (and a helicopter), big set pieces. all but the kitchen sink.  And the resulting film was goofy, fast-paced drive-in fun.  I got the best notes of my career on that one, from Fred Ray:  "Good job.  Lock it."   I'm also fond of a lot of the films I've written., including SCORPIO ONE and ACTIVE STEALTH, a couple of Alistair MacLean style action adventure epics.  COMMAND PERFORMANCE, which I wrote with Dolph Lundgren turned out very well.  Dolph and I worked very hard to make that a tongue-in-cheek retro throwback to the action films of the 80s and 90s. Dolph plays a former biker with lethal combat skills turned rock and roll drummer!   I wrote my favorite Dolph Lundgren line for him:  "Dying is easy… rock and roll is hard.."  With apologies to Edmund Kean, Donald Wolfit, Jack Lemmon and anyone else who may have delivered a variation on their death bed.
Any other plans to revive old B-movie titles?
We're actually in the middle of that right now – but not so old.  There's a great deal of nostalgia out there for 80s & 90s cult horror films.  JACK-O has attained cult status over the years.  One fan, now in his 30s, approached me a few years back and said, as a kid, he loved the movie so much he persuaded his Dad to tell the video store he'd broken the VHS tape.  The store let Dad pay for a replacement and the kid got to keep the movie.   So we are doing a sequel/reboot of JACK-O.  It picks up 25 years after the events of the first film.  While the focus is on a new family, three major characters from the first film are a critical part of the story line.
What else can we look forward to seeing from you in the future?
If you want to see my earlier work, Retromedia's JACKO & FRIENDS: THE STEVE LATSHAW COLLECTION just went into a second pressing on DVD.  It's a two disc, three movie collection featuring our Florida epics plus lots of extras.
Thank you very much for your time!