Terror Films has acquired the worldwide digital rights to Marcus McCollum's feature film debut, "NOISE IN THE MIDDLE".
After the sudden death of his wife Sara, Richard, a grieving and emotionally ill-equipped father, is left on his own to care for his severely, non-verbal autistic daughter Emmie. Before her death Sara had arranged for Emmy to partake in an experimental therapy and rented a house near the facility where the treatments would take place. Little does Richard know the house has a haunted history. While Richard struggles with his wife's death he soon realizes he has no patience, skills, or even any empathy to deal with Emmie's condition and begins to find solace in drinking and drugs.  As the spirits in the house grow restless,  so does the noise in Emmie's head, awakening her psychic abilities along with Richard's personal demons. When visions of his dead wife begin to appear, Richard is convinced she has returned to help him. But is the spirit really his wife or something more sinister sent to take them both?
Written by McCollum and Glen Kannon, the film stars John Mese (Night of the Scarecrow), Tara Buck (True Blood), Tom Konkle (Hornet), Juliette Jeffers (Lemon), Jim Holmes (How to Be a Vampire) and features Faye Hostetter as Emmie. The film was produced by McCollum and Mark Conley under their Whiskey Tango Films production shingle.
The film will make its exclusive, worldwide premiere on the premium AVOD Horror Channel, Kings of Horror Thursday, October 29th and will include a live stream chat with the filmmakers and several cast members. It will remain on the platform exclusively for 6 weeks before launching onto multiple digital platforms beginning Friday, December 11th.
---
What inspired this frightening – and very fun – particular story?
Marcus McCollum the writer/director of Noise In The Middle "NITM" wanted to tell a story about his very acute and frustrating inability to communicate with his four daughters in modern culture. Social media, cancel culture, politics, pandemics, media, screen time, self-esteem followed by mental health, the list continued to grow. "But worst of all, everyone had a place to hide in the "noise"… including him. There's no real book for modern parents to deal with this. He began to think of the characters for a story that would metaphorically represent the clearest picture for our cultural malady. There was a question that kept asking, "what if a man thought he couldn't hear his daughter his whole life and at the very end he was told she was talking to him the whole time?… that was real "Horror". Non-verbal autistic children have something to say and no one can hear them, but science is giving them a voice. He was told many times it was too risky to write/direct a non-verbal autistic character. Because of what we learned through the process of making this film… we think it would have been way riskier to not. I love that "Noise in the Middle" combines the suspense and excitement of a paranormal thriller with a solid metaphorical message for both parents and their children alike, "Fear the NOISE", or you just might end up "Lost in the Middle", like Richard. 
Did you and Marcus sit down and watch similar movies before shooting? If so, which ones?
We did watch some movies for many reasons to influence our film. First would be 6th Sense. I loved the ultimate twist at the end and that I had to watch the same movie twice because I had gotten it completely wrong and I needed to go back and pick up on all the details that M. Night Shayamalan had hidden in the film.
Other films would be Planet of the Apes and Psycho, because both of these films have twisted reveals at the end and it's not what you thought you saw as you watched the movie.
We also did a ton of research on the look and the feel of other films for when we finished our movie; films like 6th Sense, Unbreakable, Mississippi Burning, Memoirs of a Geisha, and Lady Bird.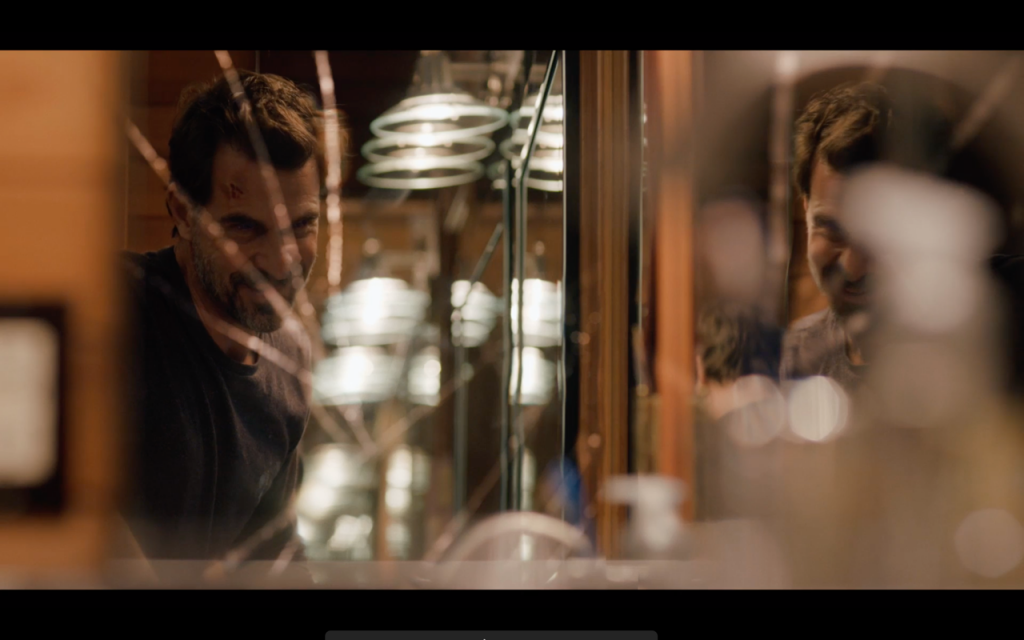 Do you guys set out to make a film that harkens back to the more complex, smarter horror films of the '90s?
NITM is a smarter horror film for sure. It doesn't have the blood and gore of a traditional horror film, but it does deal with the complexity of communication between a non-verbal autistic child, a father who refuses to listen and a supernatural force that is trying to tear them apart.
Any actors in mind from the get-go for the film?
The first actor that was considered from the get go, was Faye Hostetter who played Emmy. She is a life long friend of the family, a seasoned young community actress who lives in Seattle and also the daughter of our cinematographer, Doug Hostetter. Both Marcus and Doug live in Washington State and it was an easy choice to film in the town of Spokane where Marcus lives.  Also, Marcus and Doug have been working together for years on many award winning commercial campaigns as well as short films.
Tara Buck was immediately thought about as well. Marcus has had the pleasure of working with her before on a short film that he wrote and directed called "Best Driver In The County". The short won many awards at different film festivals and it opened up a trusting relationship between Marcus and Tara that will last a very long time.
Anyone you wanted to get for the movie that you didn't?
There were a number of actors that came out for the auditions, but ultimately NITM is exactly the movie it is supposed to be with the cast that we chose.
Tara Buck. What a winning performance. How was she to work with?
First of all, Tara is amazing in everything that she does. She is a consummate professional and if you have ever seen an actor who can knock out a scene in one take, it is Tara.
Do you consider the film a success only when it hits a certain monetary figure?
That is a great question. I feel that every filmmaker wants to be successful for many reasons, and a monetary success is definitely high on that list. I will be honest with you that it would be very nice to be profitable on this film, but it was also a monumental step for our company to create a thought provoking film that also looks amazing. We come from directing and producing national and international commercials, so our production standard is very high and we hoped to deliver that to the film and every project that we work on.
Has the movie opened doors for you?
Noise In The Middle is our first feature length film. We created it to launch our company, Whiskey Tango Films, LLC and also attract other filmmakers to our brand. We are very excited at the prospect of making more films, episodic series and reality based content as well.