GREATLAND, a dystopian fantasy by writer-director Dana Ziyasheva, will be released on Amazon VOD November 1, 2020 by Indie Rights. 
Filmed in Los Angeles in a futuristic vintage style, GREATLAND stars Academy award-nominee Eric Roberts, Nick Moran (Lock Stock and Two Smoking Barrels), J.P. Manoux (Veep), former boxing champion of the world Shannon Briggs, and horror icon Bill Oberst Jr (The Devil's Rejects), alongside up-and-coming young actors Arman Darbo (And Then I Go) and Chloe Ray Warmoth (Fuller House). 
Set in an imaginary country dubbed the birthplace of love and endless source of fun, GREATLAND tells the tale of Ulysses, a rebellious non-binary teen on a mission to save his childhood sweetheart as an absurd election and a deadly virus wreak chaos and violence. 
We spoke to actress Chloe Ray Warmoth about the year she's had, her new film and how the real pandemic has affected her work.
---
How has your year been, Chloe?
Thanks for asking!
While I think that 2020 has been a rough one for most everyone, professionally, I feel there have been some wonderful silver linings, starting with the release of Greatland, which I am extremely excited about. Dana ​Ziyasheva ​(writer/director) is creative and unique and sure to make her mark in this world. I was so thrilled to be part of Greatland and work with Dana as well as the amazing cast and crew. Another positive for me in 2020, following on the coattails of Greatland, will be the release of my second feature film entitled "West Michigan" from writer/director Riley Warmoth (who just so happens to be my brother), where I play the lead role of Hannah. ​I also have a fabulous and intense short film "Your One and Only" by director, Alice Biletska, which is doing the festival circuit now, recently premiering at AFI fest, and for fun, I just did a wonderful music video for the band ​Winnetka Bowling League​with director Caitlin Gerard. It's the title song to their new album "Congratulations" and explores the constructs of social media and its effects. As far as what is in the works; Hooked's, "Trevor and the Virgin" series with director, Jeff Jenkins has created a spin off series entitled "Martha and the One". It is a 6 episode series where I will be taking my Martha character from Trevor and the Virgin and exploring her growth into a stronger more confident young woman. Unfortunately production is currently on hold for this one due to Covid-19. In addition to all of that, Fall of 2020 I started film school at Chapman University's Dodge College. So I would say for a rough year, it was pretty kind to me.
Has the pandemic affected your work?
Yes! So Much! Like most everyone, work life has changed dramatically with the pandemic. Overnight it was as if the industry just completely shut down. I had projects lined up that are now on hold and may never see the light of day. It has slowly been opening back up, but auditions have decreased dramatically, and they are all on tape versus in the room with a casting director. On the bright side of that I've successfully avoided hours of LA traffic, Lol. but on a more serious note, when I do work, it always starts with Covid testing and every precaution is taken to keep everyone safe. I truly just feel fortunate to have had some auditions and work here and there. I know many actors are really struggling right now and my heart is with them. I can't wait for this pandemic to be behind us and where I think some things will never be the same, I am anxious to see the film and television industry back in all it's wonderful glory.
This film couldn't be coming out a more appropriate time. I believe Covid-19 wasn't even a thing when it was produced, right?
Yes, it is almost ironic what has transpired since this film was conceived to when it is being released.
Kinda makes me wonder if Dana (writer/director) had​ some sort of crystal ball predicting the future.
Where we once would have said "stranger than fiction", we can now safely say, "strange as fiction".
For those that haven't seen the movie, it's not a movie about such a virus – – how would you describe it?
Greatland is a unique ​world of perpetual fun and inter-species love which is creatively ruled by a universal Mother. Like our current world Greatland is struck with a "virus" which results in the separation of my character Ugly Duck from her sweetheart and best friend Ulysses. ​I see Greatland as a coming of age story in a dystopian utopia. ​​The characters Ulysses and Ugly Duck were born in this world and know no different existence so it is all just totally normal to them.
Do you believe in the kind of future that "GREATLAND" presents?
I believe every person, no matter their race, religion, sexual orientation or gender identity should be treated equally, and I hope our country makes strides toward that as we have failed so many for far too long. As far as the government of Greatland…. I think I will refer to a quote from British historian Lord Acton. "Power corrupts, and absolute power corrupts absolutely."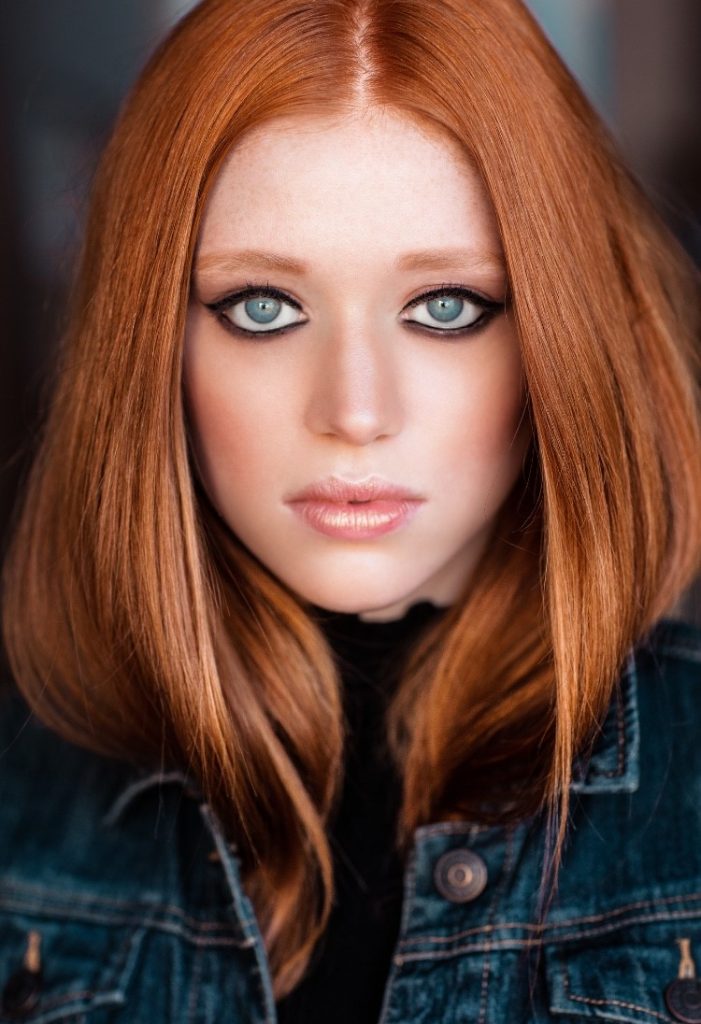 There's a lot of visual effects in the film. Did that mean you had to work opposite a lot of green screens and… things to be added in later?
We did lots of green screens. My father in the movie actually wore a green morph suit.
Love the whole cast here. Tell us who of your co-stars left the greatest impression on you here.
The entire cast and crew were fabulous to work with, there was always lots of energy and fun. It was truly amazing to work with the iconic Eric Roberts. He made my scenes easy and fun. Arman Darbo is truly great. He and I were the youngest cast members, and we spent a lot of time together in pre-production as well as during filming which gave us a great on-camera chemistry. But it was Nick Moran who made the biggest impression on me. Nick was just Nick… he is just so authentic, he still uses a flip phone (at least at the time we were filming) and stays far away from social media. He took time to really talk to me and I enjoyed him as a person. He is just insanely talented and funny.