Shellfish feels like it comes from a really different time and place. It's got a really special sort of innocence and hope to it. I rarely – if ever – feel that in new movies, and in fact I haven't felt it for many years. How were you able to conjure that sense for this movie?
Â
I wrote Shellfish when I had just turned 21 years old, and I was 22 when we filmed it. Any hope or innocence I'm happy to say is completely authentic to who I was at the time of production. Shellfish is about a wide-eyed filmmaker, Keller, who learns some harsh realities through the production process, and that was me.
Like Keller, I was very much coming-of-age myself, and I'm happy that translates to screen. We filmed in the home I grew up in, so I naturally drew comfort from being in that space, around my parents and friends, as familiar a setting as possible. It's a time capsule for all involved, and I believe we were all thinking something like, "I'm only in my early 20s once, this is the feature I'm going to make at that age, so let's pour every creative bit of youthful energy we can into it."
I never want an ounce of cynicism in anything I make. Yes, Shellfish deals with heavier topics, but it comes from a place of sincerity. There are these mantras in entertainment like, "Never meet your heroes," which Shellfish defies. In my experience, meeting your heroes can be some of the greatest moments in life; of course, it can also be devastating. Shellfish does not ignore that life can be hard, but rather asserts choosing to remain hopeful in the face of tragedy and heartbreak.
Instead of casting someone else in the lead role, you cast yourself. This was a masterstroke, as far as I'm concerned. You clearly know your own strengths and weaknesses, so talk a little bit about navigating the story through your own experiences and adapting them into this character.
Â
Although Keller is named after my grandmother Helen Keller (yes, really, and no, not that one), I didn't write him with myself in mind. In fact, I think that would run the risk of trying to write a character who's too likeable or heroic. People can see right through that, and Keller is neither of those things. Let's just say he has a lot to learn throughout Shellfish, so when my mentor, veteran filmmaker Francisco Menendez, encouraged me to play the lead, I had to think on it.
Shellfish is about people trying to make a movie, so when you see Keller struggling, you also see me struggling. It all comes from a very real place. To be honest, I was nervous casting myself. I felt extremely vulnerable on set, and I wouldn't have made it through if not for my crew supporting me. Joel Martinez, Tyler Yarbro, Phebe McCorkle, even my dad, these are all people who would not only coach my acting but could reassure me that everything was going to be okay.
From my experience on short films, which you can watch on HunterHopewell.com, I was comfortable with directing while acting. However, going from playing characters who develop over five minutes to 82 minutes was a big leap. Keller's story naturally does have parallels to mine, but like every other actor and the character they play in this movie, we're not very alike. Early on, I had to separate myself from him. I couldn't let my own ego get in the way. We don't care if people like Hunter in this scene; is Keller giving an authentic performance that serves the story? That's what had to matter.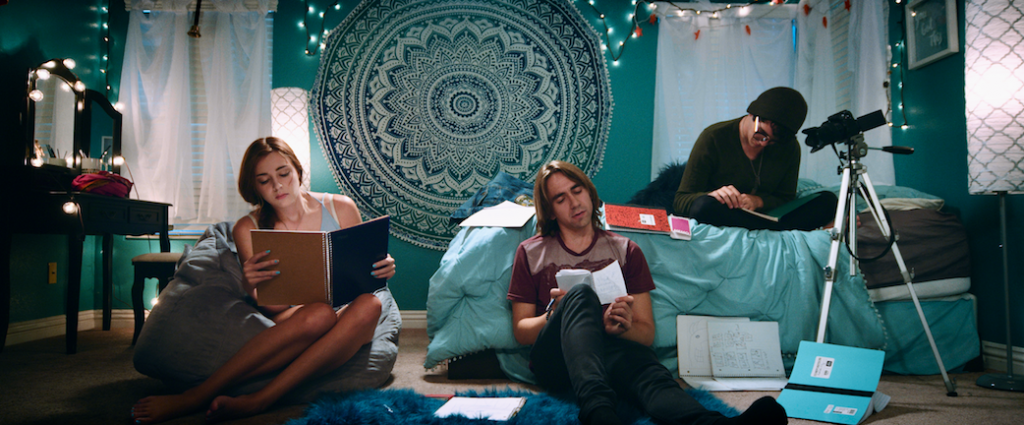 Your cast is so, so good. I loved everyone in the movie. Talk a bit about working with these actors, and how you were able to draw them out through the characters you'd written.
Â
We are so lucky to have gotten such an up-and-coming all-star cast. We're all from Las Vegas, and many of us went to high school or college together. Production was like a bunch of friends hanging out, and we filmed it.
Characters like Kruko and Angela called for performances that are truly out there, and our actors rose to the challenge. People are always shocked to meet Perry, Mackenzie, or Serenity because they are so the polar opposites of who they portray, and yet, so believable as those characters.
Kruko, our eccentric antagonist, is quite loathsome on paper, but when Perry Bruno plays him, you can't help but fall in love. A lot of the cast has a strong background in improv, and I was inspired by other comedy directors, like Judd Apatow or David Wain, to encourage it on set. Some of the best takes in the movie, right after yelling 'cut', the crew would burst with laughter because of something someone came up with on the spot.
Many of those moments made it into the film, but now, even people who were there on set can't always tell what was scripted versus improvised. It just flowed, and the cast is the not-so-secret ingredient that makes Shellfish feel vibrant, alive, and brimming with relatable personalities.
The animation is key to the film, but it's not overwhelming. Discuss your background in animation a little bit and how you showcased that in this film.
Â
When I was nine, the first video I ever made was a stop motion animation, making an object move one picture at a time. Then, I quickly became interested in mixing animation with live action. That was not only fundamental to my development as a director, but it's fundamental to the history of film. George Melies, The Lumiere Brothers, even a 21-year-old Walt Disney were all pioneers in mixing animation with live action. It was important to me to show reverence for that.
Early in the film, Keller feels intense, emotional pressure, and a stop motion fire is lit under his chair. After a traumatic event in his life, he throws himself into animating instead of dealing with his trauma. For the rest of the movie, nearly every intense emotion is visually depicted through onscreen stop motion, and the puzzle pieces fell into place from there. I'm delighted that audiences have embraced the unique mix of animation in Shellfish. I think it's truly made our indie film look and feel bigger than its budget.
Â
Making an indie film on a very low budget is challenging enough, but I have a feeling there were challenges upon challenges to get this movie made. Can you give me a little history on the making of the film and how it eventually crossed the finish line?
Shellfish was initially funded with a $25K grant from Brenden Theatres' CEO, Johnny Brenden, awarded by UNLV. It was completed with support from many "unshellfish" contributors through Indiegogo. One of the most invaluable contributions people made was their time. I can't say thank you enough to the cast and crew who dedicated so much time and energy to making this possible.
After many test screenings and tweaks, Shellfish premiered at the Dances with Films Festival at the TCL Chinese Theater in Hollywood, once owned by Johnny Brenden's grandfather, Ted Mann. In the audience were several distributors, and we ended up signing with Freestyle Digital Media. Now, through Freestyle, it's available on Prime Video, iTunes, YouTube Movies, Xbox, and more!
There were many challenges. Essentially nobody, myself included, had ever worked on a feature length film before, but I think that made us work like we had something to prove. Locations became unavailable the day of, equipment was stolen and ruined by a rogue ocean wave, and we were always chasing the sun. Overcoming challenge after challenge I feel ultimately brought us closer together as a team. We filmed the first half of the movie over an intensive four weeks. We were supposed to film the entire movie during that time.
I live and work in LA, so for the next three months, I took a bus to Vegas and back every weekend to film the rest of the movie. I was exhausted and stressed out of mind, but luckily, I would be greeted by an energized and talented crew ready to make some more movie magic.
Talk about the music for the film. I really enjoyed the score and the songs. Is there a soundtrack people can stream or purchase?
Â
For as long as I've been a filmmaker, I've been a musician. The two-work hand in hand, and when I'm writing a screenplay, I'm usually simultaneously writing the score. I'm doing that now on another project. Writing a movie without a guitar nearby would be so foreign to me. It's a powerful tool that can easily become a crutch if not used effectively. I only ever use it to enhance the emotion of a scene, never to dictate it. I think you can watch many scenes in Shellfish with the sound completely off and still pick up on the emotional beats.
There's another layer of storytelling that you can do through the soundtrack. Every character has their own theme. When two characters interact, those two themes can play off each other, and depending on the mood, it can be intentionally cacophonous or harmonious. A melody played at the beginning of the movie can have a completely new meaning by the end. There's so much fun to be had.
The soundtrack will be available everywhere at the end of this month. Forty songs and I hope that through listening, people pick up on some musical breadcrumbs that they may have initially missed.
Â
What are some of your very favorite films? Were any of these a specific influence on Shellfish?
Â
I love coming-of-age movies about dreamers. At our recent four day run at Brenden Theatres, an audience member remarked that it reminded them of Me and Earl and the Dying Girl and The Perks of Being a Wallflower. Those were big influences, especially the former, which is about young filmmakers and even incorporates some stop motion. I saw it the year it won at Sundance, was inspired, and then, Wyatt Henrie, who ended up doing the claymation for Shellfish, texted me that it reminded him of something I would make. It reminded me of him too, and those were some of the first Shellfish seeds planted. Our movie is really Me and Earl and the Dying Girl meets Ed Wood.
Tim Burton is known for stop motion in many of his movies, and Ed Wood is his best in my opinion. The stop motion is so seamless, and the true story about an eccentric, struggling filmmaker was hugely relatable and influential. When describing how the animation works hand in hand with live action, the main movie I reference is Scott Pilgrim Vs. The World. When Scott is confused, we literally see it animated onscreen. Also, of course, Who Framed Roger Rabbit.
The shot where Keller's eyeball pops out of his head, I'm pretty sure was directly inspired by my favorite movie from when I was a kid The Mask. The list goes on and on with movies like The Secret Life of Walter Mitty and Michel Gondry's show Kidding. My favorites have a healthy dose of humor, and most importantly, try something new. My dream is to hopefully inspire others to also try something new because through film, you can do anything.
Â
What's next for you, Hunter? What about directing or acting in a studio production? I'd love to see whatever you do next.
Â
In addition to the soundtrack for Shellfish, I will be releasing two more albums next year. The first is a follow up to my first album 'Nobody Likes Him' and is heavily influenced by alternative rock bands like Tally Hall, whose music is also featured in Shellfish. The second is something new I'm trying for my next feature A Space Spectacular.
I've been writing the score and film simultaneously, and I'm going to release the score first, before we begin shooting. All I wanted for my 26th was a theremin and experimenting with that has been so fun and trippy. The movie will heavily feature (guess?) stop motion and is an ode to the very first movies ever made at the turn of the century like George Méliès' A Trip to the Moon.
During the pandemic, I shot a couple of short films which are currently in post. They're horror comedies, which are gearing us up for the other feature I'm co-writing with my roommate Perry Bruno, aka Kruko in Shellfish. It's a horror comedy about learning to accept one of the scariest things in life, turning thirty.
As far as studio productions, I work full-time as a Disney Video Producer, and I'm constantly working on content under the Disney label. Last year, I assistant directed Adventure Thru the Walt Disney Archives, a feature length documentary now streaming on Disney+.
I am obsessed with Disney movies based on Disneyland attractions, and I recently got to speak to Justin Simien, the director of Disney's new Haunted Mansion film, who's very inspiring. My ultimate dream is to one day direct a full-length Disney movie, perhaps about Big Thunder Mountain Railroad or the Matterhorn. Simien also used to work for Disney at Disneyland. It's the only company I've ever wanted to work for. I've always admired how at Disney, it makes no difference who you are or where you started in the company, dreams come true. Long-term, I plan on a lifetime of making movies, on helping others along the way, and giving back by paying it forward.