Mind Exchange Music Presents The Showcase is an upcoming documentary, set over a a single-day, that provides a look at how the very busy, very talented agency out of Chicago  and owned by musicians Donny Walker and his partner, sound designer Kelly Askam, work and function.
---
First of all, what an informative and entertaining movie this is. What do you hope people get out of it?
Thank you! We appreciate you watching it and love that you found it entertaining! We want people to understand how every step is important: from the initial time spent outlining the ideas to the conversations about how to put it together, from the producer meetings to the artist agreements, from the score & part notation to the conductor's time keeping approach. We want people to see how the concise focus of 26 outstanding musicians performing at the same time is captured in all the open microphones, the life and excitement that brings, the roles that anxiety and insecurity play, how confidence and camaraderie affect the quality of the end production, how things go wrong and on the spot choices have to be made, etc. Everything matters, every step is important, and the energy and care that we bring to music production will determine the likelihood of the music becoming timeless.
We adore this craft, and we want everyone to witness the end goal while simultaneously absorbing the story, so that they understand what it takes to masterfully assemble a production like this in such a short amount of time. We also want the audience, directors, and producers to ascertain the difference between audio that features real musicians and audio utilizing digital instruments, as this is in some ways becoming an epidemic to the industry and is literally affecting the livelihood of musicians and audio engineers alike.
I imagine a bit of research goes into tackling a film like this. That the case?
Absolutely! 1000%. We always try to make research the first step after dreaming the dream!
Donny Walker, the composer, had a very specific vision about the kind of music he wanted to produce, and those goals were within a wide range of instrumentations, genres, styles, ideas & eras. His time prior was spent researching and constructing music designed to replicate particular eras. In addition to studying specific performance styles & instrument techniques, he was researching musicians in our community that would help us best fit those goals, and investigating the legal contracts and agreements in order to build the most optimal team.
Kelly Askam, the sound supervisor, was researching the audio & production specifics so that we could properly maximize the amount of people we had in each department. He was working through details with the department heads and ensuring those tasks were being done correctly and in an organized manner, so that we could do our best to meet what seemed like impossible timelines. He split his time between researching how the visual would affect the aural components, the lighting, the building, etc. He researched the equipment in the venue we rented and how we would need to supplement that to make it work according to our personal standards.
Zachariah Jarrett, the mix engineer, spent his time looking over the scores & compositions that we were going to be recording to ensure that the proper microphones were being used on the correct instruments. He researched which microphones we would be needing versus what microphones were available for rental from different studios. His choices in microphones would deeply affect the bleed, color and timbral saturation in the room and would give us more control in the mix stage prior to mastering and re-record mixing. We knew what we were supposed to do, but we hadn't yet realized how all of those factors would play such crucial roles in the end goal of the storytelling process for the film.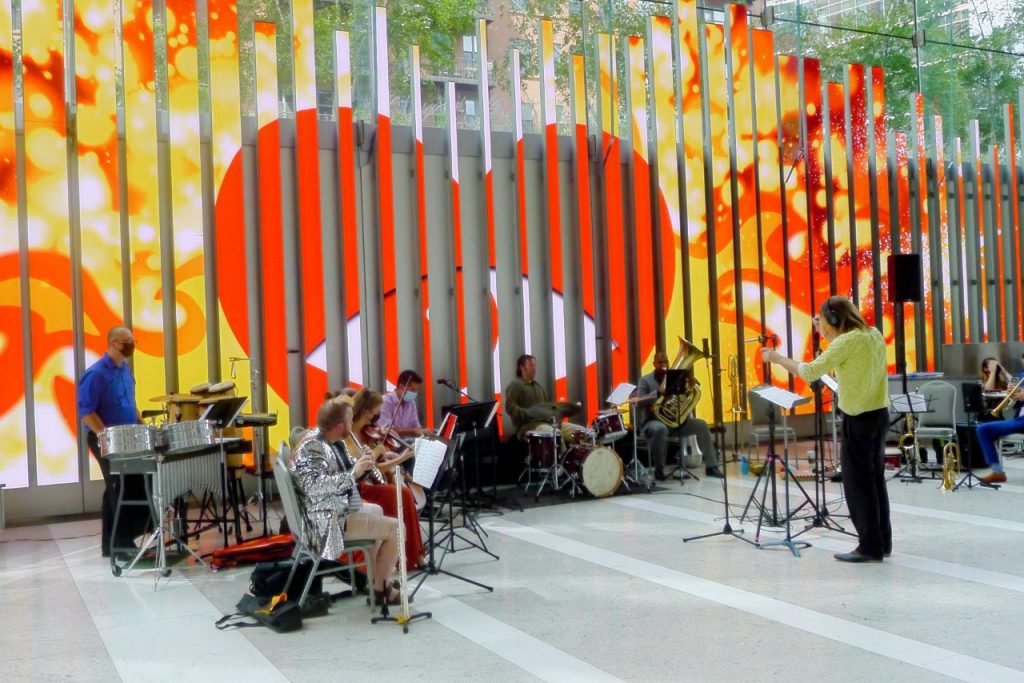 How have you coped, as a filmmaker, during the pandemic? Has it been easy to get this done during that time?
During the pandemic we dug deep into our own feature length music production documentary, Mind Exchange Music Presents The Showcase. We chose specific performances from that feature to compete in film festivals around the world and acquired a mountain of awards, which was a great use of that downtime.  In a nutshell, the pandemic has been busy! In early 2020, we had just finished post sound for director Mark Harris's, White People Money, which was available on Starz and all streaming platforms.  That summer, Kelly and Donny also had the opportunity to do production sound for "Ghosts of the Ozarks," a post civil war folklore thriller by HCT Media and Devil Tub Productions, which garnered distribution through XYZ Films. In 2021 and 2022, we worked on sound and music for director Danny Villaneuva's feature length horror film, I Dream of a Psychopomp, which attained distribution by Terror Films. And then also post sound on Mark Harris' recent film, Hyde Park, produced by L10 productions, which had a select theatrical run across the US.  One of the short films we did production sound, post sound, and original score for during that time, The West Virginian Starfish, was directed by Hyten Davidson and Tommy Martin, and it's still being awarded in festivals. We were also very pleased to have the opportunity to score and produce the music for a feature length PBS documentary called Any Given Day by Margaret Byrne, which focuses on the mental health epidemic in our country. That film has premiered all over the U.S.
To be honest, we spend more time doing sound and music for other films than we do working on our own. And still, that time spent working on our own stories has been both magical and really productive!  Good and busy, just the way we like it!
Was the film affected at all by it?
Yes, our film was affected by it, but in peculiar ways. We had basically already wrapped up all the production shoots, we had already edited the music videos, and we were in the mix or re-record mix phase for segments. As we finished up chapters and performances from that film, we entered them into film festivals. That's where we came to figure out that our short documentary about a film scoring collaboration with talented director Layne Marie Williams did pretty well. Turns out, people enjoy performances, but the version that had the story attached to it ended up just plain doing better in competitions. This helped us realize that the real story was the entire day of filming and everything leading up to it, the movie was about making the movie!
Aside from that, yes we had to keep putting that project on hold because everyone else wanted their post sound and music wrapped up for their projects, so we were busy. There was a waiting line to get us on people's projects, which was cool. Since production everywhere was basically shut down, all the production companies reopened to offer post sound and music for projects that were in the works or had wrapped just before covid hit. We had the team assembled before then, so it was easy to jump from one project to the next. It was just tough getting rates where we wanted them to be because everyone was so broke.
What is it about documentaries that intrigues you- over the narrative feature?
Thinking about the question made me see that my upbringing was the main influence there. We read a lot of memoirs and historical narratives together as a family. We also watched a great deal of Public Television, so most of my consumption was science programming, nature documentaries, and craft oriented shows (like This Old House, Bob Ross, or New Yankee Workshop). My father was not a big fan of fiction, and he gravitated toward human stories that resonated with him. I think that because the stories being told were based in "real life," he had an easier time connecting with them. I have come to understand that it is very similar for me. I'm especially interested in stories that connect me to the characters at the core of the narrative. Even if you're talking about a house, an invention, or a work of art, it is the person at the center that illuminates the story for me.
Your main crust is working on music together though. When did you both first team up and what are some of your proudest accomplishments?
The beginnings of Mind Exchange Music LLC started much earlier than when the company was first created.  Donny Walker and Kelly Askam were both studying music performance in 2003 at DePaul University and happened to even be in the same dorm where they became friends.  Their creative partnership started around 2008 when Kelly sound recorded Donny's senior recital: an amazing concert of 10 original compositions for a 10 piece acoustic hip-hop band. From there, they recorded several albums at StudioChicago, where Kelly and Zachariah Jarrett were both interning, and the three have been a creative power trio ever since.  Over the next 8 years they would compose, record, mix, and produce content with the Lake County Symphony Orchestra, conducted by maestro Ron Arden, in Zion, Illinois.  In 2016, when the group branched first into producing film scores and then subsequent production sound, post production sound, and music publishing services, Mind Exchange Music LLC was officially created, and it's been a non stop thrill ride ever since!
I believe our proudest accomplishment is our completed catalogue. It's 52 albums, around 750 songs we've custom written, composed, arranged, orchestrated, produced, mixed, and mastered for client & internal projects. Everything's registered, copyrighted, released & available to the public under the name "Mind Exchange Music." It's basically our team's life work fully completed and totally up to date. Everything is available for listening, streaming, licensing, or can be broken down into stems. It's been picked up by PBS, NBC, ABC, Universal Music Group, SyFy, Bravo!, E! and more!  Currently, our catalogue is being managed by our new music rights administrator Rae Robeson, who has gone above and beyond to help us make it available to people who need remarkable music for their films, shows, movies, or commercials.
Is there a project, say a film, you both pitched to work on that you so badly wanted but didn't get. How did you handle that rejection?
OMG! Of course! We're always pitching projects. We have our own ideas, and we want to do the full sound and music package for every film we can get our hands on, so yeah, naturally rejection is a part of that process. Creatives have to be ok with rejection, but for every no, somewhere else there's a yes that makes more sense for us. Getting rejected for one project often meant being considered a better fit for an opportunity that revealed itself a few days later or a week later. I really wanted to write the score for Ghosts of the Ozarks, but the DP was doing the music for that one and it was pre-decided before I could pitch them on it. He did a great job with the music, but I never hesitate to identify the difference in quality that real musicians playing real instruments bring to a soundtrack vs composers who only use virtual instrument libraries and play everything at the midi keyboard. There is no comparison. The sound, feeling, emotion, energy, vibe, connection, inspiration and story are remarkably more successful with real musicians than with digital samples in literally every single situation.
How do you think the music industry differs from the film field?
Hmm. There are a lot of things that are different depending on specific genres, but let's start with the basics. Films focus on story, music focuses on individual ideas. Both can be long term cohesive, but the artist has to really aim for that long term continuity to achieve it. The music industry is very driven by impulsive artists who want their validation here and now, whereas filmmakers can be immensely patient about ensuring their vision is told correctly long term. Both require each other, but in different ways. Films need music to assist the story, whereas music needs film to make the song understood. Style and character building are intrinsic to both, however, music is always secondary in filmmaking unless you're doing scenes that are music driven. Themes are common in each but easier to detect in music, as our ear picks up on repetition of ideas in a more dependable fashion than our eyes have time to look around to spot all the things that make a difference.
Filmmakers generally put their budget into the story and are often broke or on a strict budget by the time they get to sound and music, so oftentimes they will be satisfied with something that works but isn't exquisite for the scene. Musicians painstakingly obsess over the performance takes and ensure everything is perfect but are often broke by the time they get to making films for their music, so they misunderstand the costs and don't anticipate that price.. Patience is a virtue to both, but by the time they get to the area where they must involve the other's art form, the immediacy and impatience from either end feeds the deadline to a product that works, but could've used more time to be much better.