Acclaimed actor David Field (Chopper, The Night We Called it a Day, Silent Partner) talks up his latest film, the thriller Sacred Heart, which is currently on release in the US.
What a remarkable career you've had, David – are you proud of the body of work behind you?
Every now and then one comes along and may be one that gets no exposure in the market that becomes one you feel you have touched what you hoped for. Then others come along that other people think you have really nailed and it surprises you. It's also such a team effort that anything wonderful you have done is also the result of the crew you are working with or an editor you may never meet.
Â
Though you're best known for dramatic work, you also seem determined to challenge yourself by doing films of all shapes and sizes. Is it important to you that you 'try everything'?
It's funny, ironically, because I always loved comedy! But after my first film with John Hillcoat (Ghosts of the Civil Dead"), there was no shaking the heavier roles. Don't get me wrong, I love dramatic work too. But in the last few years I have searched for more of those. I'm what they call a 'character' actor, which is complimentary but lazy view of the craft.
Â
What's been the most challenging role of your career?
Not working!!
Â
Is there a film you're proudest of?
I do love 'Silent Partner'. Working with Syd Brisbane was beyond a joy and to make a film in 6 days for 13k, with such a great preparation (Director, Alkinos Tsilimidos); and then watch people standing up after the film in Toronto! A crew of three. Two actors and three dogs. Doesn't get much cheekier than that.
Â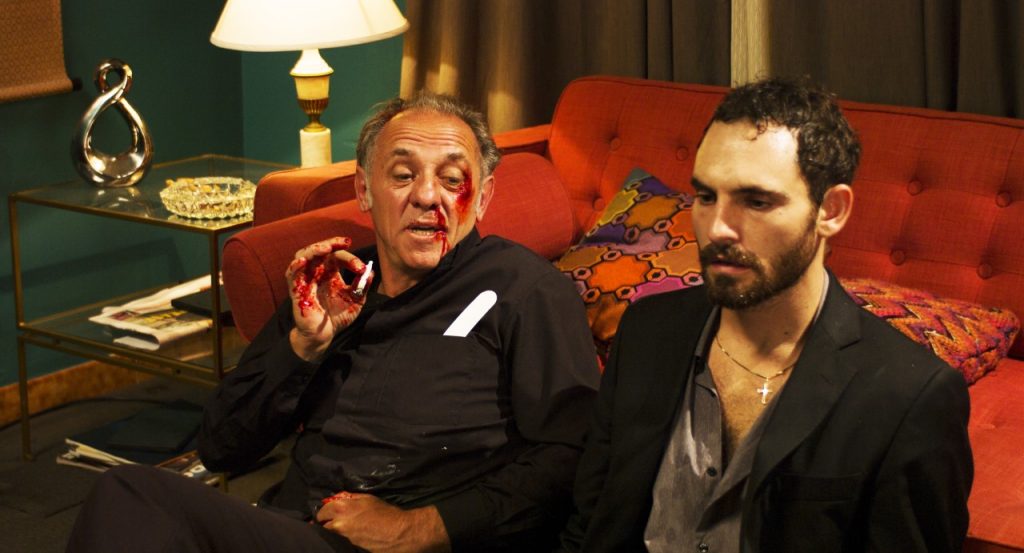 Who have you enjoyed working with the most?
People who are generous, Colin Friels, Judy Davis, Bill Hunter, Jack Charles, Aaron Pederson…The list goes on. They know who they are.
Â
Anyone you'd still like to work with?
Oldman! Penn! Streep! Ben Kingsley! Â Sofia Helin! Will Ferrell! SHIT MAN!!! That list is endless!!!
Â
Did you know Kosta Nikas? How did the part in Sacred Heart come to be?
I did know Kosta. I don't know if anyone really knows Kosta for Kosta is an evasive child with a mad mind and a wonderful heart and those ones are hard to ever pin down. He approached me about the role and we immediately understood what was required in terms of his vision. His energy was immediately fresh and bold. A very attractive quality when approaching an actor.
Â
And is this your first time playing a priest?
Yes. I finally got collared.
Â
What kind of feedback have you had to the film?
Since it hasn't been released yet, very little.
Â
What's next for you?
Why? You got a script?? I can be taller…I can be thinner!!!
Well I am in post with my third directing venture once again with George Basha and we hope to release early next year. And I am making several environmental docos and e few other projects that I am in development with Production companies. Would love to work in the theatre again some time. I miss it.