Star Wars: Jedi Fallen Order is out now on PS4, Xbox One, and Microsoft Windows.
From the soulless killer, Samson Toulette, in Tim Hunter's acclaimed dissection of 1980's teen anguish, RIVER'S EDGE, to his latest role as the irascible four armed pilot Greez Dritus in the highly anticipated video game release, STAR WARS: JEDI FALLEN ORDER (available on PS4, Xbox One, and Microsoft Windows), actor Daniel Roebuck has never played…well, Daniel Roebuck. 
To Roebuck that seems perfectly natural as he credits his early interest in Universal Studio's Gothic horrors as the impetus for his long career. "I couldn't have been older than six or seven when I discovered The Phantom of the Opera and Frankenstein and their countless iterations. I watched them as incessantly as was possible in a time when watching any movie required scouring the TV guide a week in advance and then begging my mom to let me stay up late on the night I wanted to watch it!"
The actors that first caught Daniel's eye were Lon Chaney (the original MAN OF A THOUSAND FACES), Boris Karloff, Bela Lugosi and Lon Chaney Jr. One day, like the bolt of lightning that resurrected Frankenstein's wretched monster, Roebuck had an electrifying thought: "When I realized that I was seeing the same actors in different make-ups I finally understood what actors really did or could do when they could transform into a different man or monster."
It was soon after that Daniel Roebuck set out on his own path of personal transformation. At around eleven years old he began doing impressions of famous actors and won a number of local talent shows for those efforts. He joined a circus at the age of twelve, becoming one of the youngest professional clowns in the country and then found his way into various theaters in and around his hometown of Bethlehem, Pennsylvania.
"In my very first play at the Pennsylvania Playhouse I glued on a rubber nose and mustache for one of the multiple roles I was playing and then there was no turning back," Roebuck recently offered from his Burbank, California home. He continued, "Soon I had my own make up kit and stocked it with crepe hair, spirit gum, grease paint and rubber noses. I was always making myself up as some monster or another."
When Daniel Roebuck packed up that make-up kit and landed in Hollywood 35 years ago, it was only a short matter of time before he established himself as one of the industry's most versatile character actors. In the first five movies he starred in, Roebuck moved effortlessly from High School Nerd (CAVEGIRL) to High School Killer (RIVER'S EDGE) to Air Force Officer (PROJECT X) to Punk Rocker (DUDES) to New Jersey Cop (DISORGANIZED CRIME). 
In the three and a half decades since, Roebuck has amassed a resume filled with over 200 roles in nearly 500 movies and television shows. He has starred in blockbusters (THE FUGITIVE), horror movies (FINAL DESTINATION), faith based movies (LET THERE BE LIGHT), family movies (AGENT CODY BANKS) cult movies (JOHN DIES IN THE END) and some of the most popular shows on television, including LOST, MATLOCK, NASH BRIDGES and THE MAN IN THE HIGH CASTLE.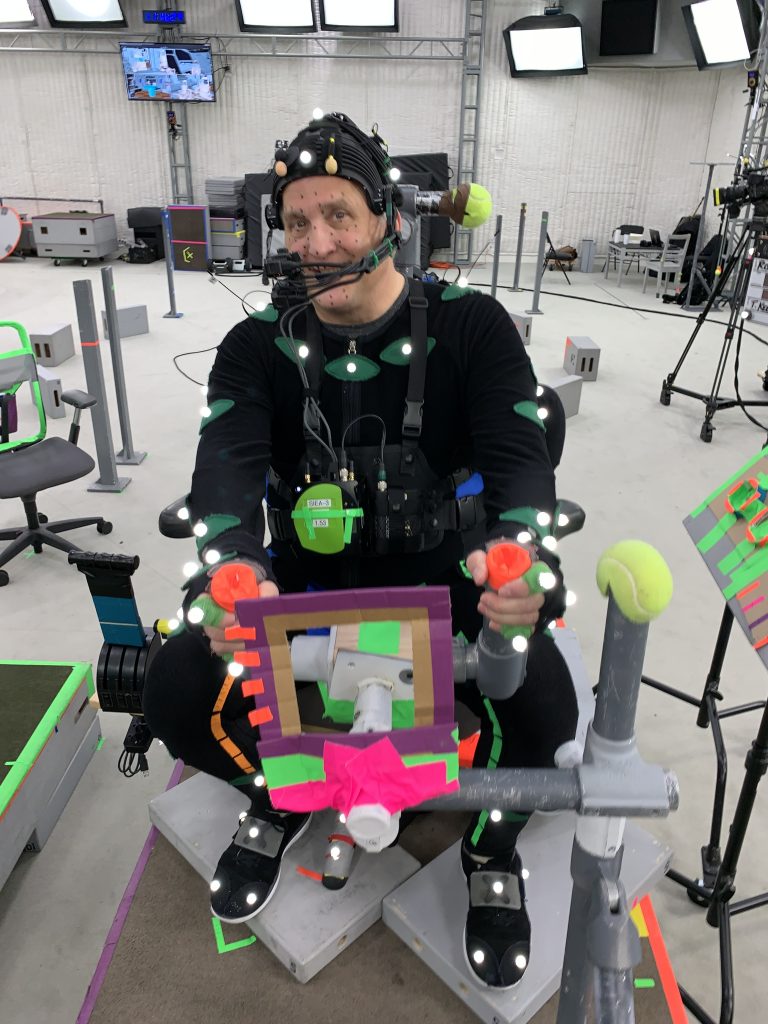 Still, it's the work he does under make up that he relishes the most. Roebuck has been made up by some of the industry's top make up people including Monty Westmore, Greg Nicotero, Howard Berger, John Goodwin, Wayne Toth and Barney Burman. Throughout his career he has played famous people (Jay Leno in THE LATE SHIFT, Garry Marshall in BEHIND THE CAMERA: THE UNAUTHORIZED STORY OF MORK AND MINDY, Alexander Graham Bell in one of GEICO'S funniest commercials), a Romulan (STAR TREK NEXT GENERATION), pig monsters (GRIMM and WILD BOAR),  a Zombie (THE WALKING DEAD) and the Devil himself (Rob Zombie's TEENAGE ROCK GOD)! 
Recently, Roebuck co-wrote, produced and directed the award-winning feature film, GETTING GRACE. The film is about a young lady, who is dying of cancer. She goes into a funeral home to find out what will happen after she dies and instead ends up teaching the disconnected Funeral Director how to celebrate life. Aside from the various Best Picture, Acting and Directing prizes for the film, Roebuck was also awarded an Honorary Funeral Director Degree for his efforts. 
Daniel Roebuck's life and career have come "full circle"more times than Roebuck can remember. "As a child my mother would take me to see Rich Little because we were both impressionists and then in THE LATE SHIFT, I got to play Jay Leno to HIS Johnny Carson. I have loved the Odd Couple television show since the 1970's and in the Mork and Mindy movie I got to play Garry Marshall, who created both shows for television. In the mid 80's I portrayed Will Stockdale in NO TIME FOR SERGEANTS, a role made famous by Andy Griffith, and 6 short years later I was his sidekick for 3 seasons on Matlock," Roebuck remembered,  "But watching STAR WARS in the Boyd Theater in Bethlehem, Pennsylvania at 14 years old was life changing! For a young film fan like I was, to have thought one day I might be part a of that epic story would have been insanity. I don't know that I ever wanted a job as much as I wanted this one!"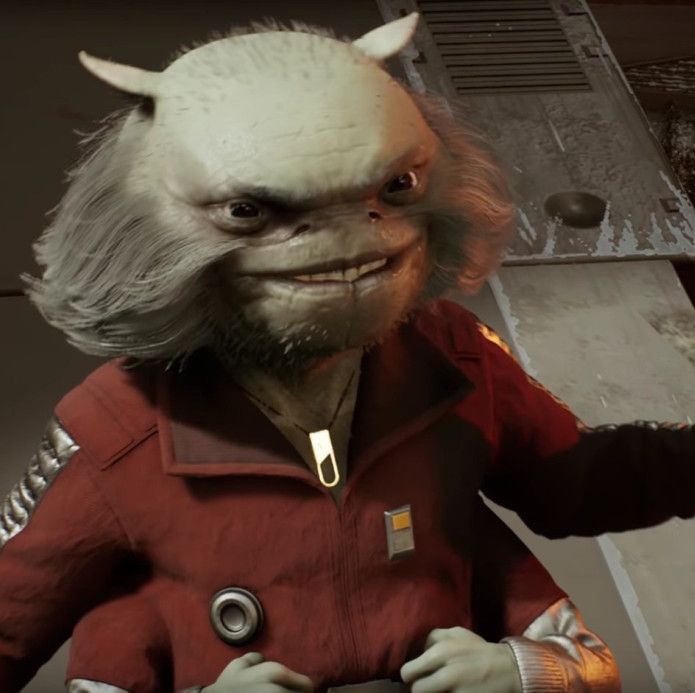 EA and Respawn Entertainment's STAR WARS JEDI: FALLEN ORDER has already garnered a great deal of interest and the excitement is building for its November 15th, 2019 release. In an interview with Entertainment Weekly, game director Stig Asmussen offered his thoughts on Roebuck's character Greez, "He's a member of a new species we've created. I don't want to give away too much of his backstory, but like anybody you're going to find during these dark times, he's got demons. But he's kind of like this loudmouthed little guy, he talks real big, he tells tall tales and most of the time they're not true."
Roebuck spent a few months working alongside of Cameron Monaghan, playing Cal, the young padawan and Debra Wilson who plays Cere in the game."We had a wonderful camaraderie, the three of us," said Roebuck. "Plus,we were performance directed by Tom Keegan who is truly a master director and always brings great insight into the process." Keegan and Roebuck had worked together before on DEAD RISING 3. 
During the performance capture process, the actors donned form fitting body suits covered with reflective balls and performed the game's cinematic scenes in front of dozens of cameras. They also wore head gear fitted with cameras so that the animators could utilize the footage to animate the character's facial features by directly correlating them to the actor's reference video. 
STAR WARS JEDI FALLEN ORDER is on track to become one of the most successful video game releases of 2019. The game is one of a triumvirate of entertainment options being released by Lucasfilm LTD this fall. Its release coinciding with the original program from Disney +, THE MANDOLORIAN and STAR WARS: THE RISE OF SKYWALKER, out this Christmas. 
What's next for Roebuck? It appears he will transform once more into a reluctant football coach for his next directorial effort, THE HAILMARY. It will be the first feature project from A CHANNEL OF PEACE, Roebuck's new Not-For-Profit film company (achannelofpeace.org). Plus, Roebuck is keeping tight lipped about a new project that might rival his foray into the STAR WARS galaxy as a new and amazing dream come true.