Writer-director Nathan Leon's Prodigy, nominated for 4 ICFF Awards Including Best Picture, premieres on VOD this December.
Erik Black is a broken soul due to the loss of his wife. He spends his days alone and self-medicating. All of that changes when his estranged son asks him to help him reach an undisclosed destination. There, he says, he will receive a divine message he believes will change the course of humanity. To survive they must stick together while fostering a belief in something greater than themselves.
We spoke to Nathan ahead of Uncork'd's North American premiere of the film on December 4.
Why movies? What was it about film that had you jumping through fiery hoops to be a part of it?
NATHAN: For me there was never a plan B. I grew up watching films with my dad. I didn't like movies… I loved them. I loved being transported into another world. Even from an early age I was more amazed by the behind-the- scenes mechanics of how movies were made then other kids. As early as I can remember I was writing "screenplays." I would be at the dining room table writing at 6am. My mom would come down the stairs and ask what I was doing and I'd tell her I was writing my movie. Stories came to me in images. I'd "see" the movie play out in my mind and write it down. When I was about 12 I made my first film with my dad's Super 8. I wrote, acted, and directed it. It was called "MAD ACTION." That should tell you something. I had a lot to learn. But for me, there was no turning back after that. So in retrospect, I didn't choose to be a filmmaker, it chose me.
And was Prodigy a film idea you'd been toying with for a considerable amount of time?
NATHAN: I'd been toying with the idea for a few years. I remember thinking, "what would happen if the entire world experienced a miraculous event all at the same time?" I considered how this might shape and change our culture in terms of scientific and religious discussion. Then I thought, "and what if this young boy had the ability to see this coming event in a prophetic way before it happened?" Okay, now a story is forming. Let's go a step further…"what if he saw a series of events including the end of the world?" Well now the stakes are raised. Instead of being a young gifted composer like Mozart or Beethoven, his special gift happens to be seeing the future. And PRODIGY was born.
How did you get it up? What hurdles had to be overcome before you rolled an inch of film?
NATHAN: In my experience there is nothing easy about making a movie. They are expensive, two years of your life, and there are a lot of moving parts. Overcoming hurdles and problem solving is what filmmaking is all about. The biggest hurdle was finding the financing. Convincing others that your idea is not only important but it will give your donors a return on their investment. If you're Spielberg, finding the money might be a bit easier. In the early years of your career it's a lot of pitch meetings and rejection. You have to be persistent and believe in the story you're telling. As a filmmaker trying to sell screenplays I realized that those who either provided or found the money were the gatekeepers. In the indie world, producers can greenlight your picture. That's when I decided to become a producer. Once you secure the financing, you learn how to adapt and wear a lot of hats.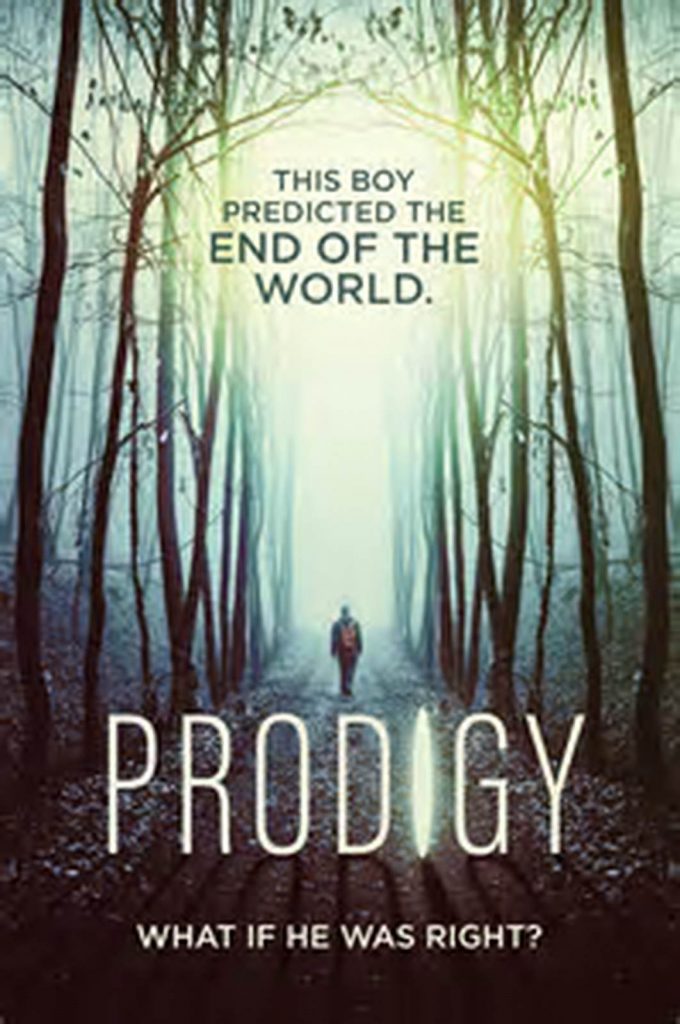 The role of the young lead, I imagine, would've been difficult to cast. Can you talk about how you found the perfect kid?
NATHAN: In Hollywood it's extremely difficult to find great young actors. On a smaller indie film, it's near impossible. I cast the movie myself and the search for the perfect kid to play the role was critical. Without a believable young boy you don't have a movie. I'd approached all the agencies and asked them to send videos of young actors in the area. What I was getting back wasn't promising. This is a very difficult part to pull off, even for a seasoned young talent. I'd been through hundreds of auditions and thought I'd found my "Caleb Black." I put him in a room with our lead actor Cory Kays and the two just didn't feel believable as father and son. They were both great individually but not together. The chemistry was off and they didn't match up physically. I went back over old tapes and came across Embry Johnson's audition tape. It was like I was seeing it for the first time. There was definitely something there that I had missed the first time it came along. I met him and realized that Embry was the character in every way. Good hearted, a bit shy, and wise beyond his years. The search had ended. I'm convinced this kid is going places.
Do you yourself pull a Hitchcock and cameo?
NATHAN: Haha. Yes I do. However, it was purely out of necessity rather than choice. On the day of shooting a particular scene, one of the soldiers I cast couldn't make it. We got the call about an hour before cameras were to roll. These things happen all the time in the indie world. I looked around and tried to figure out who could play this small part. There was no one available and the clock was ticking. That's how I found myself gearing up in military fatigues and playing soldier #7. I tried to hide myself as best I could. I should also say that a similar thing happened a few days later and I played another role. So I'm actually in the film twice! I guess I'm the easter egg! I promise you I have no aspirations to be an actor. It's far too difficult.
There's been a few movies with 'Prodigy' in the title this year. Why did you decide it was better just to stick with it than rename it?
NATHAN: Yeah, it's kind of interesting. When I was in pre-production there were no other movies coming out called PRODIGY. Now, more than a year later at the film's release, all of these movies are popping up with the same title. I guess it's the writer zeitgeist or something. I didn't change it because my wife reminded me of the day I came to her and said, "I don't know all the details of the story yet but I know it's about a young boy who has supernatural abilities and the name of the movie is going to be Prodigy." There are certain creative instincts and decisions that you know are right and you stick with them. I also believe our movie is strong enough to stand out among the crowd.