Young actor and filmmaker Keith Sutliff describes the process of making movies as "stressful, expensive and time consuming" but as the release of his new film The Refuge approaches, it's clear the excitable and enthusiastic talent is only happy to put the work in if it means he gets to live his dream.
This is a very striking movie.  Do you consider the location as much a star of the movie as the cast?
I do, half or more of the movie takes place all over Los Angeles in a getaway car at night. This film is kind of a roller coaster ride through the streets of Los Angeles at night and a tour of the city for people who have not been here. I compare it to those rides at Universal Studios like the old Back to The Future ride. We put the audience in the back seat of the car and take them all over the city. That was the sensation we were going for.
How long of a shoot was it?
12 days.
Was it all shot in LA? Or were parts of it filmed all over?
All of it was shot in Los Angeles.
And did you have access to the locations or were they places you rented?
Both.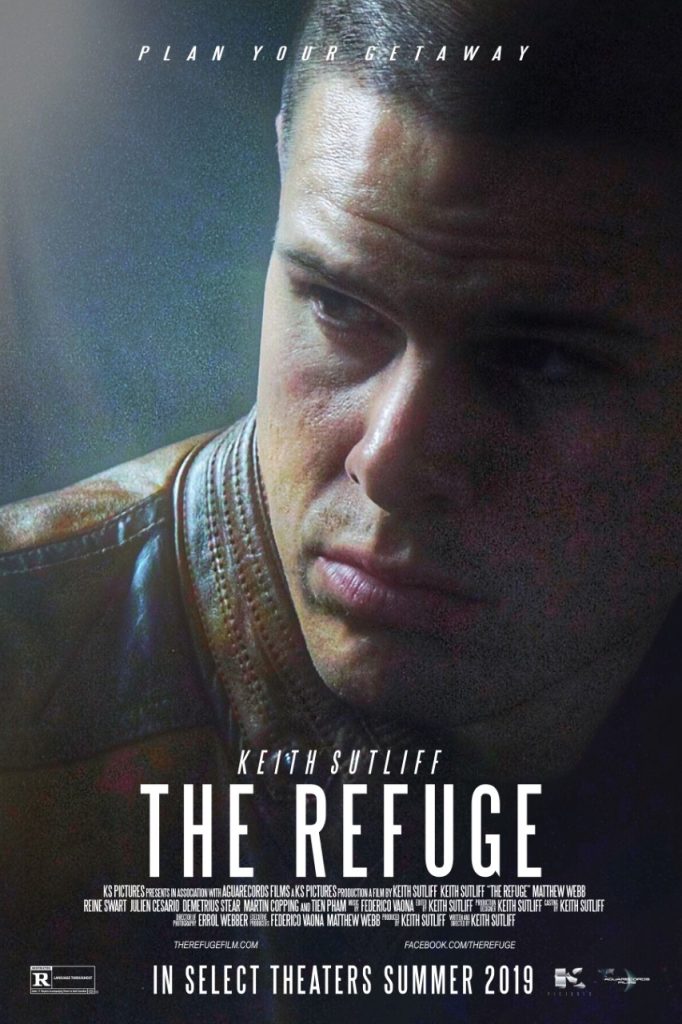 As an independent production, I imagine you had to be savvy, even take some shortcuts here and there?
Yeah like most indie productions there are always ways to cut corners and I have my tricks of what I like to do to get it done. Part of shooting a film and being really creative about it to get it done in any way possible.
Were you always going to star in the film?
Yes! This was a role I have been wanting to play for a very long time since coming to Los Angeles almost 7 years ago. I felt like the only way to get the opportunity was to write/direct the role for myself and do it.
Is it hard directing yourself though?
It is. Because a director ideally should be behind the camera looking at the monitor and the frame. Making sure everything looks right and directing the actors from that vantage point. However, I have a really good team that helps with anything that is needed.
Where do you think your strengths lie as a performer?
Being natural with the role. Basically not trying to act but letting it flow naturally as that certain character would.
Can you tell us about working with Reine Swart, who we know from The Lullaby?
She is great and brilliant! One of the most talented actors I have ever met. I met her at her premiere of The Lullaby a while back. I was blown away by her performance and have never seen anything like it. The transformation she did was mind blowing. I talked to her after the show and reconnected later with her when I was casting this film.  She is really good to work with and takes direction very well. She knew the character already very well, so I didn't have to direct her much at all. A great person to work with in the business and very professional overall.
How important is a social media presence for a film?
Very important. Someone can make a good film but if people don't know about it the word won't get out there.
What's one thing people probably don't realize about making movies?
How stressful, expensive, and time consuming it is. Also, how many working parts and logistics there are since so many people have to be contracted/hired to make the film from pre-production, production, and post production. It's all logistics, admin, and coordinating with a ton of people every day to make it happen from start to finish which could take years. For this film we finished it in a little under a year and a half.
What was the initial goal of the project, for you. Has it succeeded, in terms of that goal, or is it too early to tell?
To make a hit in a film playing the lead as a getaway driver. I have other goals for it as well. However, it is too early to tell yes for all the goals I have in mind for it.
What's the future hold for you?
I have a couple other scripts of mine I have written I wanna do down the road. One in particular which has been my dream film to make for the past 4 years. But for the recent future coming up I am going to focus on acting more in other people's projects after this film.
THE REFUGE is in theaters June 28