For over 4 decades, Jeff Farley has been a revolutionary force in showbiz special effects.  In such skills as prosthetics, animatronics, creature effects and sculpting, you have seen Jeff's handiwork just about everywhere.  Demolition Man, The Blob, Arena, Wolf, Alien 3 and Pet Sematary are just a small fraction of the popular films in which his skills can be seen on display.  Jeff discusses his career and the adventures within throughout this interview with The Movie Elite.
How did you get your start in the business? When did you get to the point where you would be able to use your skills in film?
"I was friends with Famous Monsters of Filmland magazine editor, Forrest J Ackerman and he invited me to meet Ray Harryhausen one night and there happened to be another guy there who had been working in the effects industry and he was working on the William Shatner film, Kingdom of the Spiders and since we lived close to one another, he invited me to help manufacture a ton of background spiders. It wasn't glamorous, but it was a start for a kid who was still in Junior High. Looking back, I was always artistic in some sense and I believe that helped ready me for this field."
What was your first big project? Having worked on so many films, which stood out as the first "big deal" for you?
"While I am grateful for the opportunity to work on such a varied number of films, it's difficult to pick out a particular project, but I can say going to Italy on the final film for Empire Pictures, Arena, is a standout. It was my first time out of the country and the experience of 3 months near Rome, shooting in the studio formerly owned by Dino De Laurentis and the history associated with it was quite an eye opener."
What do your days typically look like? How much of what you do is related to makeup, and how much to overall special effects?
"Currently, I'm working on projects that require someone who can perform miracles for a cost, which means that it all depends on what is needed. I spent quite a bit of time earlier this year producing numerous prosthetics for the kids film, The Three Bears and the Perfect Gift and currently, I'm building cable-controlled puppets for a feature. I usually keep away from the makeup room these days as I find the design of characters more interesting."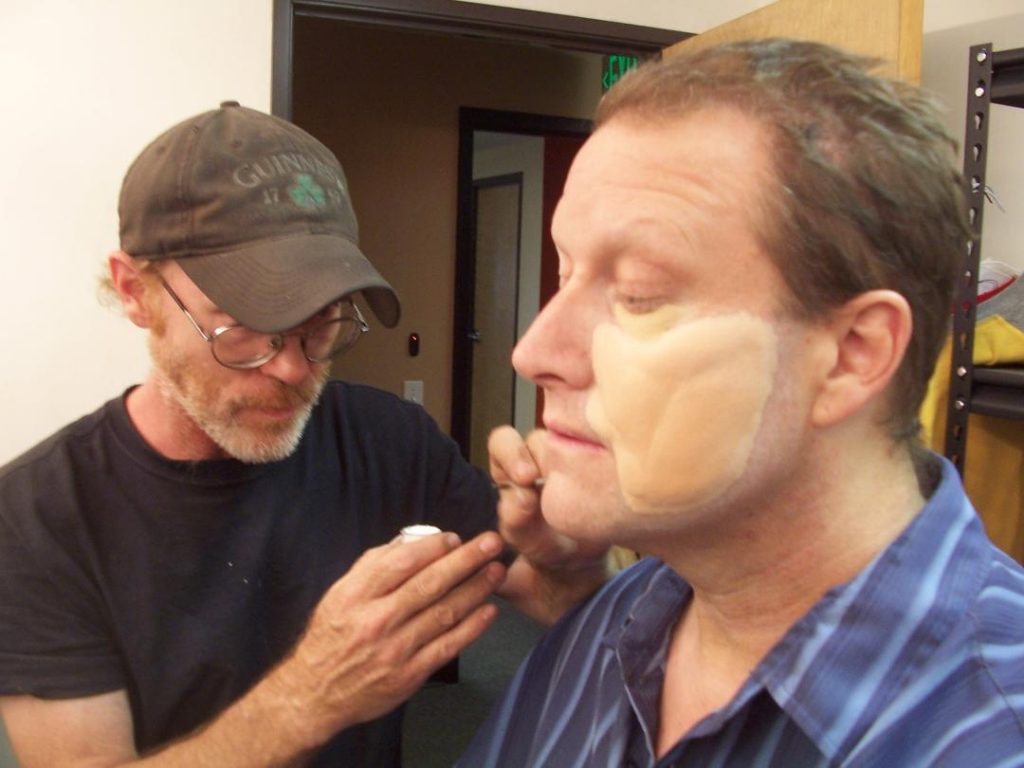 You worked on Demolition Man, a significant cult classic that carries to today. What kinds of things were you involved with, and are there any moments or people that stick out for you when working on that movie?
"I was involved in making the Cryo-Chamber bodies over at ADI, including the doubles for Sylvester Stallone and Wesley Snipes. I also spent time on set at Warner Bros. Studios. There was an actor who had a small part in the film I ended up working with on another film where he had a larger part and we had some good stories to swap."
How did it come about that you were approached for Return of the Killer Shrews?
"I had a history with Steve Latshaw since his earlier films, Dark Universe and Jack-O. We crossed paths again a few years later on the first film Stan Lee executive produced for the Sci Fi Channel, Lightspeed. I had also worked with line producer, Dan Golden, so my name must have come up in conversation."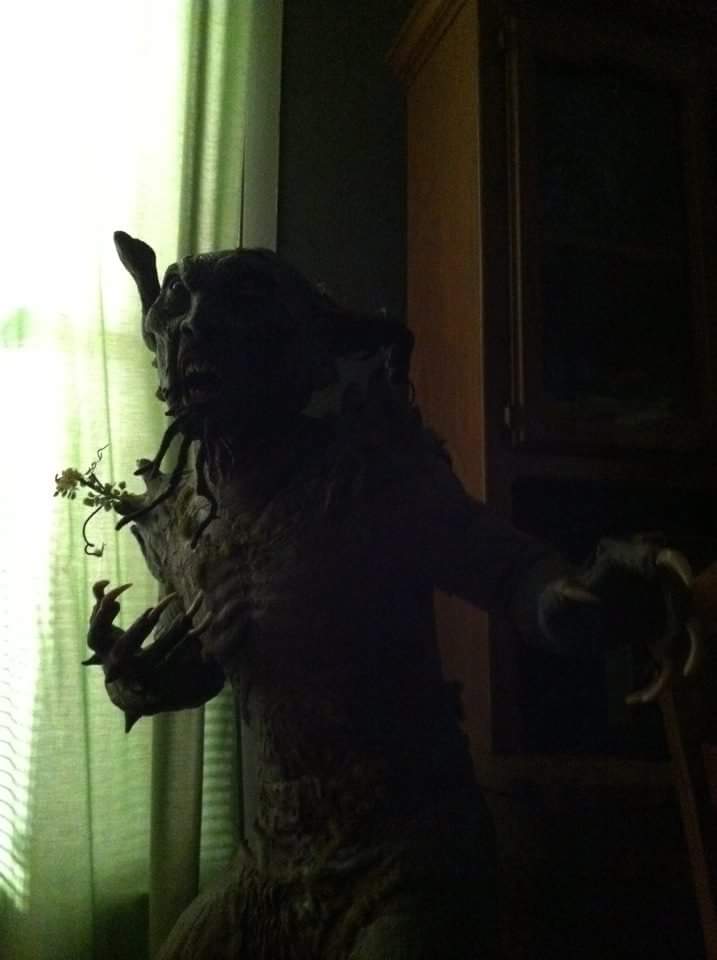 What kinds of things did you put together for Shrews? Much of what the audience sees is related to the CGI creatures, but what kinds of things were you putting together or working on for this film?
"I designed the shrew during the sculpture phase of building the puppet. I was sent some designs that I felt lacked character and asked to be dismissed as I was already in heavy pre-production in my studio, designing the prosthetic and puppet effects for Universal Soldier 4 at the same time.  I thought that maybe I had bitten off mire than I could chew, but the opportunity to work on this film was too good. Somehow, the decision was made to alter the digital versions to match the sculpture I was working on. When finished, the puppet had cable controls so it could snarl, open it's jaw and blink its eyes. I also included bladders in the muzzle and a tube in the mouth to provide drool or blood. I brought the puppet to set during the shoot to allow the post-production effects crew to photograph it, though most of the shots of the puppet in the film were shot on a separate day. I also provided the makeup effects including the first victim missing his arm."
James Best appears in Shrews, a very recognizable actor. Are there any memorable stories from him or others on set? On that same note, are there any other favorite actors of yours that you have worked with during your career?
"The day James came by my studio was one of the highlights of my life. He was so friendly and kind. I just saw his wife Dorothy and she mentioned how much enjoyment he got out of that day. I can certainly say that for me, it's all about the people you work with… and if it includes actors that you grew up watching, all the better. Juliet Mills (Nanny and the Professor, Beyond the Door) comes to mind as well as Yoshio Tsuchiya (Invasion of the Astro Monster, Red Beard)  Tetsuro Tamba (You Only Live Twice),  Armin Shimerman (Star Trek: Deep Space 9) Robert Spafford (Once Upon A Time in the West), Ken Clark (South Pacific, Attack of the Giant Leeches)… the list could go on and on."
Do you approach a project any different if it's something with CGI effects vs practical effects? What is the biggest difference for you now that such a thing is so prominent?
"I try to be open-minded when it comes to post-production effects as they are another tool to create a better finished product. It's difficult when it becomes more of a competition, rather than collaboration."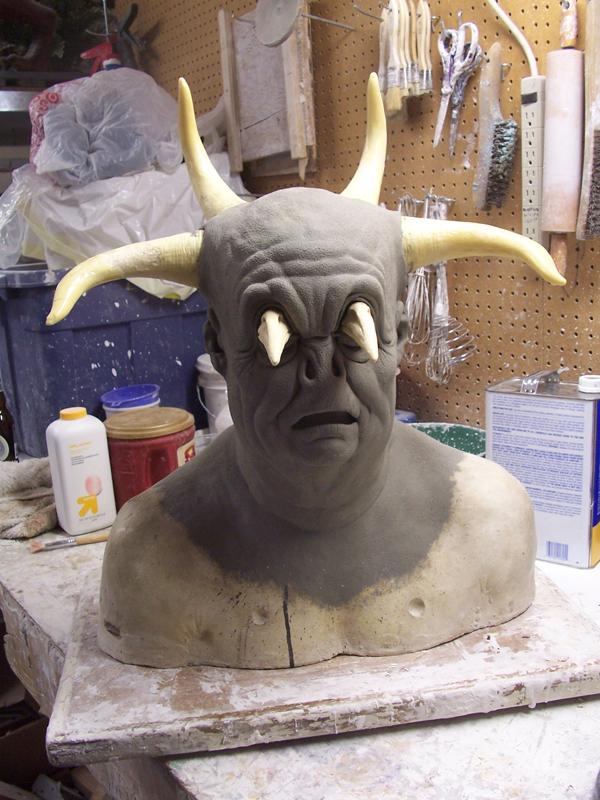 What was your most enjoyable work during your career?
"Creating the Python character for Stan Lee's Lightspeed is a particular stand-out. Though the schedule and budget were lower than I would have preferred, everybody on the crew creating the elements from my design deserve credit for their dedication… especially toward the end when everything had to ship out. The location shoot with Ross Tallent as my assistant was one of the best of my career. That one, I'm most proud of."
What else can we look forward to seeing from you in the future?
"Currently, I'm creating a likeness of legendary author, Ray Bradbury for Bill Oberst Jr.'s stage show, Ray Bradbury Live (forever). Also, I am fabricating an oversized insect puppet for another feature, The Uncanny. My Babysitter, The Superhero as well as The Three Bears and the Perfect Gift will be released over the next few months. My real passion though are the paintings I am creating from my past memories of seeing the fantastic images in the pages of Famous Monsters and films I grew up on."
Thank you for your time and we look forward to seeing what's next!
"You are welcome and thank you for giving me this opportunity!"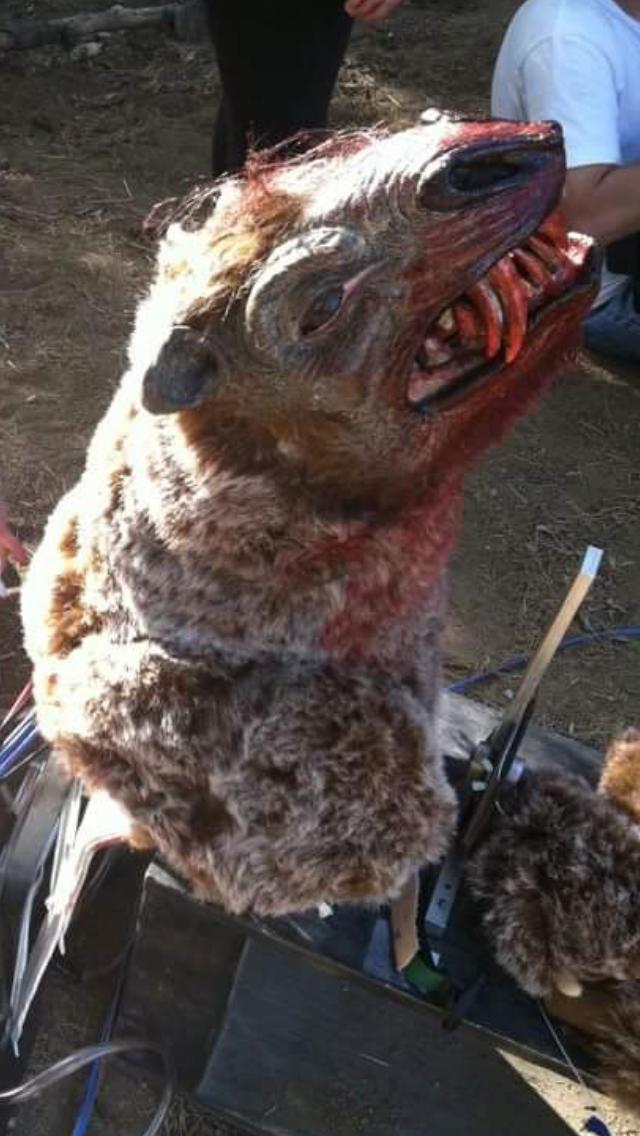 RETURN OF THE KILLER SHREWS is now available on VOD!