Tom Jolliffe is a writer and producer, known for The Dark Recess (2019), Winter Hill (2018) and Estranged (2020). He is also a freelance film journalist, who regularly contributes to popular UK film website, Flickering Myth. He stopped by to chat with us about his career as a writer and more.
---
Hi Tom, thanks for taking time to chat. It's been a crazy year; how have you been keeping busy over the past few months?Â
Thanks for having me on Eoin, I always enjoy reading your interviews, it's an honour to be part of one. I've been pretty much writing non-stop since 2018 on features and 2020 hasn't slowed at all. Ironically since Covid, I've probably been busier than ever, and I've been fortunate to jump on to bigger, star powered projects as I've seen a welcome move to action pictures now (though the horror projects still keep coming too).Â
When did you start writing scripts and what made you want to get into movies?
I started writing scripts probably over 10 years ago. I've loved movies since I was a kid, particularly action films growing up. I then studied film theory at University. I'd always been open minded on genres, and world cinema but studying expanded my horizons even more. My movie tastes are strange. I can go from watching a Don The Dragon film one morning, to an Andrei Tarkovsky in the afternoon. I initially had a big interest in film reviewing. I started on IMDB, ended up then contributing intermittently to Flickering Myth, and 10 years later I still write regularly at the site, but tend to focus more on op-eds and features, as unless it's a film of particular interest/or specialist to me (usually DTV action) I don't enjoy reviewing quite so much any more. It's more expansive and free flowing in features. Film has always been a passion, and screenwriting transitioned from hobby, to wishful fantasy, to actually getting commissioned and being able to pick up one of my films on DVD in the local supermarket. The idea of seeing my name on a cover had always appealed to me.
Any major influences like filmmakers or actors?
I've always been inspired by the action actors because many of them essentially have a similar story. They hit America without much in their pocket and made it big. I grew up on Arnie, Sly, Seagal, Van Damme, Lundgren. You can appreciate their success and drive whether you're into film or not, whether it's Van Damme demonstrating his jumping 360 kicks on a producer in the street, or Stallone virtually homeless because he wouldn't sell 'Rocky' without himself as the star. Cinematically my film-making idols growing up were Mann, Woo, McTiernan, Spielberg, Coppola and Ridley Scott. I've always been inspired by unique films too and want to try and capture a similar kind of style, but then the uniqueness of things like 'Paris, Texas,' 'Withnail & I,' 'Stalker' or 'Naked (Mike Leigh)' are part of why they can't be emulated. I can pay homage though. Those aside, as a writer I love 'Chinatown.' Robert Towne's script is an all time great. As an action writer, most of Shane Blacks work is also a big inspiration, particularly the dialogue.Â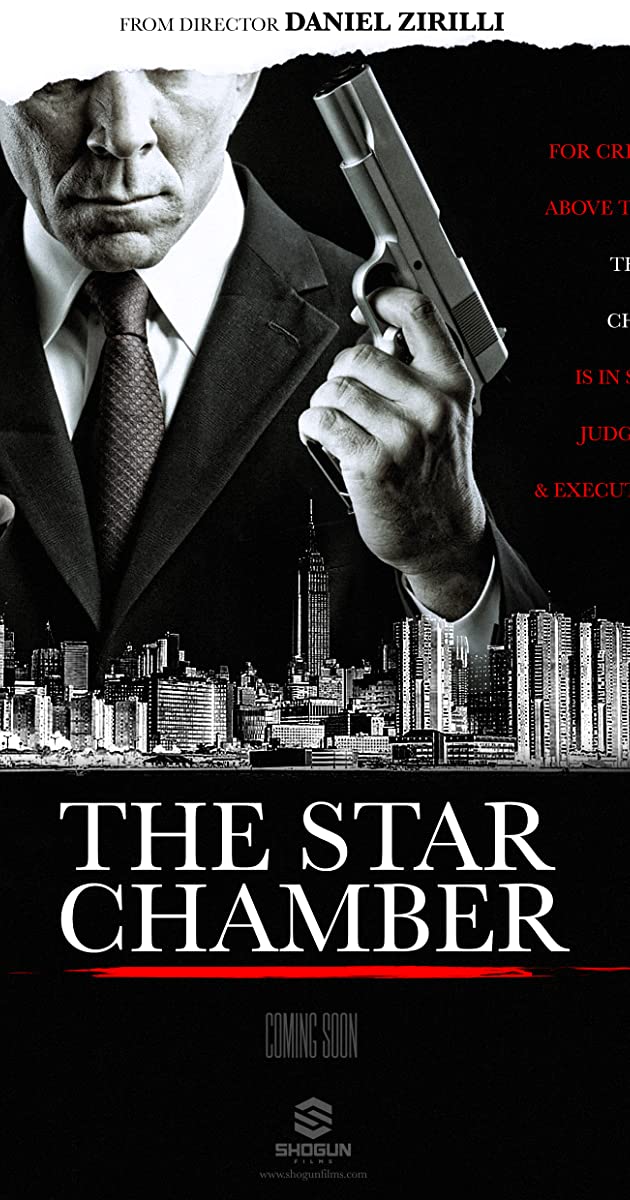 What is your writing process like?Â
It will depend on what I'm doing. If I work on an idea I may produce it could fire out of me straight to script form. If I'm working to spec then I will tend to outline and treatment it first, get the all clear and then get into the script. Some films have taken me a week to write, others with lets say, more complexities, will take longer and more drafts. But the latter always tend to be the ones harder to get picked up.Â
Having worked as a writer, producer and actor do you have a preference or do you like doing them all?Â
Writing has always been my thing. I was getting blocked at the finale hurdle on a number of projects, short and feature films. Companies would go bust before a script went in production, or indie film-makers who were going to film my short scripts would keep on pushing back the shoot until giving up entirely. Shorts are a great way to start, particularly in creatively expressing yourself, but there's virtually no end game to them, which means getting them funded is extremely difficult. So you learn to shoot for as little as possible and make the best thing you can. I ended up producing after becoming fed up with films just not happening (and like many other jobs, people look at the experience you have and credits on your CV). Myself and friend co-produced 'Out' which starred Shone Romulus (Top Boy) and Joerg Stadler (Saving Private Ryan). We got a big screen premiere in London so it was a rewarding experience. Producing was needs must, and any time I've acted has been similar, as anyone who's seen my acting will attest. Shorts give you the chance, if you're the driving force, to expand yourself and learn different things. I found myself as a sound recordist on one short, and thankfully didn't completely wreck the film and without even considering that we'd done production design, myself and my brother won a production design award for our short film 'The Dark Recess' (currently on Prime UK). It takes a lot of hard work producing though. I've worked a lot with Scott Jeffrey, Louisa Warren and Rebecca Matthews since 2018 and they're shooting films in insane schedules of 7 days (sometimes less) and wearing a lot of hats. Having done it on a more confined scale in shorts I have no idea how they even deliver something at the end, but kudos on doing so.Â
Following on from that do you have any interest in directing at all?
At the moment no. It's never particularly interested me, or suited my skill set. I feel if I ever did it may be for vanities sake, but that probably wouldn't end well.Â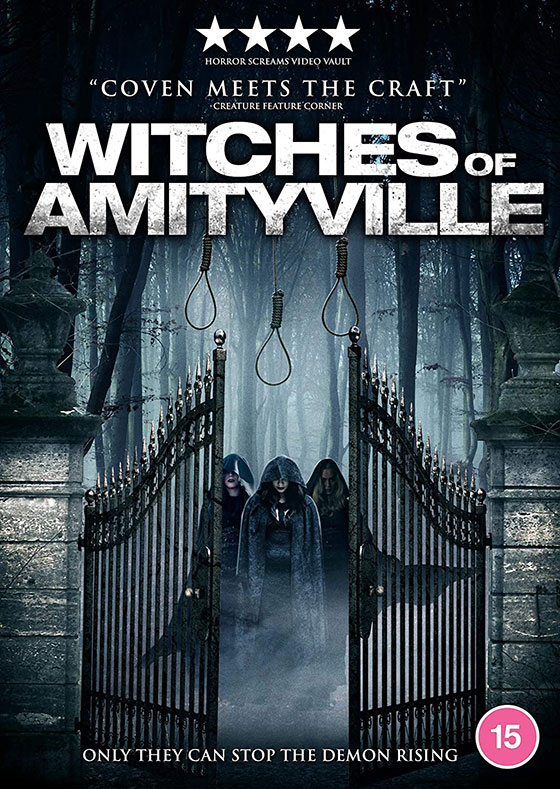 What would you like audiences to take from your latest feature entitled Witches of Amityville?
It's a slice of campy fun. The script evolved and there were slightly more comedic versions, and darker versions, and as with everything in the microbudget realm, more elaborate versions, but I'm pleased with the result. Occasionally people expect too much from these films, but I think for the cast involved we found a good balance of tone (a really dark film wouldn't have worked for the leading ladies), and it kind of has an 80's Italian fantasy/horror vibe and a certain sincerity. It's probably more Cannon (particularly the Italian films they produced with Lou Ferrigno et al), crossed with Hammer, than say the next 'Conjuring.' I also had things in mind like 'Legend (the Ridley Scott film)' and 'Willow' whilst writing, and predominantly 'Suspiria.'Â
You have several upcoming projects including Tooth Fairy 3, When Darkness Falls and Jurassic Island; what stages are they at?
All three actually shot in September. 'Tooth Fairy 3' I was initially hesitant to do because of time. In fact I could have done another script for Champdog consecutively, but I was already drafting something else and had to turn the second down (which was a kind of 'Eyes Without A Face' riff). I scripted 'Tooth Fairy 3' in a week, and two weeks later it was shooting. I'd written the previous film (but not the first) and it was interesting to revisit a character 15-20 years after his last outing. That said, because I love 'Eyes Without A Face,' I regret turning the other one down, but I couldn't have done that within a week. I already knew the Tooth Fairy world and protagonist, so it appeared more naturally. When Darkness Falls is different as it's a film that wasn't a concept handed to me to write on spec. It's a bit more of the kind of cinema I'm really into and harks back to 60's-70's thrillers. It's set in the Highlands and the locations look stunning, and there's a great cast.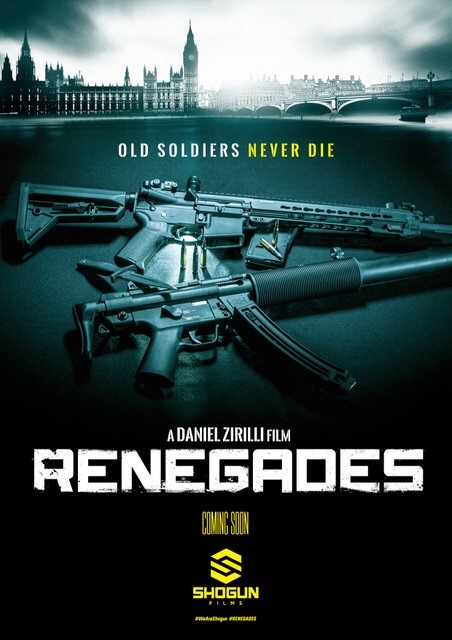 I know things are uncertain just now with the current situation but what other projects do you have coming up?
As I'm pretty much in the home market with physical media and streaming releases, things haven't slowed quite so much (bar actual shoots). There will inevitably be a need for content. It's sad to see cinemas struggling, because things were on a decline even before Covid, but hopefully it'll recover. I'm now on a run of big action projects. First up is 'Renegades' directed by Daniel Zirilli and produced by Jonathan Sothcott. A good old fashion revenge film with a group of aging veterans who get back into action when a friend is killed by gangsters. That will film soon and the cast will be immense. It's going to be loaded with people I've been watching and admiring for ages, so can't wait until the news breaks on the final confirmation. Then myself, Daniel and Jonathan also have a few more big action projects lined up, including 'Crackdown' and 'The Star Chamber,' which will have some major icons involved. Every time a name is mentioned in passing for the cast on these, it's certainly exciting because apart from anything else, I'm a big fan. We'll then be working on Pretty Boy, a biopic of infamous career criminal and bare knuckle boxer, Roy Shaw. It's an ambitious project, and very exciting (my biggest to date). Our goal is to make these as great as we can and not just churn them out. I've also got 'Milford Green' in development, based on a popular graphic novel, which will be an interesting foray into slightly more family friendly material, and pits a Victorian inventor and tinkerer against Aliens. I've also got a 'War of The Worlds' adaptation, 'The Attack' which I co-wrote, starring Vince Regan, out next year at some point too, where we really wanted to evoke an 80's adventure film vibe.
Any dream projects you'd like to work on?
If they insist on perpetually doing Terminator and Die Hard sequels etc, I'd love to get a go on one, but that aside I have a checklist of action icons I'm hoping to write for in the coming years, whilst the demand remains strong for them, including Seagal, Cage, Willis, Lundgren, Arnie, Sly, JCVD, Michael Jai White, Scott Adkins (sidenote, his Art of Action series is superb), Cynthia Rothrock, Mark Dacascos, Gary Daniels, (basically name a theatrical/video action titan from the 80's/90's and I'd love to write for them).
I'm also hoping to do more psychological horror films, as that's my preference in horror cinema. I like uniqueness too. Much as I enjoy doing films about Scarecrows and Witches, or demonic Tooth Fairies, those creature features are expected with a linear approach, and you don't always get to roll with the silliness of the concept because a lot of distributors have an aversion to humour. You don't need to go full Sharknado by any means. The original Terminator for example has humour. Some of the most iconic horror films are also infused with comedy (Freddy, Evil Dead, etc), so I never quite get that demand that these films have to be devoid of any humour, as inevitably the budgets on these films can bring with them their own different kind of comedy. So I have more passion projects in mind, that started with 'When Darkness Falls' which I conceived with my mate Nathan Shepka, who produced, directed and co-starred. That's in post as we speak. Next year I have 'The Retreat', which is what myself and the boys at Studio 7 films are hoping will be an A24 style horror, and I'll develop another horror feature with my brother later next year. Of recent times I've loved 'Mandy' and 'The Lighthouse' which were so unrestrained in their own way that I have no idea how they actually sold (because it's so rare, in horror, to get those freedoms). So I want to make something unrestrained and uniquely weird, if anyone wants to give me a million quid.
Good luck with the future projects and please stay safe.
Thanks Eoin. All the best.Â