James David Redding IIIÂ has been working in music and television for many years as a sound designer, re-recording mixer, sound editor, sound mixer and more. He has worked on shows like City on a Hill, The Americans and The Queen's Gambit. We wanted to explore what a sound designer does so James kindly stopped by to chat about his career.
---
The thing we try to do with The Movie Elite is to demystify certain elements within movies.  Obviously, sound design is hugely important in terms of mood. It's absolutely everything. So for you, whenever you start planning the sound design, is there a defining moment? A movie that you saw or some kind of an experience you thought "wow, that's just an incredible use of that kind of technique there" and it just completely changed your perception of movies…
Yeah, actually, it's funny because I'm a teacher, so I always have to demystify sound design. The movie that really turned me on to sound was The Fifth Element by Luc Besson. When I saw that movie I was in college and I just remember watching it and just going "what the what? (laughs) you know? They sort of went crazy with it all; they built this world and you can't tell what is music, what is sound effects and what is dialogue in that movie. They just blended it so beautifully. So that was the one that switched me from doing music to wanting to do sound effects and sort of start off in the music world.
Once I decided I wanted to do it, I looked up a company called Danetracks and I met this guy, Dane Davis, who became my mentor and is a good friend now. He happened to be working on The Matrix at the time. I learned so much about sound for film that time working on The Matrix and like the demystifying of how we come up with sounds, I mean, Dane's brain, just how do we do bullet time? OK, let's slow this down. Let's pitch this up. How do we do a helicopter crashing into a glass building? Let's go get a bunch of old televisions and explode them on the Warner Brothers Foley stage with John Roesch. Let's go (laughs). That was the eye-opening moment to me of wow, this job is a possibility and just fun and a good time.
So you started off in the music world really?
Yeah, well, I dabble in music. Teenager that wanted to be a rock God (laughs). Then, I went to college and studied audio; then while I was there, I was like, "all right, I'm not actually a great musician", I got, really good at capturing sounds and doing crazy stuff on the radio. And I was like, "OK, well, maybe I'll get into radio" and doing all those fun breakers and stuff like that. Then I saw The Fifth Element and I went, "wait a second, this is cool. This is what I want to do."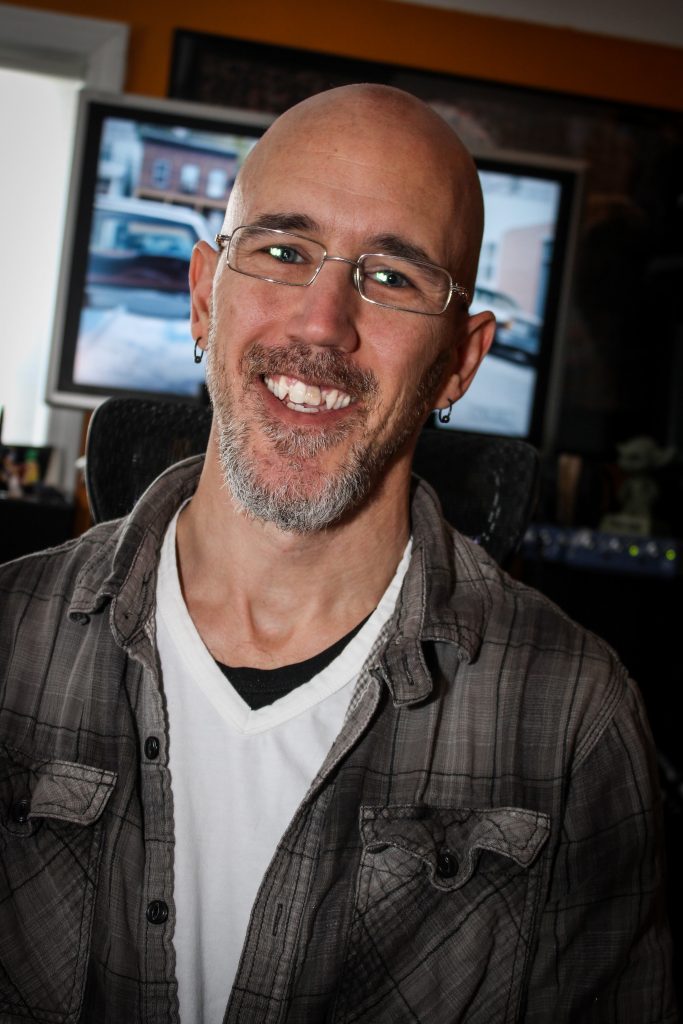 The way sound and music, especially, in contemporary film, have just kind of merged. We think of somebody like Hans Zimmer and wonder is that music or is it just sound? It's mood more than anything else.
Well, that is interesting, too, because there's more to sound design than just the musicality of it. That is where I think a lot of people get confused about sound design. All of us audio geeks, so to say, are musical in nature too; our ears are tuned to listen to the world differently. We have done that to ourselves. We gravitate towards music because it is such a universal language. It's such a universal experience for everybody. That is why so many, I think, equate it with music and you do have composers who are doing sound design. Really any part of any aural experience that you're getting that is being manufactured is sound design, right? Â Even the score, that is a part of sound design.
I had a mentor back when I was starting my career, Ken Hahn, who when I first started, asked me "So what do you want to be? What's your end goal?". I was like, "I want to be a sound designer". He goes, "OK, what do you think I am?" I'm like, "Well, you're rerecording mixer" and he's like, "that's a sound designer". He's like, "I ultimately have the end say in what gets heard. I have come to appreciate it that way. Every piece has its part and every piece is designed. People always ask what is a sound designer? And my answer is always it's somebody who's trying to evoke an emotion with audio that enhances your visual experience. We could do it with non-visuals too.
I mean, there's so many podcasts now that are doing this that are doing almost radio plays of the old days but now they're podcasts and they're adding elements that they're trying to evoke emotion and they're trying to get a point across somehow, whether it's focusing the audience on something; If it's a documentary, like I just did MLK/FBI, and on that, we use the sound effects to focus you in on how dangerous this situation was in the movie, how dangerous it was that the FBI J. Edgar Hoover was going after Martin Luther King.
So specifically, with that documentary obviously, with the whole tone of that, there's going to be an edge to it. Like you say, there's a tension there. Are there any particular techniques that you adopt that are kind of your go to?Â
I don't necessarily go to a specific sound, but I go to a feeling and what evoked that feeling. With MLK, what I did was a lot of sharpness. I tried to cut things sharp. I tried to keep sound distinct and sharp. There are all these moments where they had the photocopier machine and they had the microfiche machine. I tried to use those almost like knives. You're slicing through the microfiche as it's winding through and then you stop and you're trying to keep that, because that, to me, elicits a danger almost when we're going through this and just trying to keep a focused sound; I find that enhances that immediacy. It's kind of like when you're scared and you focus in on every sound in your house. You're in the dark and you focus in on everything in your house.
Other senses are heightened.
Yeah, exactly. So I'm trying to do that with these everyday office machines.
Making the everyday things the terrifying things.
Yeah, exactly. You add a couple of extra things like if you want to add a little bit of that almost anxiety ridden type sound. I add a little extra low end to it. I tweak the high end a little bit just to give you that, like all the hair on the back of my neck standing up type thing and basing it on just psychology of humans and what's natural in humans to cause those responses.
When I'm doing a documentary, I have a sound library, I mean I have four terabytes of sound effects. I do have a couple that I go to a lot and I'm finding new ones all the time.
The BBC library is great for documentaries. There's this old library called the International Sound Effects Library that I have that has all these sorts of old sounds that they just match that stock footage, they match that archival footage stuff. But I'm finding things, too, like if you go and look at soundsnap.com or prosoundeffects.com, they're getting such extensive libraries now online that you could just easily search up, oh, "I don't have this in my library. Let me go and find something else". I'm doing that and it's funny because when musically you're like, oh, I always use this compressor when I'm recording.
For me, I learn something by reading a blog from Randy Thom where he's just like "sometimes I just randomly go through my sound effects library and pick a sound". I started doing that a couple of years ago. I'm always finding sounds. I'm like, oh, I forgot about the sound or I didn't know I had that sound. So I I'm trying not to go back to those gotos anymore. Because of the fact that I'm finding so many sounds I've heard before in other productions.
It's like you just hear over and over again, where you're "there's that sound again"…Â
Right? It's like, oh, I know that distant dog barking in the background. So I'm trying to avoid those nowadays and I'm not falling back on anything in particular.
Whenever you're working on a TV series as opposed to a movie, for example, and you have recurring themes and recurring characters or places is that kind of an instance where every time this is going to happen you think I'm going to have that there that helps reinforce that mood.
Like a motif type of thing?
Yes.
Currently I'm working on Showtime's City on a Hill. I did the first season and we're doing the second season now. It's premiered actually Sunday, which is kind of cool. When I'm working on that, I've worked with the showrunner of that show, Tom Fontana, for 20 years. I've worked with him since Oz. I kind of know Tom's sensibility of how he wants to heighten things. I do come up with like for City on a Hill, I've come up with sort of a Procedure.
Do you know the Synth Falcon from UVI?
Yeah.
So I'll use that as a sample trigger and I'll take a couple of sound effects that I've made, you know, Gong's or booms or something like that. I'll put them into layers on that sampler. And I use those, you know, a big point just came up and I'll trigger you know, I have this one that I call plucky hit.
It's got this hit in a delay factor and I'm adding UVI delays to it. I have my keyboard technically right now, I'm actually sitting in my studio. When I reach over my keyboard's right over here (laughs), but I have a keyboard right next to me and I'm like, oh, Kevin Bacon's character just said the meanest thing to this person and I hit plucky hit dum dum dum and it echoes through and I know Tom likes very percussive natural sounds, so I stay away from making it sound too electronic.
That's an interesting distinction that when you get to know a creative partner, like a director or showrunner who has invested into this over a period of time and you get to understand that they like or dislike.Â
Some people don't always get that luxury because the fact sometimes it's as much as they might like working with us, another producer on a show can pull it a different way, or they just want to try something new because they do it every once in a while.
Even the picture editor, sometimes a director is like, oh, I want to try something new for my next film.
But it's true. You do come up with like a shorthand and that's what's been a lot of fun with Tom. I did all six seasons of the Americans and Joe and Joel, the two showrunner creators on that show, we got a really good shorthand with them. By the sixth season, it was like we can just stare at each other and know what we need to change, you know?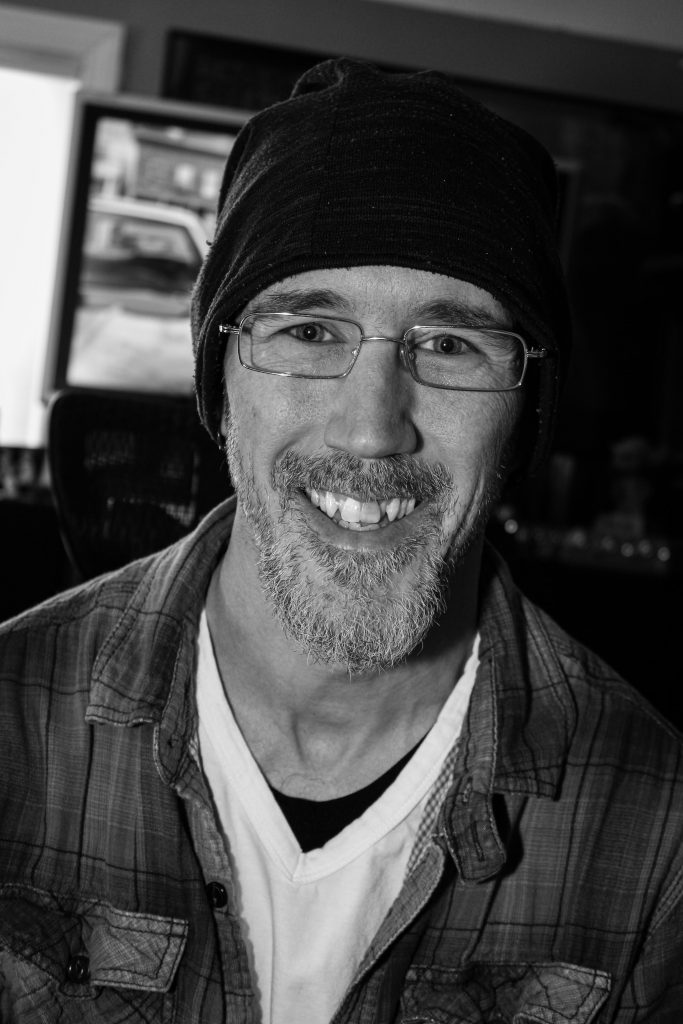 Any time I think of sound designer director, I always think of David Lynch and it's just because for me, it just as much a part of his aesthetic. He's always thinking in terms of the overall for everything. It's the picture it's the mood it's the sound. One of the things he always has in almost everything he does is this little sub is just constantly they're just creating this malevolence, you know?  Are there certain directors who are like "no, I have a very clear idea of what I want and this is the way it's going to be?"
I always try to make my suggestions because I've found, especially with first time directors or even directors who have been around for a while, that just haven't delved into the sound world as much, that sometimes I come up with an idea that they've never thought of. I always put in my suggestions but in the end, as the sound designer, I am there to complete their project. I'm trying to enhance their project. So it is a very collaborative thing. Most of the time, if I've been brought in early enough in a project where I can develop the sounds along with their edit, I find it tends to be a lot more collaborative and they don't get what we call temp love, right, where they don't fall in love with the sounds that they've cut in. I get it because I get that too, from my sounds.
You find that with mistakes, too. They get so used to hearing a mistake that when you edit it out there like "something's missing". You're like, yeah, that was a footfall by the camera guy. You didn't want that, trust me. I do find it can be very collaborative, sometimes it depends on the time crunch. Sometimes you just don't have time to be collaborative on TV shows.
So many of the TV shows I've worked on, I've worked on with the same people and not just show runners. I'm talking even with City on a Hill.
Tony Pipitone has been my co rerecording mixer on every other Tom Fontana thing that we've worked on. This show because of the way timings worked out and stuff like that. Tony's mixing it on his own, but I'm doing all of the sound effects editing and with the sound effects editing, I'm pre-mixing everything for him so he knows when he gets it for me, he just has to put up my sound effects and he can move forward. That helps with the timeline thing.
When you have a crew of people that you've known for so long, everybody that's working on City on a Hill right now, we've all worked together for twenty years. Our dialogue editor Jay Fisher – I know what he's capable of as far as removing noises and whatnot. I know what I need to put back in. He knows what I'm going to cover and our foley editor, Neil Ceder, knows we pretty much have a shorthand of like, OK, you're going to cover X, Y and Z, and I'm going to cover this in foley. In the end, we won't overlap and we won't have to have redundant sound. The mix goes smoother. So it's great we have that one. Even when I'm working with a new crew, we try to come up with a new plan. We try to work off each other's templates. The first couple of episodes, it's like "can you do this differently?" Then you get into a flow and it works great. So whenever I'm doing a film, you do have that much more expense, for television shows most of the time I get about seven days for turnaround of sound. If I'm editing sound effects or if I'm mixing, it's usually we get three days to mix an hour-long drama. But if I'm editing, I usually get around five to seven days per episode, whereas for a film, even though it's basically time wise, a film might be two episodes of a television show, but I'll get seven weeks and then you get to dive into it deeper. It's like sometimes the first couple of films I did after being in the television world for so long, the first couple of films I did, I was just like, what do you mean? I get seven weeks. This is luxurious…
Did you find that you were experimenting a bit more?
Yeah that's what I mean, you get to go in there even deeper. You get even more details. You get to play around a little bit more. I find I like to do like a painting style with my sound effects. I do big broad strokes in the beginning. I try to get all the background in shape or fill out the scenes in a certain way, and then I start going in with the fine brushes and being like, OK, I'm going to move this year and even I'll go back into the background and cut things out or move things in the background and then put in the spot effects that I want to put in. Then I almost go with the airbrush after that and do even more detail with a little bit of fuzz on the sides so that it just sort of blends together. It's just so great when you have the time to do that. But one thing that I don't know if you've if you've seen my IMDB, I have like a weird collection of credits.
Yeah! It's kind of all over the place. It is with like The Queen's Gambit and then you've got your Search Party and it's kind of like this dark comedy with a completely different sort of sensibility.
What's even crazier is I also have the original Queer Eye for the Straight Guy and What Not to Wear. I have all these reality shows. I have all these documentaries. I have dramas. What I love about that is because of that, I get to play and experiment. Then when I get thrown into a scenario like there's a 30 Rock episode where they did like a zombie apocalypse but it was a comedy.
I am a huge 30 Rock fan.
Oh, 30 Rock was so much fun, that whole crew.
Every single line is just killer. It's just so quick. Yeah, the writing was just so good.
The writing was great. The acting was spot on. I mean, it just worked. It was such a good clique of people. They also always push the boundaries, like, if you know the show well, do you remember the flu shot episode they are trying not to get the flu?
Yes.
So they shot it like a B horror movie. We put in these sounds that were like a B horror movie but had a twist to it. We had to keep it funny but scary.
That's kind of my career in a nutshell all over. I now have a bigger collection of tools because I've done comedy, I've done horror, I've done drama. So it's like, OK, what do you need from me in this scene? Even my reality stuff, like I know a lot of sound people are like, oh, reality. That's just a joke when it comes to sound. I'm like, no, that's the best way to learn how to clean up dialogue.
It's like working on a verité doc. Every two days (laughs). So I've learnt how to clean up dialogue quicker because of that and how to get into that faster. By having that tool, that's cool because it's like, OK, what do we need here? Even on City on a Hill where we're doing a drama, you know, there's a scene where kids are watching a cartoon on TV. OK, well, I've worked on cartoons. I can make up a cartoon for the TV. You know, it's like. Sure, what do you need.
Yeah, has there been one moment when you're kind of like, I have no idea what we're going to do here in terms of like a challenge in terms of like a rerecording situation, maybe you didn't have access to the original actors or something that you needed to do to kind of there's a fix that needed to be done and what can we bring out here that's going to magically fix this?
Huh, that's a stumping question (laughs), because usually what ends up happening in those scenarios for me is that I usually ask if I can have like another day because I need to step away. It's like when I get into that zone where I'm like, I can't figure this out. It's either like, all right, I need to take a long coffee break or if I can have another day, can we address this? The next day I worked on a film called Hot Air with Frank Karachi, and I remember they came to me because of the fact that their production recordings had a lot of noise on them. They shot all over New York City and they were shooting in a park one day and the garbage trucks just kept backing up all over the place. It's like, what are those things? You can't shut down the city enough to get it quiet. I remember that was one of the things when Frank came to me, he's like, "I don't know what we're going to do. This is too much ADR" and I was able to clean up enough of it. Then the ADR that we did put in I have my techniques of how do I make ADR match? I have a process of using Isotope and a couple other EQs to get things to work in. As far as me being, I don't know what to do I always find a way to fix that.
Any kind of situation where like say one of the lead actors dies between making a movie or something like that where you need to clean this up, but you can't you don't actually have access to this guy anymore.
(laughs) I luckily have not been in that scenario but I will tell you what I would do nowadays. Respeecher. Have you heard of this feature?
Yes. I've actually been looking at the whole reface thing. I had been looking into the deep fake side and it's insane what they can do.
They've done it in a couple of scenarios where it's just like, holy cow, that's pretty cool. Before you had such technology as artificial intelligence, there have been a couple of scenarios that I haven't necessarily been involved in, but I know people who have where, soundalikes have been brought in or somebody who's really good at imitations. Luckily, all the projects I've been on, everybody's been healthy and able to make it through (laughs).
There are a couple of episodes of The Americans where Matthew Rhys or Keri Russell might have had a cold and then when they came in for their ADR and you're trying to match one way or the other. But, luckily, yeah, I did have to do a lot of ADR one time and make the ADR line match through an iPhone but that was probably the most dangerous scenario I've been in luckily.
It's funny because picture editors and I find this with my students too, they haven't learnt how tight we can get in. With Pro Tools we can go Sample. Whereas picture editors are so used to being frame accurate, we can go sample so we could go in and just seriously like dissect syllable by syllable and put these things in and now it's getting even better. I mean between Isotope and Vocal line and a couple of these other tools, it's really cool because you can almost get the inflexion much better and it's making that part easier. But it's like, oh, we can't get this person – on reality TV that happens all the time. Documentaries, it happens all the time. They don't ADR it but they put together what we call Frankenbytes. Where they've cut together five different interview sections and try to make a sentence out of it because, oh, the way we cut the picture, we need him to now complete this thought here. OK, well, now let's see if we space this out a little bit more. It sounds more natural. Oh, yeah. That works and once in a while it's been like, hey, can you go back and recut so that you come off their face sooner so that I can fudge the sync a little bit.
I haven't found too many scenarios where I haven't been able to solve it and I'm sure there are some and I've just blocked them out of my head because it's like that session that just won't go away (laughs).
You were talking about the teaching side of things, how did you get into that side of things?
Well, because it came about in an interesting way. I had a client that was a teacher at NYU. He was teaching a sound mixing workshop there, and he was a rerecording mixer, but he came and rented the stage that I happened to be on staff at the time. This was 15 years ago or something like that, and he came and rented the stage, and so then we mix together and he was like, "oh, you know, this is great. Can I bring my class by your stage one time?" I was like, "sure". He's like, "you could give them a talk and it's like, sure, I'll get Fletcher. And so he brought his class by and I gave a guest lecture. We put their student films up on the big screen and everybody had a good time. A couple of years ago, probably about five years ago or so, he says "I'm done. I'm going to move. I don't want to be in New York anymore". I said "oh good for you. Best of luck. What are you doing with your class at NYU?" He's like, "I don't know, it's not my business". I asked if he could put my name in? I was just starting to go freelance and as a freelancer, you got to sit there and go, how can I make sure I provide for my family? I bought a house like a couple of years earlier and Il had a mortgage I had to make sure I could take care of.
The rest of the time, I just make noise, so now I need to make money, too. So he's like, "yeah, I'll put your name into NYU". It so happened that the head of the sound area for NYU also happened to be somebody that I've worked with professionally and I just didn't know that she was the head of the sound area. She asked me if I want to teach. I was like, I'll give it a whirl. If I crash and burn horribly, you guys can fire me after a semester. So they hired me to teach Dominic's workshop, which as an adjunct professor, it was one night a week for two and a half hours. I actually found it to be really refreshing and enjoyable, after you've been in the industry. Sometimes you just feel beaten down. Your ideas don't work out. It's not that people don't like what you did, but it's just a constant go, go, go.
Did you find it validated all the work that you've done in terms of "oh, yeah, this is new to them but I've been doing it for so long it's like second nature so it's just that technique is just locked in there and I have that experience".
Exactly. And it's one of those things that I have to keep relearning how much they don't know. In fact, this semester, because of the pandemic in the way everything shut down, I'm actually teaching a freshman class. Normally my class is upperclassmen, but I'm teaching a freshman class and I'm like, oh, wow, these kids don't even understand.
It's one of those things like the upperclassmen, when they step into the Soundmix workshop, they're all sound geeks. They want to know sound. They signed up for my class because they've looked at my credit list and they go, this guy knows what he's talking about, let's do it. The freshmen, they don't even realise that what I do for a living can be a profession. They all came to film school wanting to be writers and directors. I want them to realise as they go through their projects to remember sound. As they're writing their scripts. Remember, sound can help you do this as you're planning out their shot list and that's what we talk about a lot in this class, is when you're putting out your shot list, get an establishing shot and then go to a quiet location and sound can make everybody feel like you're still in that location that you did the establishing shot for.
Sound is an elusive thing. We take it for granted. We take the idea of what we hear for granted. My father went to see a movie one time. It was like I could hear the space shuttle launching and all the dirt hitting the glass of master control. That's because a Foley artist sat there and threw dirt at glass and we recorded it, but they take it for granted that these things just happen, and we are supposed to be invisible that way. That's great, but when you're learning how to do our craft, when you're learning how to work with us, you need to know what we can do and how we can help so that you give space. As much as I love a good score, as much as I love a good Hans Zimmer score, John Williams score, Nathan Barr from the Americans, anybody. I love their scores but leave space for other sounds. By doing that it helps everybody just sort of meld. Â I'm finding I'm teaching a lot with the freshman now is because they don't know that this existed. I'm trying to open their eyes to it exists and remember that when you're working on your projects, because as you're working on your projects, we can leave that space and it's just going to elevate your project that much more. That's what I always say. The student film and professional, one of the biggest dividers is their sounds. Because student films, it's just like I care about picture and the sound is recorded horribly and there's no sound effects edit and there's no life to it. Well, no, if you get them thinking soon enough, it's just like when in the pro world, if you get in on the picture edit soon enough, if you start supplying them with sound, you can develop it that much further.
Going back to the TV film difference, we don't get to do that on TV. We get to send them samples of sounds when they're like "we need thunder". OK, here's thunder. But we don't get to be like, "what kind of thunder? (laughs)". In the film world it's like, OK, we need thunder but we need to grow and you have that time to send it to the picture department and bring it back. I know that's what we're doing with the Queen's Gambit. It was OK, here's a cut. OK, we're going to put the stuff in… oh, now we're going to change the cut a little bit based off what you gave us. Then we can stretch this a little bit. We're going to pull this a little bit. But now we have your sounds to help.
So there's a back and forth there.
Yeah. They're back and forth and everybody being able to say, oh, I like this. I don't like this. Oh, I didn't think of that, and so on.
So that's always kind of nice when you can develop that stuff, and that's what I'm trying to teach the younger filmmakers now, is remember, we can do this for you. It's a collaborative thing, right? Sound for picture is collaborative where I'm not trying to stand out. It's funny because I want people to know who I am, but I don't want people to know who I am.
It was kind of nice the first couple of times students from my classes would  say "I love that show and the way you did this was amazing".
Some of the credits that I don't even think about, I'm like, oh, yeah, that was really good, we did a really good job on that. I did this one film called Brigsby Bear, and it was a fun film and then I worked on 20 other things. And then one of my students was like "I loved Brigsby Bear!" and I was like Brigsby Bear was good! (laughs).
I have a fun exercise for my mix class where I bring in a session that I've mixed and NYU actually has a five one mix room and I bring it in and I sit them down and they each get 15 minutes. And I've taken out all the automation and I'm like, mix.
I can sit there and say "you feel it" and then when they hit play, you know, first they freak out because it's loud and then they go, oh, this is what you mean by you feel the music. I'm like, Yeah, you feel how the music needs to ride around. You feel how to ride on faders. That's why I can't get onto the touch screen thing because I like having physical features that I'm pushing and riding. When I did that class the first time I was having such a horrible day, I had one of those sessions where you're just like, "if I had hair I would have pulled it out (laughs)". Then my class came at the end of the day and we were sitting there and it was one of my students said "I don't get what you mean by feel". I just stood up and pointed to my chair and I said, "sit" and he's like, OK. And I said, "I'm going to hit play. Grab a fader and see what you do", and they got so much joy out of that, and I just feel like now they're getting it. This is great and then it just turned my whole day around. Those things are really cool when you're teaching.
Thank you so much, James for taking the time to talk today and all the best with your future projects.