Filmmaker Richard LeMay (Dementia 13) returns with his most ambitious project to date, a drama in which "everyone is tormented and dies". Blood Bound releases January 15, but we were able to catch up with the writer-director just before the New Year to talk shop!
You've been in the game for a while now. When did this all start for you?
I shot my first movie as a producer in 1996. I fell in love with making the actual physical movie, and that became an obsession for me. It sort of snow balled after that.
And would you say "Blood Bound" is your biggest, most ambitious project to date?
My last film, Dementia 13, was a NBC/Universal remake of Francis Ford Coppola's first feature. That was in theaters last year. I'd say that was my biggest film to date. Blood Bound may be my most ambitious project though, due to the enormity of the locations and characters.
What did you do differently on this one that you haven't done on previous projects?
I got an amazing team together on this film. I came up in the no-budget film scene so I never had access to the really great crew members before. This film had so many creative forces, that it was a joy to come to work every day.
How hard is it to ground a horror film? Is it all about the characters?
I honestly tried to think of it as a drama… where everyone is tormented and dies. But seriously, I did try to think of it as a drama where very bad things happen. It's not a traditional horror movie in that sense. It's all borne out of 'what if this really happened?' And I do believe that the characters are vital to this story because if you don't believe them, then the whole thing is ruined. I was lucky to have an amazing cast who brought these characters to life each day.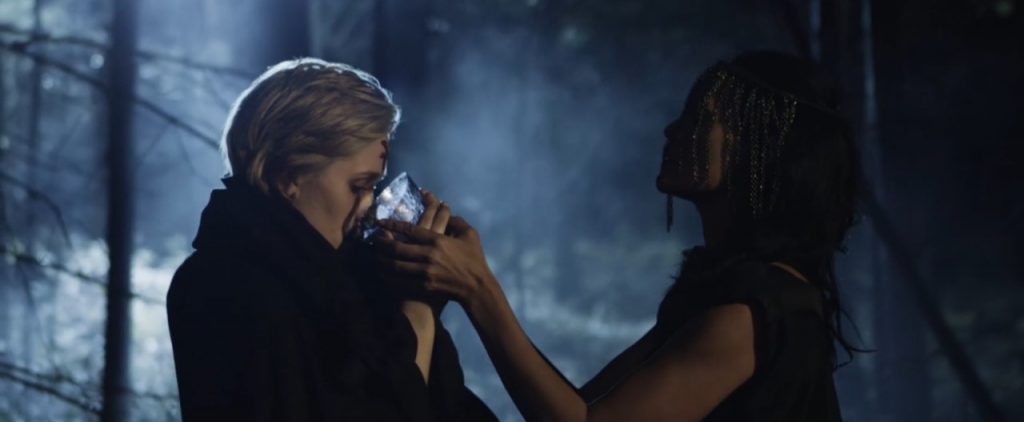 Was there anyone in the cast that truly surprised you?
I think that I got extremely lucky in casting. I loved everyone. So in that sense, it was a surprise to not only get a cast that gave their all, but a cast that was genuinely cool to be around and good to the others on set.
Tell us about working with Eden Brolin? I imagine she's got some great acting chops on her!
I can't say enough about Eden Brolin. She was hands down the best person for the role, but she was also one of the most hard working and gracious human beings I've ever had the pleasure to work with. She gave her all for this movie and I can't thank her enough for being a part of it. So I would go out on a limb and say that working with her was one of my all time favorite collaborations. She's awesome!
What kind of direction did she require? 
Eden is an 'all in' kind of actor. I purposely kept her in the loop of everything because she also had great instincts and she added a lot to the growth of her character. But I would say that she is an actor who works well with her director. She gives her all and demands that everyone does the same, and I say that as a major compliment. She worked as hard as anyone on that set and that says a lot. She's a pro who respects the process of film making and wants to give whatever she can to add to that.
When does the film release?
January 15, 2019. Pre order now!