Actress Raylene Harewood says there's some "Real heart" to her latest film, All Joking Aside. The film releases October 13 from Quiver Distribution.
Charlene Murray (Charlie to her friends) isn't your average twenty-one year old.  Inspired by her late father's unrealized ambitions, she wants nothing more in life than to be a stand-up comic, and is equal parts thrilled and terrified by the fact that she's finally old enough to get into a comedy club and actually try her material in front of paying customers. So with a fistful of jokes, and her stalwart friend KIM there to get her back, she heads to the LAUGHING HYENA, one of New York's faded comedic hot spots, to hit her first ever open mic night.  Glued to his barstool at the back of the room, with his fourth whiskey of the night in hand is BOB CARPENTER, and he's not going to stop heckling until Charlie gives up the microphone.  It doesn't take long before he gets exactly what he wants, and Charlie, chastened, flees the club with Kim on her tail. When she later returns to the Hyena to talk to the manager DENNIS, he tells Charlie that if she really wants to learn the craft, then she's got to be writing all the time, and studying people who know what they're doing; people like Bob who, before his marriage and career collapsed and he became an alcoholic heckler, used to be one of the top touring comics in the country.  He pulls out some old VHS tapes of the young and energetic performer, first showing him own the crowd with his raw, edgy material, and then in a different clip from his final performance a few years later, literally attacking them.  Impressed by this new side of him, and with Dennis' encouragement, Charlie decides that Bob is going to be her mentor whether he likes it or not, and sets about winning him over.   As the two slowly feel each other out, what develops is an unlikely friendship based on broken families, a healthy appreciation of sarcasm, and the undeniable rush of making a whole room full of people laugh.
---
One might describe the film as… one that don't really do enough of these days. Is that fair to say?
I would say so. It was nice to participate in something that has a BIPOC female lead and that wasn't centred around romance. There's some real heart to this story that is quite different from what you see in mainstream media.
I can't recall a film like it- maybe the Tom Hanks/Sally Field film "Punchline"? Can you?
Other than it being a coming of age story, I can't say I've seen much that really reminds me of it.
So, how did you get involved?
I happened to be working with Shannon Kohli, the director,  on another project. She pulled me aside, told me about the film and asked if I'd be interested in auditioning!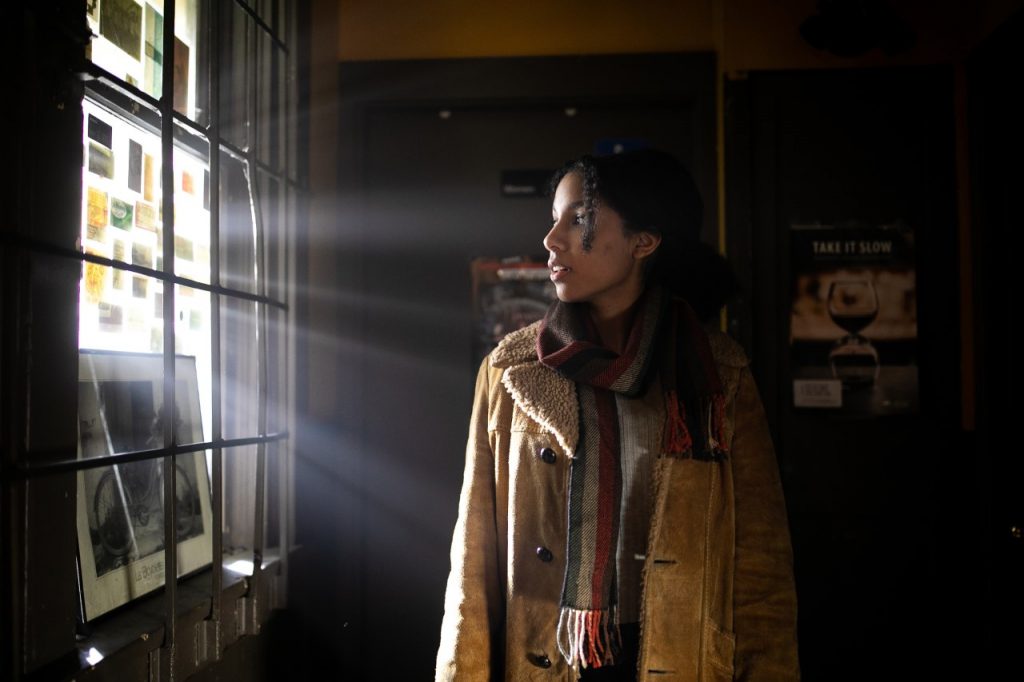 What was the audition like?
Not so different from all the auditions I've done. I had three scenes to do in the primary audition. We played around with them in the room and I took the direction. I then had two more auditions before I found out I got the part.
Had you been a lead in a movie before? Or was this a huge, taxing undertaking?
No, I had never been a lead before! It was definitely daunting. I learned a lot about carrying a film in the process.
Was it emotionally grueling though?
Yes and no. We were working about 60 hours a week and I was in nearly every scene. It's hard not to be emotionally taxed when you're giving that much of your time and energy. However, I loved doing it!
Tell us about working with Shannon as a filmmaker?
She's incredible. I felt so lucky. She is sharp, dedicated and intelligent while also leaving space for the artistic process. I always felt like my voice and my opinion was important. Working with her on my first role of this magnitude was a tremendous gift.