Set in 1980's Saigon, Song Lang is a gritty underworld noir hiding a tender, romantic heart. At the film's core is the unlikely bond that develops between hunky, brooding Dung (Lien Binh Phat), a tough debt collector for a ruthless loan shark, and Linh Phung (V-pop star Isaac), a charismatic young opera singer for a struggling company that performs Cai-Luong, a modern form of traditional Vietnamese folk opera.
The two meet when Dung comes to forcefully collect a debt from the opera troupe, but when their paths cross again, a friendship develops, awakening surprising, tender feelings in both men. With his first feature film, director Leon Le has delivered a rich drama: a smoldering relationship between two apparent opposites–equally uncompromising–set against the backdrop of a gorgeous, fading art form.
Distributed by Breaking Glass Pictures on DVD and Digital this month, SONG LANG is the brainchild of the superbly-gifted Leon Le.
---
How does one get into movie making, Leon? Or let me rephrase that, how did you?
Before Song Lang, I have made a few short films, just for fun. And even though they were quite successful at film festivals and won several awards, I never thought I would make a feature film. In 2007, I returned to Vietnam with a plan to produce a cải lÆ°Æ¡ng (Vietnamese Traditional Opera) production as a way to fulfill my childhood passion. But I quickly realized that this was an unrealistic ambition. Cải lÆ°Æ¡ng was a dying art form. And even if I were willing to accept financial losses, it would not be easy to achieve my artistic goal. That's when I decided to turn it into a film project. I thought that at least with the same amount of work and investment, it would be on screen forever and can reach a global audience.
And is there a type of story you usually gravitate towards?
I find myself gravitating toward the drama genre, especially ones that are dealing with relationships. Although my last two short films and Song Lang all had LGBT themes, I have no intention to focus only on that. I also want to create more opportunities to share Asian stories, especially about Vietnam. We are still significantly underrepresented in films, and I want to do my part to help change that. Both of my upcoming projects continue to be Vietnamese stories.
Is it fair to say SONG LANG is your most 'epic' film, on a production scale?
That's correct. This is my first feature film. Before this, I've only made short films with super low budgets that were either self-produced or through crowdfunding. It's so nice to not have to do everything yourself anymore. On a big day, we would have about 500 people on set, including the extras. And I kept thinking to myself, "Oh my! They are all here to support my dream. It would be terrible if I can't deliver and let them down!".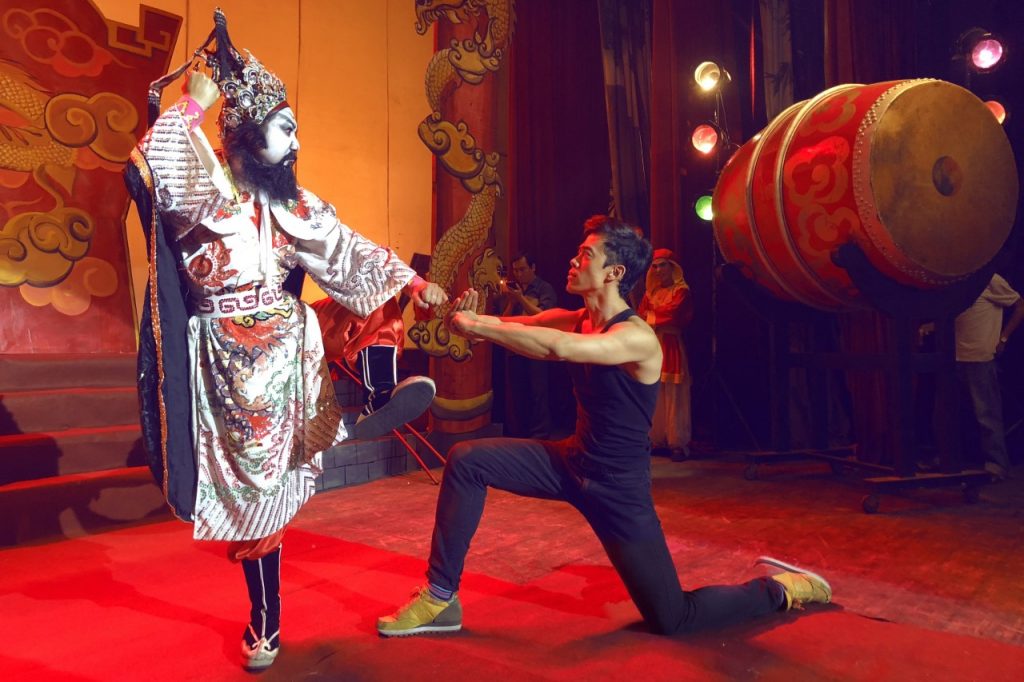 How long did that take to come together – was it quite a challenge to orchestrate and put together?
For nearly a year, I sent the Song Lang script to all the major studios in Vietnam, but they all refused with the answer "No one would go to see this movie." In Vietnam current film market, unless it's a comedy, horror or remakes, nobody is interested. Studio68's producer Ngo Thanh Van was the last person I approached. And I was in complete shock when she agreed to produce the film just two days after reading the script.
It's a movie that's got the perfect blend of style and substance. But how hard was it to balance that ratio?
Thank you. To be honest, I didn't think much about style during the filmmaking process. I just tried to find the most effective way to tell the story I want to tell and how to make the audiences believe in this world as much as possible. The sets, costumes, hair, and makeup; all of those elements serve the storytelling and not the other way around. Quick note: due to fans' requests, we are about to release the limited English edition, hardcover photobook Song Lang: Behind the Curtain in November. Fans can go to www.songlangbook.com for more information.