More and more filmmakers are bypassing the traditional distribution model and either self-distributing or setting up their own output unit, as DRIVING WHILE BLACK producer Patrick DiCesare explains.
Â
This is yet another collaboration between yourself and Paul Sapiano. How far does that working relationship date back?
Two words: Blockbuster and Myspace. That's how long ago it was – 2007. I was at a Blockbuster Video store at the corner of Wilshire and Robertson in Beverly Hills and I picked up a DVD called The Boys and Girls Guide to Getting Down. I put it back and continued to search for other DVDs. That would have unknowingly been a life changing event for me, but fortune smiled on me that day and I picked it up again and bought it with some other DVDs. I watched the film that night and was blown away. The film is straight-up funny. I looked on the back cover of the DVD and was astonished to see that the film was written, directed, produced and narrated by the same guy, Paul Sapiano!
I'd never done this before and I haven't done it since, but I felt compelled to reach out to this talented filmmaker to share my compliments on a well-made film. The only place I could find him to send a message was on Myspace, so I sent him a quick message of congratulations. To my surprise, I got a response that same night. A few messages later and we had lunch plans the next day at The Ivy – the most Hollywood of Hollywood beginnings I've ever heard. Paul told me I'd recognize him as he'd be the one reading a copy of Soldier of Fortune Magazine, wearing a flower in his hair.  Little did I know then, but just like the girl with the flower in her hair in the song, Paul and I would end up in San Francisco a few years later at the world premiere of Driving While Black.
And now my company is distributing that film. We've come full circle!
Oh, and I still have that DVD.
Â
And how do you think this project differed from previous films you've done together?
I have a credit on another of Paul's films, Hollywood Sex Wars, but my involvement in terms of production on that film was about as negligible as it could be. Although I'm distributing both The Boys and Girls Guide to Getting Down and Hollywood Sex Wars, Driving While Black was really the project on which we spent the vast majority of time. So, as a basis of comparison, there really is no comparison, if that helps at all. We still strategize Driving While Black, sometimes on a weekly basis. It was really the film that cemented our business relationship.
Â
Would you say this is almost 'driving' in a different genre to the other movies? It's definitely got a unique tone!
Yes, without a doubt. The other two films are definitely more light and overtly raunchy and funny. Driving While Black, while funny, has a much ore serious tone at times and is definitely more weighty in nature. It's bringing comedy to a serious topic, which is not easy to do, but the writers did a great job interweaving the two.
Â
Dominic Purdy is brilliant. How did he come to play the role?
Dominique had roles in two of Paul's other films, so he has a longstanding relationship with Paul. He and Paul collaborated on the screenplay, so the film is based on actual events that happened to Dominique growing up in LA. As a co-writer and the lead actor, he brings an unparalleled sense of authenticity because he was there, he lived it. I don't think there was ever the slightest inkling that anyone would ever play the lead, except for Dom. For him, as an actor, it comes so easy, as least it looks like it does. People talk about actors being natural. He is the most natural actor I've ever seen. He's the same off screen as his is on screen, just a funny, real, dude. I think that's why his character is so relatable to audiences. They feel for the character because there's such a sense of the character being real that it's hard not to empathize with him.
Â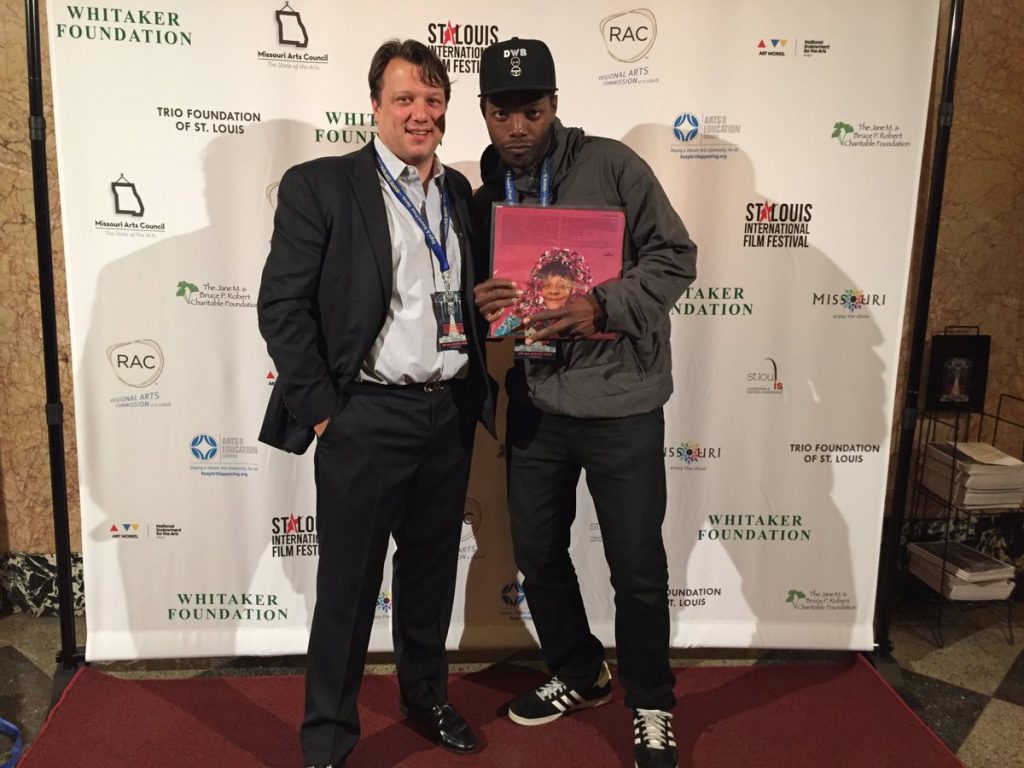 Did he find some of those crowd scenes difficult to film? I imagine the stuff on the bus was all set-up or did he actually just improvise on a real tour bus?
I don't think he found the crowd scenes difficult. That was mostly improvised. Dominique, in addition to being a talented actor, is also a rapper and a stand up comic, so I think he ad-libbed most of those scenes on Hollywood Boulevard. I think it just comes naturally to him. He's very quick witted and smart.
Some of the scenes on the tour bus were in the script and some were improvised. The funny thing is that in pre-production Dominique, Paul, our line producer, our DP and I went on a tour bus ride so we could experience what it was actually like, before production. And wouldn't you know that we got the weirdest tour guide? He made all these funny errors, two of which were actually used in the film, the Rat Pack and Fresh Prince bits. Dom improvised a lot, not only during these scenes, but throughout the entire film.
Â
How much say do producers and filmmakers get in a film once it's been sold to a distributor? Do you have to just let it go and wish it luck?
Unfortunately, for filmmakers, signing with a distributor is not an easy solution for monetizing their content. There is a lot of flat-out thievery in distribution. I'm talking like, criminal acts. You have to be really careful and watch everything…income reports, expense caps, shared expenses, and every detail in the distribution agreement. Everyone has a horror story. I know one filmmaker whose film grossed eight figures, yes that's over $10,000,000, and didn't receive a penny from the distributor. Bankruptcy, insolvency, lawsuits, fraud, negligence, misrepresentation, are all terms that have become synonymous with distribution, unfortunately.
Some filmmakers will get an advance, called a minimum guarantee, maybe $50,000 against future earnings, but often times that's all the money they will see. Many times that MG comes with a less favourable split for the filmmaker and less resources available for marketing and PR. Fewer distributors are offering MGs these days. I think that's a good thing. If your film is good, you're going to make that $50,000 back quickly anyway.
Because I had these concerns with distributors, I started Artist Rights Distribution, a filmmaker-centric company based on focusing on the needs of the independent filmmaker and serving those needs directly. Although the vast majority of a film's income is based on VOD sales and licensing, we start with a theatrical release, which garners critical reviews and exposure in major media publications, online media and with film bloggers. We report the box office statistics and build the film's pedigree to position that title for the highest possible SVOD licensing deals from platforms such as Netflix, HBO, Showtime, etc.. Depending on the film's pedigree, including name talent, box office statistics, selections by big festivals, social media following, etc. the filmmaker might see a licensing deal between $25,000 per platform on the low end to several hundred thousand on the higher end.
Then, transactional VOD sales and rentals are another component of a film's income. We submit to all major TVOD platforms and are partial to iTunes, Amazon (transactional, not Prime), Google Play and Fandango Now. We continue to support TVOD sales and rentals well into the film's life by supporting it with continued targeted, sales driven digital marketing campaigns. These sale are directly driven by the film's marketing and PR, social media engagement, the film's community, and most importantly, how the film resonates with audiences. The bottom line is, if the film is good, it will sell. These TVOD sales could easily be bigger than the subscription licensing deals. A filmmaker, depending on the title, can make hundreds of thousands, if not millions of dollars on transactional VOD.
There's really no money in theatrical screenings or physical product anymore.Â
But, to answer your question specifically, I think most filmmakers do just that…let it go and wish it luck. That's the worst thing a filmmaker could do. I mean, you spend years and hundreds of thousands, even millions of dollars on a film and then you just let it go and wish it luck? It never made any sense to me. It's too valuable of an asset to do that, which is exactly why I founded Artist Rights Distribution. We keep the filmmakers involved at every step of the way in a collaborative effort, with transparent accounting and ongoing digital marketing to continue to drive sales well after the release date.
Â
What's next for you, sir?
Our team is very excited for the release of Driving While Black on VOD on February 1st. We had a nice theatrical run and there's a pent-up demand for this film to be seen on VOD, so we're happy to finally have it available to the masses.
Also, I'm producing four new films, two horror anthologies and two bigger budget films with strong talent attached.
Lastly, Artist Rights Distribution is continuing to sign films that need help in their marketing, distribution and sales. We had a very productive market at the American Film Market and have a full slate for the European Film Market in early February.
Â
DRIVING WHILE BLACK is available February 1 on VOD.