A spooked detective is the only hope for the end of days in the spine-chilling The Demonologist, premiering On Demand January 1, 2019 by Uncork'd Entertainment.
A detective is haunted by nightmares of his past and visions he cannot understand. When he investigates a string of brutal murders, he discovers a Cult that worships the four King Demons of Hell, who plan on bringing them forth to destroy the Earth. He must stop the Cult from starting the Apocalypse and finally come to grips with his birthright and destiny as The Demonologist.
From writer-director J.M Stelly and starring Brian Krause ("Charmed", Sleepwalkers), Lara Grice (Logan), and Thomas Francis Murphy ("Mindhunter"), The Demonologist on Demand from January 1, 2019.
Â
Where did you hail from, sir? Always been based there?
A: I come from a small town south west of New Orleans called Houma, Louisiana. It's in Terrebonne Parish if you remember that place from The Skeleton Key. It's very much bible belt but has some dark history to it which is kinda cool to grow up around. I was always stories of ghosts, vampires and of course the Rougarou, our version of the werewolf.
Â
How's the industry there?
A: The Industry is really in places like New Orleans and Baton Rouge. Some of it is based out of Shreveport so I currently reside in Baton Rouge and work in New Orleans pretty often. For several years, the business has been great with a minor slump but we've got some great people spear heading the industry here like Patrick Mulhearn who works with Economic Development and use to be the head of Celtic Studios. We are really big here on home grown writers and directors and we are, as a community, trying to build on that.
What was your first project? Did it shoot there?
A: My first project was Within Madness. We shot it in Baton Rouge over the course of a couple days and then later doing some additional shooting before its release.
Â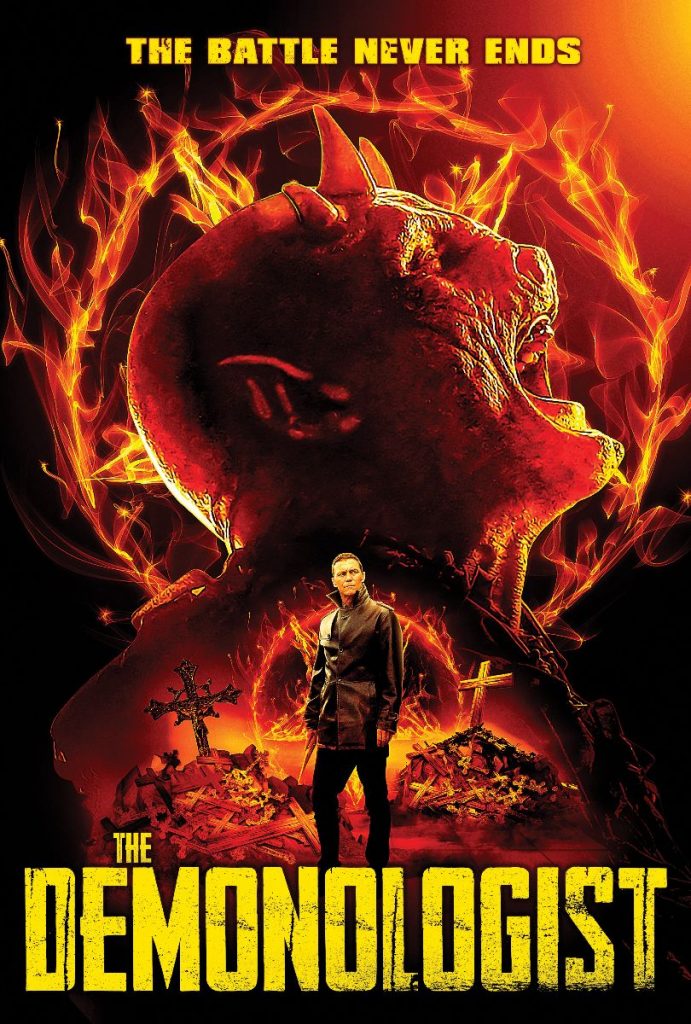 How better a project is this latest one to the first?
A: This project is a milestone in my career. Within Madness had no money, no crew, just me and couple friends. This one had a full crew, money and distribution right out of the gate. It was super ambitious considering the time and budget we had. Within Madness and ABACUS were both complex ideas with simple logistics. Demonologist took a lot of cogs in the machine to make it work. To me, it looks bigger than a movie at this budget level should and I'm super proud of it.
Â
How do you think you've grown as a filmmaker?Â
A: I'm more aware now of how to deal with certain elements. I've learned how to trust people instead of taking everything on to my shoulders.
What's the film about?
A: The film is about Damien Seryph, a detective trying to solve a number of Occult related cases with his partner Frank. As they begin to look deeper, the veil starts to lift on a cult known as The Hellfire Club and their attempts to raise the four king demons of hell also known as The Four Horseman of the Apocalypse. As the case goes on, Damien discovers truths about his life and how it relates to those who are committing these atrocities.
Tell us about the Demonologist – as in, the film's hero.
A: Damien isn't really a hero. He's a man that gets caught up in world that seems far from the rational. It's hard to say too much without giving it away. Obviously in the trailer you can see has some sort of power but that power isn't some mystic Constantine power that people might believe. There's so much more to it and the reveal is something original. At the end of the day, our hero in this film is not a hero. He's a man fighting the demons of his past, a past he never asked for.
Â
Can you relate to him?
A: Absolutely. Damien was built off of some of my own feelings about myself. Discovering things about yourself and building off of that. I have suffered from depression and a great deal of darkness. Over coming that was always hard but I used art to do it. Also, being the only Satanist in your family can be weird at first but that philosophy has helped focus on myself and the things I want with logic and reason.
What is the strength of the film?
A: It's the analyzation of what we define as truth and the lie. Our so called reality. The movie is complex. It's not a simple story but nothing is simple. If you truly pay attention to what's going on, you'll see it's not just another demon movie, but a journey to self discovery through the horrors that guide us all. We are damaged as animals and I wanted this movie to showcase that while illustrating an ethereal battle between "Good" and "Evil".
It's a tense ride – is tension and thrills hard to write?
A: Tension actually comes easy to me. It's the thrill part. I've been a writer for the thrills. I think that comes from multiple rewrites and finding that sweet spot. For me, it's more about tension and terror, both internal and external. Sometimes it's easier to set the table and let the actors just improv. We did this whole scene outside this place in the script called The House of Babel between Damien and Frank (Brian and Dane). I said fuck the script, here are the marks of the subject matter, what you need to hit and the emotion I want. For me that's the best scene because they just went for it. It's a beautiful thing to just let your actors do what they do best.
Would you likely react the same in the same situation?
A: I have reacted the same as they did in that scene before. Truly emotional moments can't be simply written. They have to be experienced and felt.
Where can we find the movie?
A: As of now, it can be Pre-Ordered on iTunes with a release on January 1st. There will be more releases in the coming months, including Redbox, Amazon Prime, Hulu and Netflix. I'm sure as things transpire in the coming months, those release dates will be made public.