Terror Tales "sports a bevy of iconic horror actors….  It really is, in a sense an Expendables of horror kind of experience, to see all these greats together in one film", says the film's writer and director, Jimmy Lee Combs.
Congrats on Terror Tales. Why did you decide this was the perfect film to follow-up Hans Crippleton?
Thank you so much! That's a good question. You know as much as I enjoy horror-comedy, Hans was so zany and quirky that I wanted to show I can direct serious horror as well. After Hans, I had taken on another horror-comedy project in the form of a web series so I was definitely joansing to bring some serious frights as well.  I'm very diverse in style so it was a natural choice to want to show case something different. Plus I am much more grounded in serious horror.
What's it about and how would you describe the tone?
Terror Tales is about a family on a road trip who fall victim to a psychopath who has some tales to tell! The film is more psychological in tone and presents scenarios of the worse kind of horror which are those that could potentially happen in real life; such as situations in the wraparound story. That being said, we pepper in lots of blood and gore as to not take ourselves too seriously in delivering a fun and entertaining horror anthology.
What films did you sit down to watch before the shoot?
I had already seen a ton of horror anthologies in my time so it was nice to go back and revisit those while going on a horror anthology binge. Here are all the ones I recall watching while preparing for Terror Tales: Creepshow 1 & 2, Tales From the Crypt, Tales From the Darkside, After-Midnight, Body Bags, Trilogy of Terror, Vault of Horror, Twilight Zone: The Movie, Cat's Eye, Tales of Halloween, V/H/S franchise, Southbound, Tales from the Hood, The ABC's of Death, Trick r Treat, From Beyond the Grave, Campfire Tales, Two Evil Eyes, Nightmares, Asylum, From a Whisper to a Scream, Dr. Terror's House of Horrors and many others. I'm a huge fan of Peter Cushing so I enjoyed all of the Amicus/Hammer anthologies that he starred in.
How much does a physical DVD release mean for the film – and in particular, you and the filmmaker?
To me, it means everything! I'm from the old school man, I love having a physical copy in my hand. Like so many of us we grew up going to video stores and looking at all the gorgeous cover art that caught our eye and flipped over that VHS box to read all about it and looked at the screenshots from the film which in most cases indicated what we were really in for lol.
That magic is going away at a fairly quick pace in favor of the digital revolution. But the flip side is that now there is my generation that appreciates physical DVD copies and as independent filmmakers we have the means to still offer DVDs to our audience. A lot of adapters of digital predicted DVD and physical media would be dead by now. I'm happy to say they were wrong. I sense it's only a matter of time but we are not there yet.
What it means for Terror Tales is that when the DVD releases on February 5th, 2019 fans can buy a physical copy of the film loaded with special features that you can't get on a digital release.  I know I'll personally buy a movie just for the special features alone which is another perk of physical copies.
And hey, vinyl made a huge comeback what's to say VHS won't or that physical media may never truly go away. One can only hope.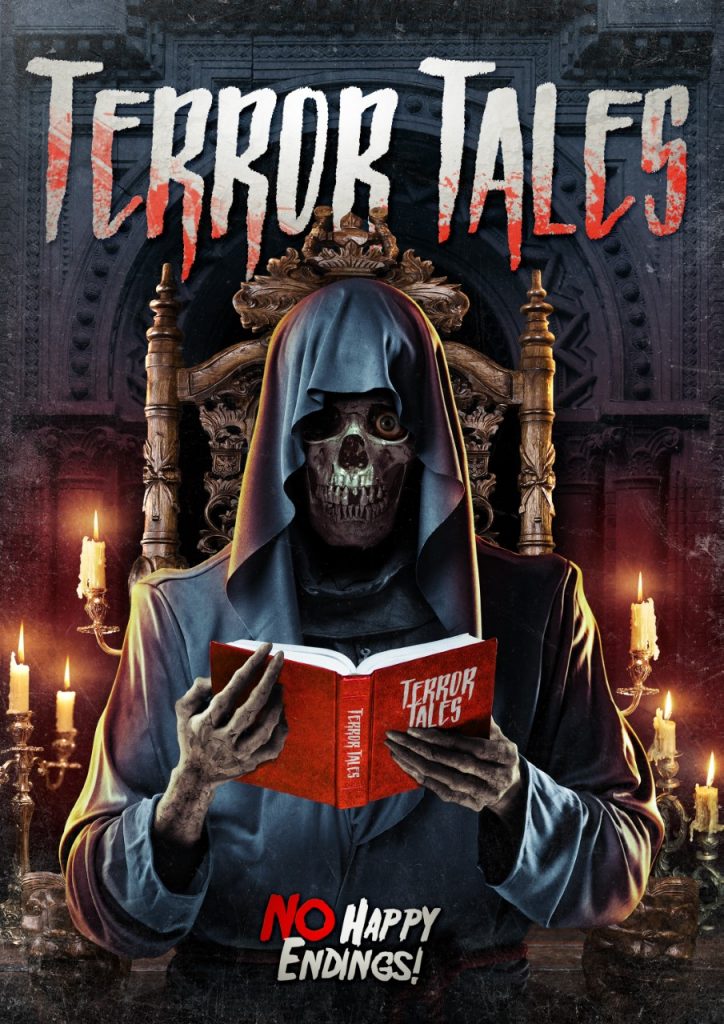 Tell us about the cast, if you can?
Terror Tales sports a bevy of iconic horror actors in the film.  It really is, in a sense an Expendables of horror kind of experience, to see all these greats together in one film. We have cast in the film from some of horror's hottest franchises such as Ghostbusters and Friday the 13th. Lynn Lowry (George Romero's The Crazies, David Cronenberg's Shivers), Felissa Rose (Sleepaway Camp), Jennifer Runyon (Ghostbusters), Ari Lehman (First Jason Voorhees Friday the 13th), Yan Birch (Wes Craven's The People Under the Stairs), Laurene Landon (Maniac Cop 1 & 2), Helene Udy (My Bloody Valentine, The Dead Zone), Jennifer Runyon (Ghostbusters).
We have the talents of Miss Asia USA 2015-2016 Ashley Park and Christopher Showerman (the CW's Supergirl, Disney's George of the Jungle 2). We also have an incredible cast of local Colorado actors who all turn in one hell of a performance!
We'd be remiss to ask you about your next film….
Incredibly excited about my next film! It's a horror-Western that I'm billing as John Woo meets Sergio Leone meets the horror genre. I have an incredibly ambitious vision for the film.  SPIRIT RECKONING is going to be a high octane adrenaline rush in the horror western genre that can be best described as having the larger than life bullets flying action scenes of a John Woo film, the rich and vengeful storytelling of a Sergio Leone spaghetti western epic and the extreme blood and gore of the horror genre. Back that with heart and characters that you're invested in from start to finish and you got the makings for one hell of a fun film.