Jack & Yaya, the LGBTQ+ feature documentary from filmmakers Jennifer Bagley and Mary Hewey, is now on VOD from Freedom Cinema LLC.
Jack & Yaya captures a year in the life of childhood best friends who go from swapping gendered Christmas gifts as kids to transitioning in their twenties. The titular next-door neighbors grew up together in a rural area but were able to support each other when they learned they were both transgender.
Having premiered at Toronto's Inside Out LGBT Film Festival last year, the film highlights their friendship through present-day video and interviews with Jack, Yaya and their friends, juxtaposed with archival footage of their growing up together.
We caught up with Bagley shortly before the release.
---
Now, before we go any further, I have to ask – how are you hold up through this whole lockdown? 
Thanks for asking! There have been a lot of ups and downs, as I am hearing from most people. My new project has been put on hold since it features a woman in her 70s and we want to protect her health. It's given me time to develop my stop motion skills and discover the most fascinating show I've ever seen, Married at First Sight. But it seems like every time I feel adjusted another terrible thing happens. I just started feeling hopeful again thanks to the world wide protests. There are fireworks in my neighborhood every night and it feels like some real change is happening. Both exciting and heartbreaking times.
Who are some of the great documentarians that have inspired you? 
I have always been more interested in the people featured in the film than the documentarian, so I always most value those who know how to pick their subjects and let them shine on their own. The Maysles are exceptional at that.
RaMell Ross completely blew me away with Hale County, This Morning, This Evening and his ability to hang on a moment. I am a sucker for atmosphere and I think the film really expanded my idea of how palpable a documentary can be.
Would you say "Jack and Yaya" is influenced by any of them – or their films? 
At the time I was shooting Jack & Yaya I was watching early Cassavettes movies like Faces and Shadows. Although Cassavetes isn't exactly a documentarian, a lot of the scenes in his movies were improvised so most of the camera is reactive to the subjects. I thought it was so exciting to watch and I was inspired to bring that particular quality to our film. 
Rich Hill by Tracy Droz Tragos and Andrew Droz Palermo was very much an influence on Mary and I. In a particular scene, they follow a 12 year old boy named Appachey as he aimlessly walks around his neighborhood breaking frozen puddles. It's clear that most people in his town, and even some in his family, just see him as a directionless, destructive kid. As he continues to break all the ice and snow chunks the camera pulls back and reveals a giant piece of art that he just made by smashing things on the ground. He is a young artist trapped in a small town that doesn't understand him or have the resources he needs to grow. Appachey wasn't asked a question or even prompted, they just followed him on a walk. That scene taught me to be patient, spend quality time, pay attention and people will eventually reveal themselves to you some way or another.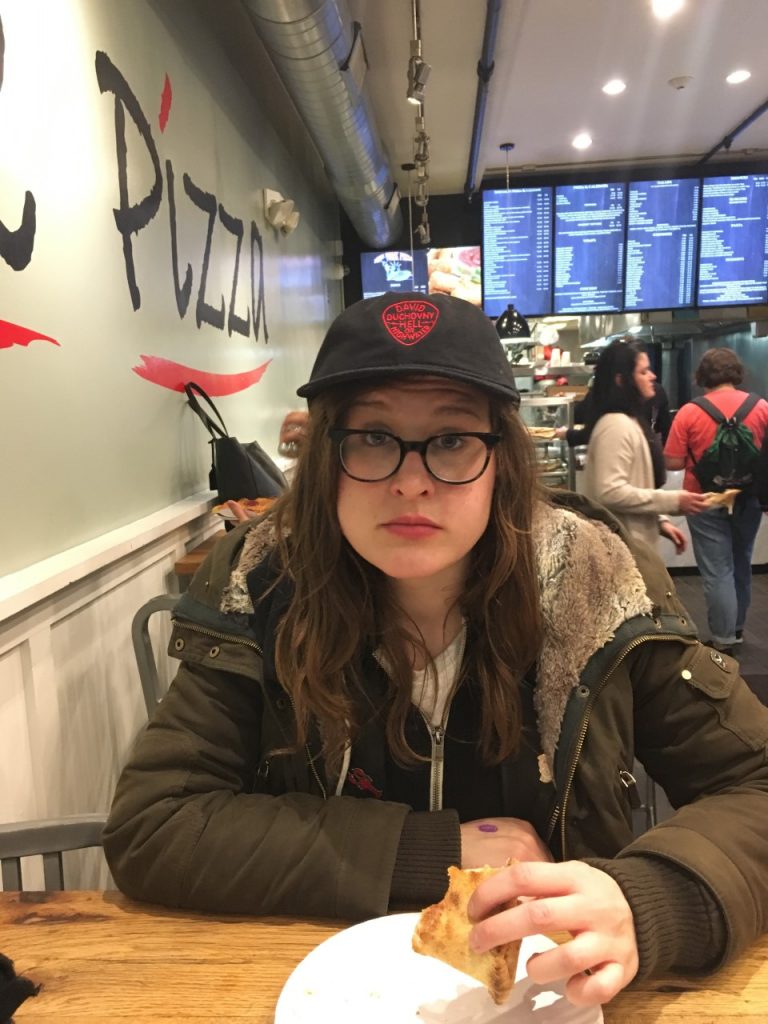 How hard was it to convince Jack and Yaya that their story needed to be told?
I'm not sure any of us knew what this was going to turn into so we didn't really have to do any persuading. Since Mary (my co-director and partner) and I already had a strong friendship with Jack I think there were less nerves initially so he was pretty excited about working together from the beginning. Mary and I had never met Yaya so Jack arranged a couple Facetime meetings with her to discuss plans for the project. I assumed because of her trust in Jack, she welcomed us with open arms. The fact that both of them were willing to share stories of their successes and traumas with us is something I do not take lightly and I feel so grateful that they had that trust in Mary and I. I think that trust definitely emboldened us as filmmakers.
Do you remember where and when you were when you had the idea?
Mary was the one who had the initial idea. The story is that she was lying in bed at her grandparents house around Christmas time in 2016, and she just wrote down "Jack and Yaya documentary?" in a Google doc. She's not entirely sure why that idea sprung into her head (I talked to her on the phone that night and I'm pretty sure she was holiday tipsy), but I am super grateful that it did.
How did the idea change or evolve over time?
First, we were set on doing a short because of lack of time, crew and resources. We were going to take a trip or two to New Jersey to visit Yaya and talk to Jack a couple times in Boston. During our first Jersey trip, I  remember thinking to myself that there is no way that all this Jersey can be contained into five minutes. Jack's dad, Tony, alone deserves his own movie. We followed them for about a year and decided it was going to be twenty minutes. Then all of a sudden Yaya was trying to change her name, Jack was getting surgery, and the Eagles were in the Superbowl so we took more trips and got more footage. It just kept snowballing and we kept spending more and more money but at that point we didn't care. We knew we had something special. When we got to editing our first cut was over two hours. We stopped fighting it and were like, "Ok, it's a feature." When we showed the long version to our Executive Producer, Jorgy Cruz, he affirmed our decision.
What is the message of the movie?
I hope there are a lot of messages that can be gleaned from the film but most people think Yaya's Uncle Eddie sums it up the best in one scene when he quotes the Beatles' "All you need is love." Yaya and Jack have had so many hardships and successes and the only reason they are still here and thriving is because of the love and support that radiates through to each other. The beauty of Jack and Yaya and their friendship is undeniable and their family's love is palpable. It may have taken the family some time to get there and understand Yaya and Jack but they did.
I think my overarching hope is that the film motivates people to take real action steps to help the fight against our current administration's war on LGBTQIA+ folks. 45 seems to be coming for most of us. Just recently he rolled back health protections for trans people. Under this rule, an actual human being can be denied NECESSARY health care based on their gender identity or other reasons. A person could be left to die just because of another's bigoted intolerance. Everyone, not just those who are LGBTQIA+ should be outraged by this. This is a public health emergency and we need help in the fight.