Coco Victoria Lloyd is a British / Australian singer, writer, actress and producer. Coco grew up in Hitchin, England. She attended Stagecoach Theatre School where she studied music, drama and dance. Coco began her professional career in London with acting roles in 'Footballers Wives' and 'What would happen if?' Her first big music break came when she was picked for a project at Sony London which would then lead her into a girl group for a popular UK talent show. The band reached the UK no1 top chart spot with their cover charity single 'You Are Not Alone'. After leaving the girlgroup, Coco came back to London and started working on her own band called 'Nevermind'. Nevermind gained national recognition with their first single '2 Lines' which appeared on several BBC stations before finally getting playlisted on the coveted BBC Radio 1. After the break up of Nevermind, Coco went back to study acting full time in London and NY. Coco recently shot her first leading feature film role in 'The Hex', which was recently released on digital from Cleopatra.  
In the film, a grieving girl unravels her murdered mother's secrets connected to a witch doctor's curse. She wants to put an end to this haunting hex by traveling to where it originated, but her journey casts her deeper into sinister depths.
---
I know you're based in L.A now but hail from Britain, originally?
Yes, I am dual citizen English / Australian but grew up in Hitchin, Hertfordshire until I was 18.
How much easier have you found it to get acting work in L.A?
Not so much easier but for sure a lot more opportunity! I love working in England but I have definitely had a lot more auditions stateside.
You've done quite a bit of TV work – is it considerably different doing a film?
Live TV is very different and I get immense stage fright which doesn't help! You have that one chance to do it right and if not then millions of people see you mess up which when I first started as a teen was terrifying!
Where is the catering better? Ha!
I've been super lucky that I have always found the catering really great on everything I have worked on and I love my food! The food stands are my favorite place to hang out on set 🙂
Were you at all nervous taking on your first acting role in a film?
I was extremely nervous auditioning but not so much on set. I was just incredibly grateful and wanted to enjoy every moment.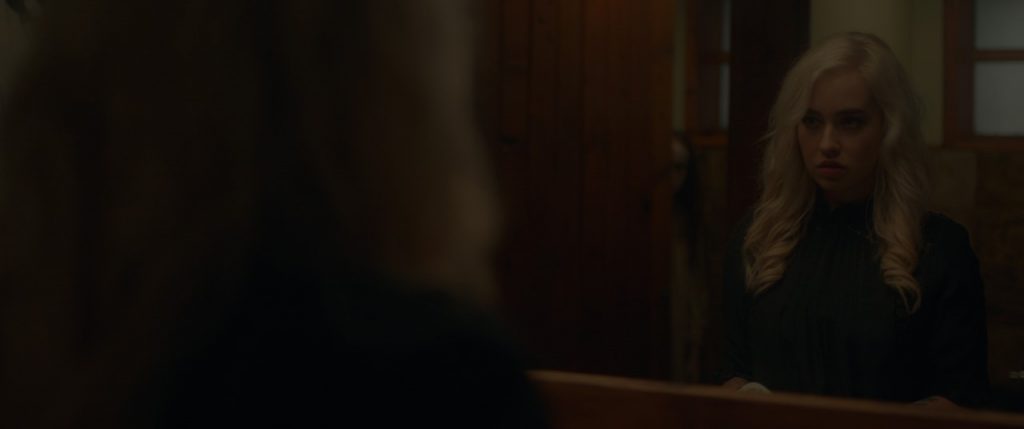 What makes your character tick?
Dillane is dealing with grief as well as battling her own thoughts and desires of wanting to find out what happened to her mum. Her love for her mum is overwhelming her as she goes through the frightening events at the lodge.
Did you base your performance on anyone real or alive?
Dillanes creative side was easy to draw from as I am very creative! The rest I drew from my own emotional experiences from the past.
What's next for you?
Who knows given 2020 haha! I hope to produce a couple of shorts I have written early next year and then hopefully take some other roles also once everything settles down, I just hope the Covid vaccine comes soon so that this terrible time for the world can come to a close.