A sensual, sex-positive exploration of contemporary relationships, shown through four anthological stories set in Melbourne, Berlin, Malta and New York, In Corpore delves deep into the gray areas of relationships, exposing the consequences associated with love and lust, commitment and infidelity, traditional expectations and self-gratification. We spoke to actress Clara Francesca about her commanding performance in the film.
---
It's quite the time for independent movies, what with everyone home this year. Was it decided to release In Corpore now, and worldwide, because of all the lockdowns?
It is definitely the year of binge-watching for sure! And that is a plus for independent movies. We are grateful to be part of this market.  Honestly, we had hoped to have a live première screening, four-walling the film in NYC May 2020 but when the pandemic hit, this became challenging. Releasing 'In Corpore' virtually has been a great plan B!
How long of a journey has it been for you? When was the film completed?
The piece really came together after I had immigrated to NYC and leading producers Sarah, Ivan and I were discussing diverse relationships and our personal experiences. We had all made a few movies together by then and we wanted to keep working together. The three of us had the luxury to reunite at The Cannes Film Festival one year and "In Corpore" just kept taking shape. We were really asking the question, "how do relationships crumble when communication breaks down?" Excitingly this culminated in filming beginning 2017 in Melbourne, Malta, New York, then Berlin and postproduction wrapping up in 2020 when the film was fully completed and ready for release!
It's a relationship film-  but it's not When Harry, Met Sally. How have you described it to others?
Haha! Yes, it definitely is no "When Harry, Met Sally"! I describe it as a film investigating three cis gender white women's fear of self-identify because they don't fit with the "norm"; these women are surrounded by naysayers who believe that their "quirks" are somewhat of a "phase". As a result the women omit revealing their full selves, most likely out of fear. These omissions cause uncomfortable side affects: Julia (who I play) comes across as extra in a desperate attempt to deflect her pain of not fitting in – Anna (Naomi Said) comes across as misleading for hiding her family planning decisions from her husband – Milana (Kelsey Gillis) essentially is threatened between having to choose between her love life or her job. It is uncomfortable to watch.
In turn this perpetuates a cycle of communication breakdown. Watching this is raw and ugly at times. The audience meets our characters in the midst of this rawness. "In Corpore" is asking the audience to change how we approve of relationships. When we judge and fear another's relationship, it can be almost impossible to find a solution (whether that solution is to move on or find a compromise or something else)… "In Corpore" is proposing that when we force agendas of relationships onto others, we end up staying in a hamster wheel of raw hidden omissions and no one on either side of the aisle seems to be very happy or fulfilled.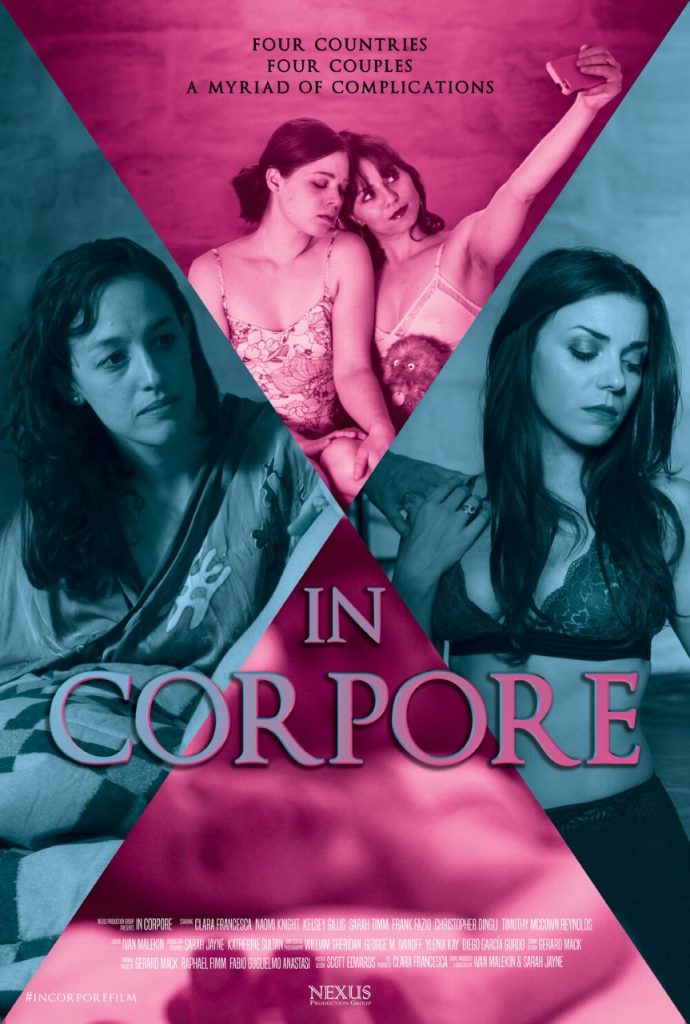 How much research did you do before tackling the project? 
A lot of research went into this film from all creators and cast. A lot of articles were read. A lot of contemporary peers' movies exploring similar themes were watched. And most importantly a lot of anecdotal evidence was sourced, from personal conversations, from attending private spaces that promote these forms of relationships to reviewing blog posts and online forums. What we learnt is that there is no one-way to be in any of these forms of relationships. What we learnt is that universally any form of relationship can crumble when parties are living in fear and avoid communication.
Did you have a backstory for your character, if even not on paper?
I did have a backstory for my character that was not on paper. It's actually profoundly personal. Julia is often invited into polygamous and fluid spaces but doesn't quite understand how to be present in those spaces when her first known community of more monogamous spaces seems profoundly angry with her. She is not good at communicating herself and is deeply confused. To protect herself from seeming confused, she deflects a lot. She has moments of insights and then moments of being lost.
Has the movie opened doors for you?
It has!
In 2021, you're given the choose to play any superhero you want on screen – who do you play?
Hahaha! I love this! I would want to play a newly created superhero that is inspired by Goddess Kali Ma (for her fierce great protection) and Archangel Chamuel (for their unconditional love)… What could this superhero be called? The Integrity Queen? Knifelover? Loveblaster? lol
IN CORPORE is now available On Demand