An indie filmmaker visits his hometown to attend a childhood friend's funeral. When she seemingly rises from the dead during her wake with mysterious abilities, he and a group of friends begin to investigate and record the town's experience as they try to get to the truth. Some claim she is God; some claim she is pure evil. They soon learn that not all miracles are holy.
---
Godforsaken. Tell us about it, sir.
When I was a young child in Tashkent Uzbekistan, I heard a story about a man who came back to life at his own funeral, he acted like a demented toddler then died again. I remember that story shaking me to my core. If I remember correctly, that was the first night I pulled an all-nighter.
Also unfortunately, religious extremism is a big part of my native country of Afghanistan. I always had a curiosity about religious extremists and what drives a person to act so extreme.
Godforsaken is basically a hybrid of these two points. I originally had planned to film it in Kabul, Afghanistan in spring of 2019. Unfortunately that didn't work out but we did end up filming it in winter 2019 in Harriston Ontario which couldn't have worked out better.
And Chad Tailor is quite a find. Where did you discover him?
Most of our cast and crew are alums of Toronto Film School. I met Chad when I was in school around 2011 and have been working together in various ways since then. I knew he would be the perfect lead as well as co-producer for this film. He now works at Toronto Film School where he teaches acting and directing to acting students. Chad is a multi talented guy. Acting, producing, casting, locations, this guy does it all and I'm so grateful to have had him on this project.
Did the cast have much time to get to know each other before production – because the chemistry is definitely there.
A lot of the cast has Toronto Film School in common, we are lucky to have had a cast that has a lot of experience together. Dom and Chad have acted together in various short films, attending acting classes at TFS around the same time. Chad and Melie are both staff at Toronto Film School, they have worked together countless times. Both Chris and Katie were students of Chad at TFS.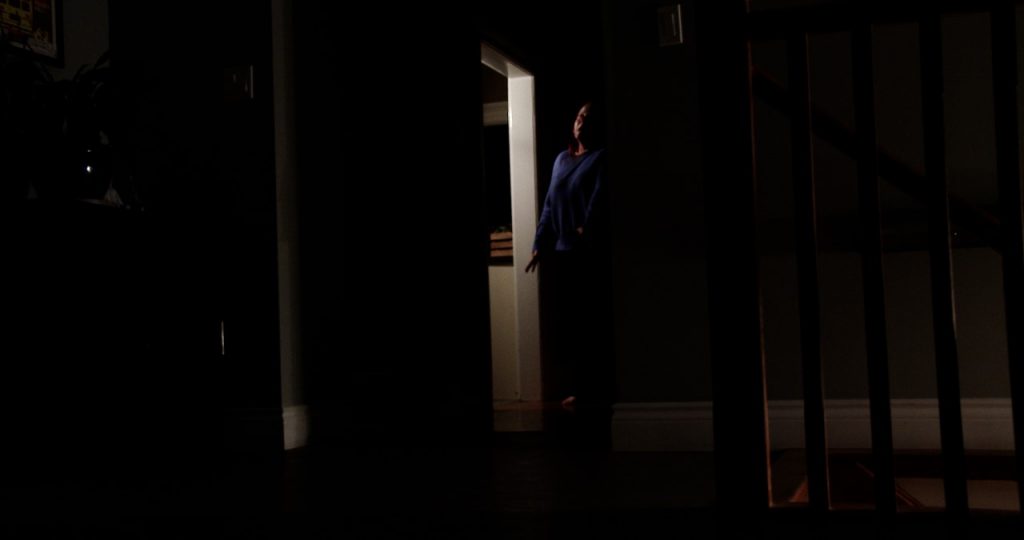 Were they all locals?
The cast that was local to Harriston was Father Anderson (Dan Bieman), Pat Laskin (Pat Raftis), Lisa Harris (Flora Burke), and of course Chad Taylor (Chad Tailor) who lives in Toronto but is from Harriston. The majority of our extras were locals. The main cast were from Toronto/GTA.
Tell us about the locations, where did you find them?
Our super star producer Chad Tailor worked his magic and got us all of these locations. Each location is in the town of Minto, with the majority in Harriston. The town was very welcoming, allowing us to host our main cast and crew locally for the production. My favourite location was the Harriston United Church, we were very lucky to be able to shoot there. The building is huge and very unique.
Practical VS. CGI -do you have a preference?
My personal preference will always be practical. There is just something about it that's very effective especially in a horror movie.  Of course it is also very expensive.
Great job here. Can you see yourself making the transition from independent features to big studio blockbusters like Conjuring and Halloween sequels one day? Is there a dream project?
Absolutely. Even as a little kid in Pakistan, I knew I wanted to make movies and I always wanted to make big movies. Making a big studio blockbuster would be an absolute dream. The environment I grew up in was pretty hopeless for a filmmaker and somehow that enabled me to dream as big as possible. I would love to be lucky enough to make a movie as big as Dune or Infiniti War.
I actually have a few dream projects, some horror and some action. Currently I am working on a found footage martial arts action script.
GODFORSAKEN is now available on AVOD and VOD from TERROR FILMS.