Actress Erin O'Brien talks about her latest film, the thrilling Clinton Road – based on a haunted stretch of highway in New Jersey.
Â
Congrats on Clinton Road! You're becoming known for these very cool genre movies – is that intentional? Do you gravitate towards horror and thriller films?
Thank you so much ! I love working on Horror. It's so much fun for me. I don't think I always intentionally choose horror, but I do tend to be attracted to more intense, emotional roles and that exists in a lot of horror films.
Â
When did this all start for you – acting?
I started taking classes in high school, then eventually moved to New York. I studied there with the amazing William Esper. After that I moved to Los Angeles and began working on a lot of indie films.
Â
And did anyone serve as an acting mentor to you growing up?
My first acting teacher, Ralph Colombino, was wonderful and such a mentor for me as well. He still teaches young actors in New Jersey at a school called the Actors Playground. He was definitely my mentor. He was so encouraging and really believed in me. I think he played a huge role in me pursuing acting.
Any existing actors whose career you'd love to emulate?
Many ! I love Emily Blunt. She is one of my favorites. I've also always been a fan of Angelina Jolie. She is so intense and emotionally open. I've always loved Natalie Portman as well. I would love to have a career and body of work as impressive as theirs.
And before Clinton Road, what was your proudest achievement?
I was very lucky to have been able to work on the Tremors TV pilot starring Kevin Bacon. That was a huge deal for me to be a part of such a cool show. Sadly, it didn't get picked up. There is a really cool trailer out there though.
I also loved working on A film called what Death Leaves Behind. The film showed at Sundance this year and that was a big deal for me as well. It will be out in theaters later this year.
Â
How did Clinton Road come about?
My friend, Actor Vincent Young introduced me to director Steve Stanulis. Now I am getting ready to do my third film with Steve this summer.
Â
And what does the title refer to?
Clinton Road is a real road in west Milford, New Jersey. There are lots of scary stories and myths surrounding the road and the movie touches on most of them.
Â
How would you describe the tone of the movie?
I would say it's very suspenseful. It's scary but In a more psychological horror sort of way. It definitely has some gore in it as well.
Â
What was it about the character you play that interested you?
I loved playing Gianna! Each character was so different in the film. I thought she was unique. She was the more fun, out there friend. She was also sweet. I've played a lot of tough characters so I enjoyed playing sweet in this one.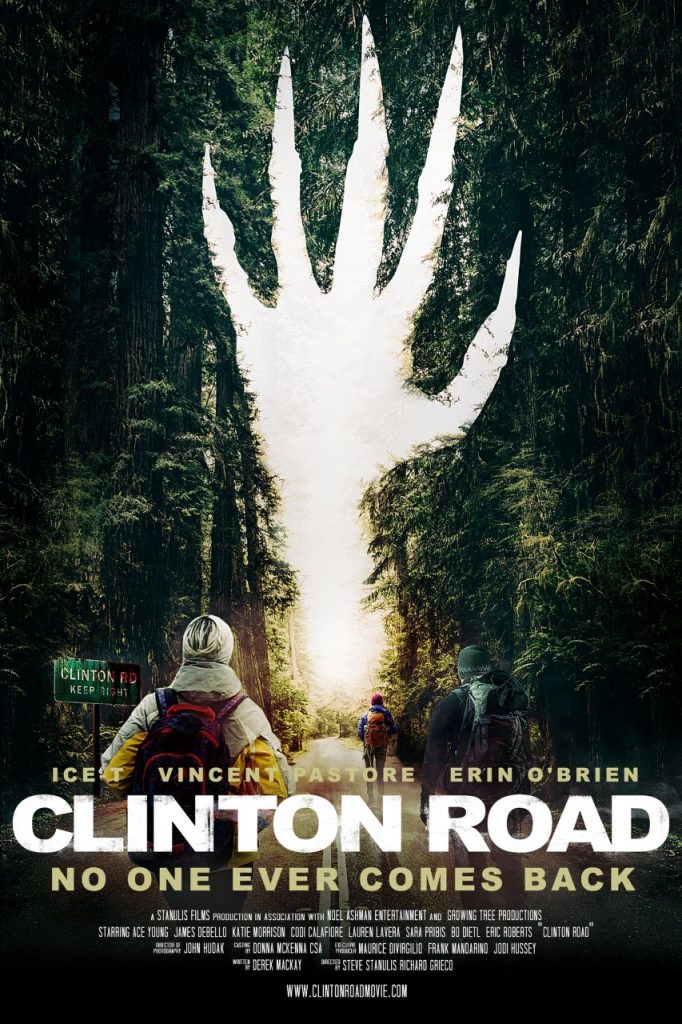 Was it a different character for you than one you've played before?
 Not too different. But I've played the tough girl a lot. So this was nice for me to play a nice girl In this one.
Did you flesh out a backstory for her – even if it didn't make it into the movie?
Yes ! I always do. It just helps me as an actor. Sometimes that back story starts to change as we start filming but I like to have that character foundation before I start filming.
Â
As an actor, do you feel you improve with each film?
I do like to improve if the director and other actors are also okay with it. I think it can really help a Scene along. James Debello and I improved in a few of our scenes and I'm really happy with the way they turned out.
Â
What else have you got coming up?
In June I start filming Chronicle of a Serial killer with Clinton Road director Steve Stanulis. The script is awesome and I'm super happy to be a part of it. I'm also really looking forward to filming with Branden Sexton, in this. I've been a fan of his for a long time.