For nearly a decade, Clint Carney has been on the creative end of the film industry, putting together visual effects and props for numerous films, as well as writing and directing his own short stories. His name can be attached to such works as Fantastic Four, Ted 2 and The Science of Mortal Kombat. He has written and starred in his first feature length film, Dry Blood. Clint shares his time discussing the film and his many creative endeavors in this interview.
How did you get your start as a content creator? Was this something you had pursued early in life?
I started drawing and painting when I was a little kid. When I was in high school I got really into making music and movies. After I graduated, I spent most of my time focussing on my music career, and many years later, once I had a little bit of success in that field, I jumped back into visual art and filmmaking pretty heavily. So, creating things has been a life-long passion for me.
Can you explain to the audience the meaning of the title of your feature, Dry Blood?
The title is a double entendre. It refers to the literal dry blood of murders that had taken place in the main setting of the film, as well as to our protagonist, who is in a constant struggle to get sober.
Is Dry Blood your first attempt at writing a script for a feature length film? What prompted the idea for addiction and recovery as the subject matter, and was a horror story always the plan going in?
Dry Blood was the fifth feature length script that I'd written, although the first to be produced into a film. I thought it would be interesting to approach a ghost story from the point of view of an unreliable narrator, so that the audience could never quite be sure if what they were seeing was real or not. The plan was always to make a horror film. The lead character's addiction and mental illness came in as I was developing the story, and ended up taking over as a central theme. It's been interesting to see how our audience's personal feelings about the subject of addition shapes their enjoyment of the film, especially their level of empathy for the main character.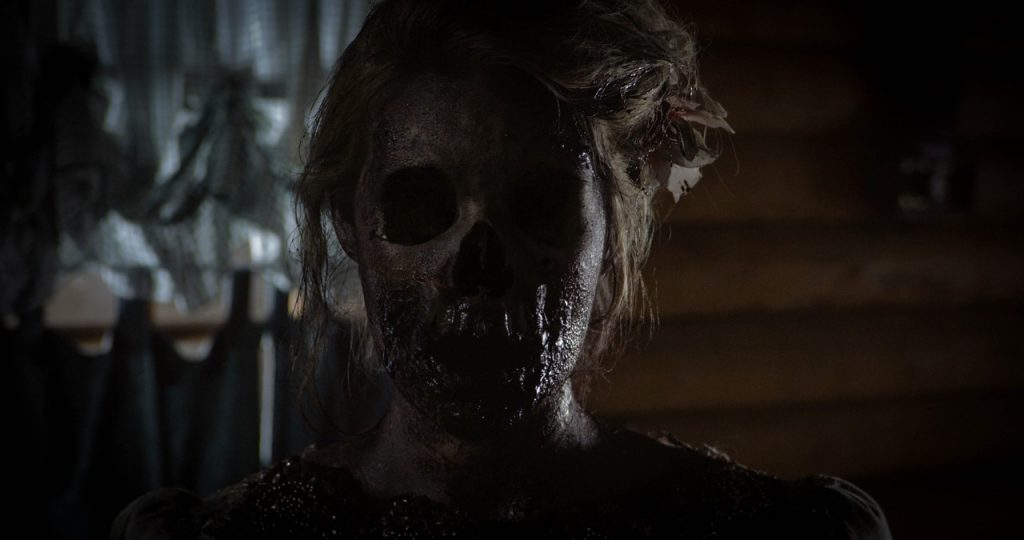 You have been involved with several aspects of film and storytelling, from writing and directing to sound and music to art and visual effects. Which has been the most rewarding so far? Or does it all go together as one total package to you?
I just love creating things. I really do enjoy the whole process of filmmaking but I think writing is at the top of my list. Out of all I do in the movie biz, working on my own films brings me the most personal satisfaction. I hope to keep making them, and I aspire to continue to learn and get better with each film.
Along those same lines, you also covered the Dry Blood soundtrack as part of System Syn. How was System Syn conceived, and have you planned on it regularly providing the soundtrack to your stories?
System Syn has been my main musical outlet since the late 90s. The music System Syn is known for is actually quite different from the Dry Blood score, but since it's all just me writing the music anyway, I figured why not use the same band name. Out of my whole music career, the Dry Blood soundtrack is the first release that I've had on vinyl (via Burning Witches Records) so I'm pretty excited about that. At the moment, I'm back in the studio working on a more traditional System Syn album, which should be out sometime in early 2020. As far as scoring future films is concerned, I'm going to take that on a case by case basis. Certainly there are other composers out there that I would love to work with, if timing and budget allow for it.
Kelton Jones directs Dry Blood, as well as being featured in a prominent role. How did your working relationship begin?
I met Kelton in a screenwriting group a year or two before Dry Blood was made. We enjoyed each other's work and company and set out to make a movie together. Initially I had brought a teenage punk-rock crime drama to the group, and Kelton connected to that one right away. We had endeavored to get that one going first, but it has been an ongoing uphill battle, and things just fell into place to make Dry Blood first.
Many times, directors will make some changes to a horror writer's original story, as was the case with The Shining and The Exorcist. Was there much that was changed in Dry Blood from your original vision? How much creative input were each of you throwing at each other as far as getting it from the script to the screen?
There were definitely some scenes that were altered or completely cut as we began filming, and then there was a good amount cut out in the edit. Everything on screen though, with a few exceptions for improve, is straight out of the script. For the most part, Kelton and I agreed on what we wanted to do with the film. If we ever disagreed, he was always open to discussing it. Ultimately though, I think you have to trust your director's vision, and that's what I did.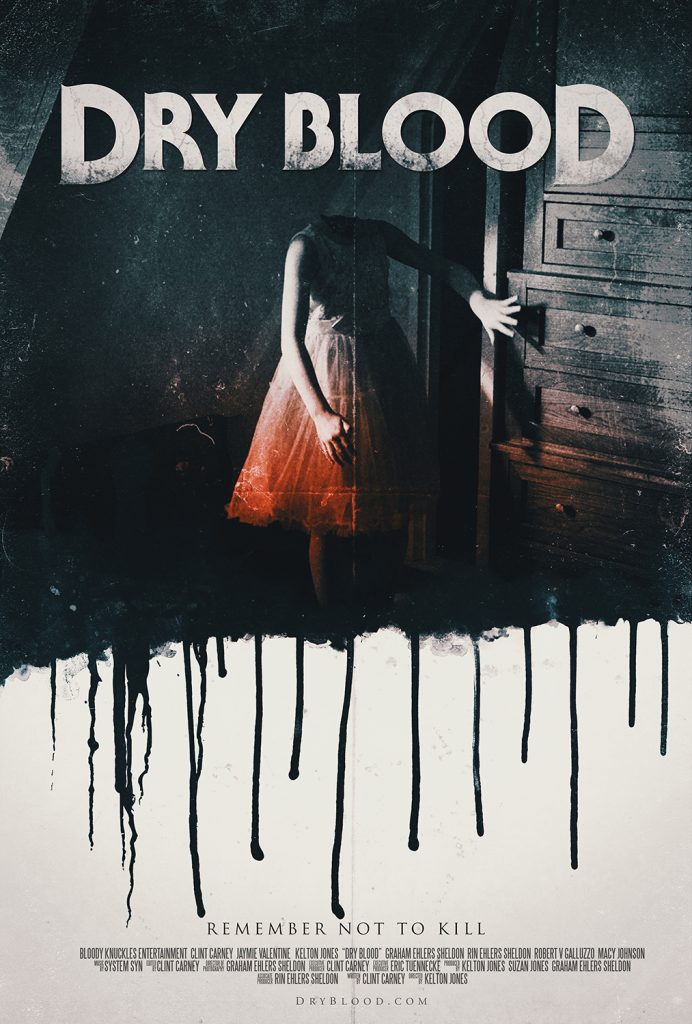 Who have been your greatest inspirations on a creative level? Not just as a storyteller, but as an artist?
Though there are many famous people that I respect and whose work has had a profound influence on me, I am continually inspired by the maybe not-so-well-known artists in my life that I've had the pleasure to call friends. Living in Los Angeles, surrounded by so many talented painters, musicians, filmmakers, writers, etc. has really pushed me to try to be better. Every time one of my friends get a bit of success, I am so happy and proud of them, it makes me want to do better with my own work. The first time a friend releases an album, or has an art show, or writes a script, or creates a beautiful sculpture, it serves as a great reminder that if we bring love and passion into our work, we can accomplish anything.
What were the greatest challenges and obstacles in getting Dry Blood written to finally achieving the finished product?
I think many filmmakers will agree, that one of the greatest obstacles is raising the funding for your film. Kelton and I were fortunate to find a few friends and family members who believed in our vision for Dry Blood, and through their generosity, we were able to move forward with the production. Beyond that, it just took time and a willingness to run up my credit card debt while I worked on finishing the film. Still, I've never regretted a single day I spent working on making a movie. It's all worth it if you love what you're doing.
What can we look forward to seeing from you in the future?
I'm currently working on the script for my feature-length directorial debut, which I hope to go into production on in the next several months. So 2020 should have a new System Syn album and a new film from me, if all goes as planed. And hopefully a whole lot more.
Thank you very much for your time and we look forward to seeing what comes next!
Thank you very much for the interview!