Barry's Bootcamp founder Barry Jay now wants to make movies – let me rephrase that, he only wants to make horror movies.
We spoke to the director of the current horror sensation Ashes (now available on digital and DVD) and the upcoming Killer Therapy about his love of the genre and how long this move into filmmaking has been in the pipeline for.
You've made a delightfully fun and effective movie – – how on earth did you find the time, with all else that you have on?
Thank you! Well, it helped that I retired after we wrapped the shoot – I took the time off for the 18 day shoot went back to work after – however the answers is a lot of energy and little sleep. I made the choice to go into pre-production for my next film KILLER THERAPY when we were in post for ASHES. It was actually really awesome BUT I probably don't need to do that double again.
How long have you been in the health and fitness industry for now, Barry?
I got my first job working behind a desk at a fitness studio for eight dollars an hour and was told I could take classes for free. That was 1996. I got addicted to classes when an instructor didn't show up and the manager said "get in there and teach, you've taken it a hundred times" so I did – and that became my class and the beginning of a mind blowing journey with amazing people. I feel so blessed.
And was it always about getting into that industry? You didn't grow up wanting to be a filmmaker and instead ending up following a different road?
I moved to LA from NY to be a songwriter and for many years that was it. Met some friends and wrote some scripts – TV sitcom spec scripts, a couple of unfinished movie scripts… more song but with little success and expensive demos I decided to turn my attention to my other passion… horror movies! I started writing a LOT.
So where does the filmmaking come in? when did you decide to try making movies on for size?
A friend at Barry's asked to read what I was writing – then said we should write something together and we did. That script ended up being THE CHOSEN for TERROR FILMS. It was an amazing experience. Then they (Terror) hired me to write another, the wrap around story for an anthology called PATIENT SEVEN with Michael Ironside and I knew it – this was it. This is what I want my next chapter to be! I loved horror since I was a kid. I watch a horror movie a night (watching Friday 13th Part II as I type, if you were wondering). Never planned on directing but when I wrote Ashes I knew what I wanted – after all it IS my family… *yes many truths in the movie… so that's how it happened.
And what was the motivation for making a horror movie – was it down to the resources available to you at the time, or was it simply about a story that you wanted to tell?
It's not just the story I want to tell – I ONLY want to make horror movies. I love horror. I do like other movies (Star Wars right atop the list) but I don't watch too many rom-coms or comedies etc… I'm drawn to horror (you should see my office). I have always said, if it wasn't horror, I would not be so passionate about writing.
Ashes was based on something that happened in my family. Yes Aunt Marion's ashes arrived without wanting them – my sister did move her from closet to closet – my mom did scream for her to take them out of there lol – and when I heard all this I started laughing out loud – and I got the idea. I was into Modern Family at the time and thought I hadn't seen a horror movie family do the unseen interviewer thing and I though it would server the story telling well – especially talking about Aunt Marion…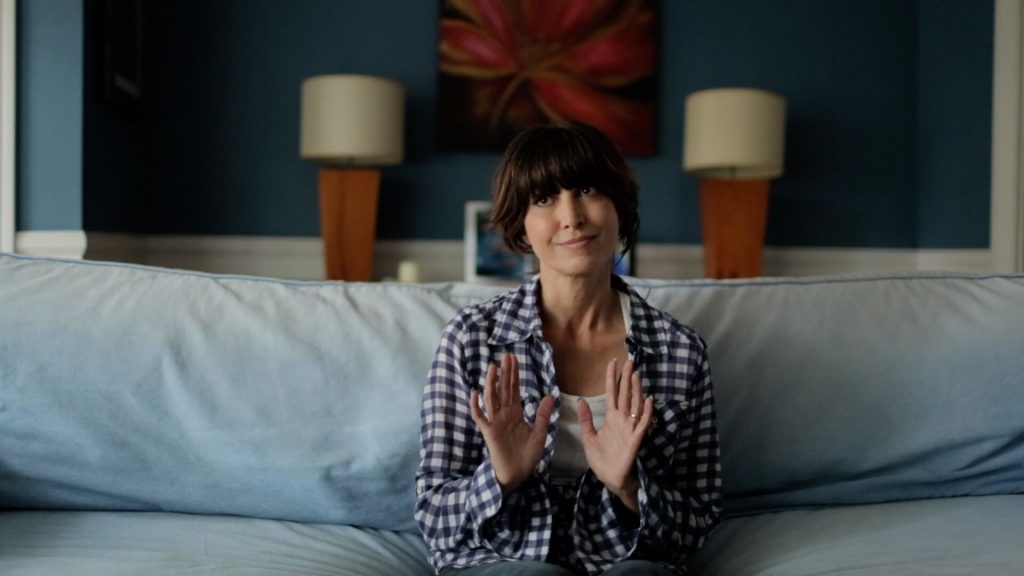 Ashes was inspired by a true tale – what's real and what isn't in it?
Real: I hid in a closet, knocked on the door and watched aunt Marion answer the door. Not real: I didn't lift up any clown mask and scare her causing what happened next… she actually came to the closet and said "oh Barry cut that out" this might be one of the worst things I ever did as a child so cut me some slack – p.s. yes, I did actually love her.
Real: My mom had a stroke after. Not real: My 88 year old mom and alive and full of spice!
Real: AM was moved from closet to closet and ended up in my moms closet. Not real: the ashes didn't fall and bust open. Truth – brand new box, Aunt Marion's in my office in a fine glass case and dedicated the movie to her.
There's more but lastly – Real: the family dynamic – we are mixed and talk over each other, and I can say (with love) that I captured their personalities spot on! NOT REAL: My brother is not a druggie and would never and I mean never, leave my sister. He's in love and devoted to her.
With physicality and strength a big focus of your day, we'd be remiss to ask whether you might like to do an action movie next?
If there is a horror element to it – Alien was sci-fi yet totally horror. If I could do an action like that – sure, sign me up.