Giant Flick Films and Imagination Street Films proudly present 'Sinbad The Fifth Voyage – Ultimate Director's Cut' now on Prime Video. 
The exciting live action film is based on the Arabian Nights and Sinbad the Sailor's fairytale adventures. It stars actor/director, Shahin (Sean) Solimon, who has been acknowledged as the first Persian-American actor to play 'Sinbad The Sailor' in an American made film. 'Sinbad The Fifth Voyage – Ultimate Director's Cut' also features stop-motion VFX, which was brought to mainstream by legendary VFX artist Ray Harryhausen in the late 50's. Creatures such as the Cyclops, the Goliath Crab monster and, yes, old-school, Skeletons in the dead tree forest to name a few. The much anticipated director's cut features several new scenes and a more expanded storyline between Sinbad and Princess Parisa.
 I believe the movie was released, originally, a few years ago. The version that is releasing on Amazon Prime is quite different? 
Yes, this version is really the true version. It is about 30 minutes longer, includes several NEW dynamics that were essential in the story such as several new monsters and an expanded origins story between Princess Parisa and Sinbad the Sailor. There is also a fun little end-credits scene, which everyone seems to love. Not to mention a BTS 'Extras' following the movie. 
When did you decide to do a director's cut? 
I had been thinking about it for a couple of years, and I finally got the opportunity during the Covid lockdown to finish it. We figured that we might as well get creative and tackle the project while there is a break. It turned out to a great decision since I am ultra happy with this version, and I think it really makes the story much clearer and more fun.
And has the film incorporated every 'lost' or deleted moment? Or is there still more you could've included? 
Great question, yes this version has pretty much 90% of the stuff that we had shot, but did not insert. Of course, there is always more, but we shall see what happens in the future, since we are developing more of Sinbad the Sailor. 
How many hats did you wear on the film? It must have been exhausting! 
Yes, I wear many of the creative hats. It is really by necessity, as any filmmaker well probably attest to. Others helped with different parts, of course. When you are low on budget, you must get the show done. However, I would prefer to act/direct on a more traditional team environment and with a larger budget.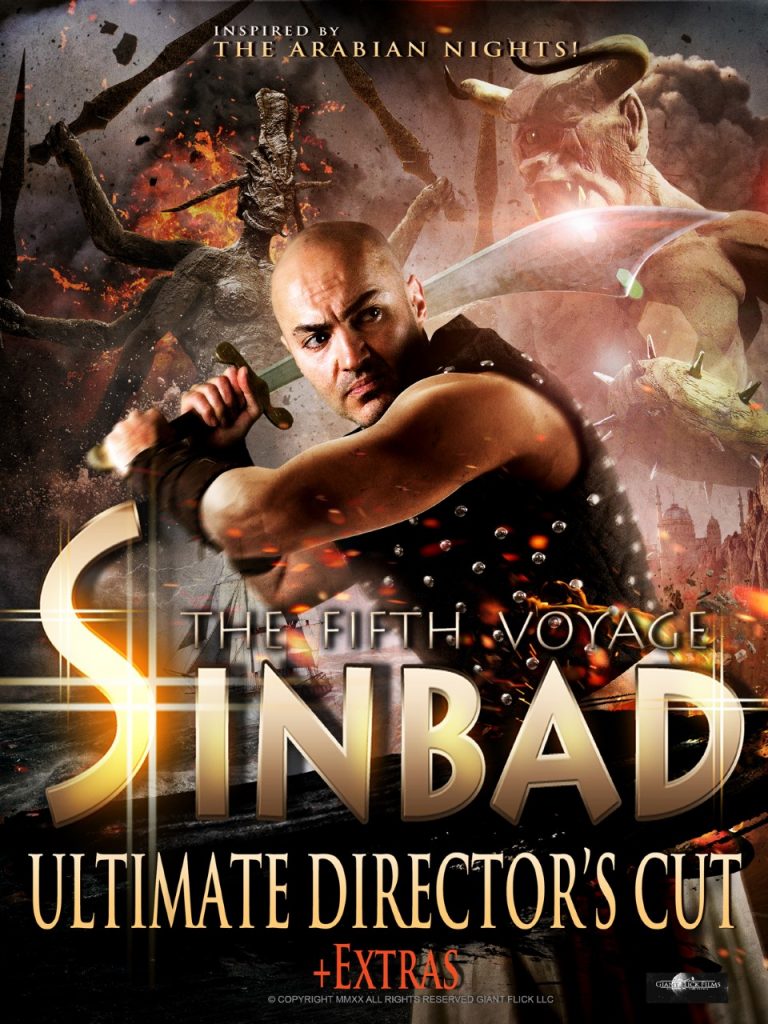 When did Patrick Stewart record his narration?  How was he to work with? 
Sir Patrick Stewart's narration was recorded quite a while back. When I found out he would be part of the show, I was very excited, I have always loved his work. He was amazing to work with, a pro's pro, and one of the best ever in the business. I was so nervous, that I actually did not sleep the night before. With me being a new director, he worked with me and allowed my creativity to come out by being such a gentleman and so easy to work with. We had an enjoyable and creative experience together for the very short amount of time we were blessed to have him, of course. 
And do you think you'll do another Sinbad movie? 
Stay-tuned!