A teaser has just been released from the pilot episode for a new paranormal comedy titled CURSED, from Head Above Water creator Connor Fairclough and award-winning producer Tristan Barr.
Ever been interrupted by an interdimensional force of evil whilst on the toilet? Or had to take responsibility of a possessed doll when you haven't even mastered personal responsibility? Had to distance yourself from a clingy demon spirit in the form of a clown? Isaac and Ned have, and they're not overly thrilled about it.
CURSED is a horror-comedy series that parodies the clichés and techniques typically found in the horror genre, similar in style to Shawn of the Dead. Shot with the intention of an online release, CURSED draws influence and satirises such horror films as The Conjuring, IT, The NUN, and Annabelle.
The story follows Isaac (Kyle McCallion), who releases a curse on himself after fiddling with a Ouija Board one drunken night. Through each episode, he and his useless housemate Ned (Omar Al-Sobky) must deal with countless paranormal hauntings whilst managing their daily mundane lives.
We spoke to producer Tristan Barr about the show.
Â
Q: How does one get into the webseries game? Or let me rephrase that, how did you?
I didn't expect to be in the web series game, but I'm glad I am. It really was from meeting with director Connor Fairclough who had pitched the concept to me about how apathetically he would react in a cursing situation, and the script grew from there. It wasn't really suitable for a feature.
Q: And did your success with Watch the Sunset make it possible to get such a series up?
Maybe a little, we were lucky to be assisted by Screen Queensland with some funds, so I'm assuming the success of Watch the Sunset helped with credibility.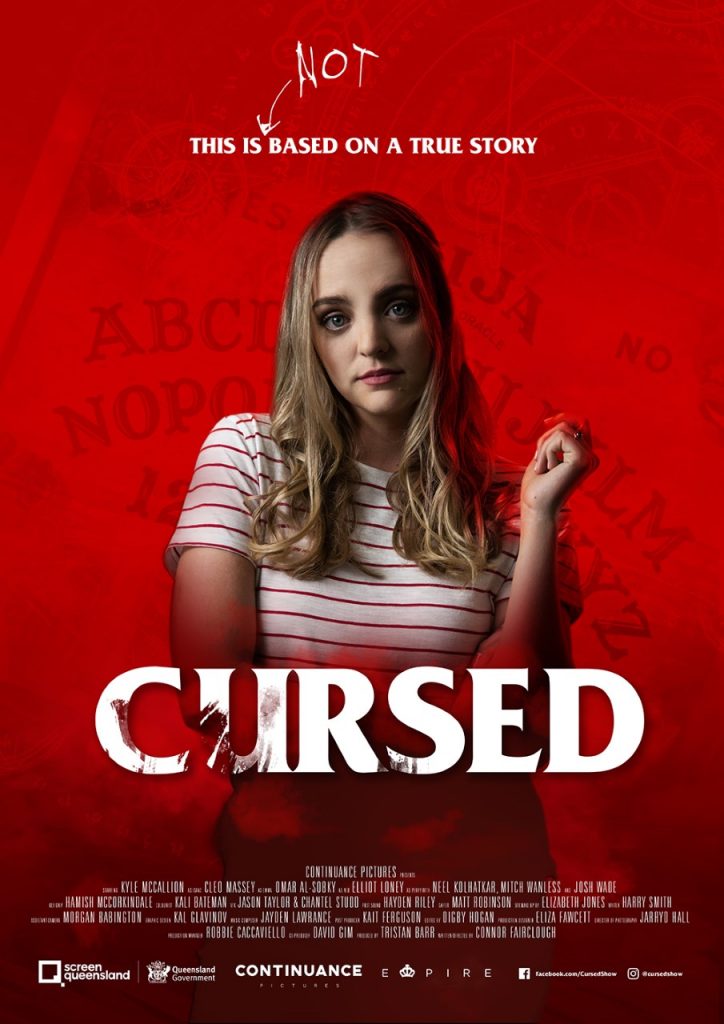 Q: You have a new company now – is this the first project?
Yes, Continuance Pictures have several projects at the moment including my next film Isolation which is a supernatural thriller which we are attaching South-Korean actors, producers, and distribution making it co-production with Australia. Continuance Pictures has also started a film fund, and we are producing several shorts that have feature scripts attached. Keep an eye out for the launch on the Continuance Pictures website or on our social media.
www.continuancepictures.com
www.facebook.com/continuancepictures.
@continuance_pictures
Q: Did you and your colleagues, at any time, argue over what the series should actually be – a spoof? A horror series? A sketch show?
No, we still haven't defined what it is, it's in a world of its own. Cursed is somewhere between Shaun of the Dead and What We Do In The Shadows meets some form of sketch comedy.
Was it hard to find that balance of comedy and horror here?
Yeah, that has always been the challenge. It pushes into some more full-on territory in the rest of season. Hopefully, we can get a few jump scares. 😉
The series is stocked of comedians. Who will pop up in the show?
I can't tell you as it'll ruin the surprise, but there are some favourites who play hilarious characters.
Do you yourself cameo?
Possibly. No comment.
And when do you think we might see the series?
Next year.
Official premiere date of CURSED to be announced soon via the CURSED social accounts on Twitter and Instagram at @cursedshow and on Facebook at www.facebook.com/CursedShow.