Verdict
Summary
The Hidden Fortress may not be as well paced as Yoijimbo or as memorable as Seven Samurai but it's still technically impressive with a stunning performance from Toshirô Mifune. Criterion have put together some great bonus features for this disc so it's essential for fans of Kurosawa and Star Wars.
Plot: Japanese peasants Matashichi (Kamatari Fujiwara) and Tahei (Minoru Chiaki) try and fail to make a profit from a tribal war. They find a man and woman whom they believe are simple tribe members hiding in a fortress. Although the peasants don't know that Rokurota (Toshirô Mifune) is a general and Yuki (Misa Uehara) is a princess, the peasants agree to accompany the pair to safety in return for gold. Along the way, the general must prove his expertise in battle while also hiding his identity.
Review: I've seen a lot of Akira Kurosawa's films over the years but one that had passed me by was The Hidden Fortress so I figured it was time I blind bought the Criterion Collection Edition of it as they never disappoint with their special features.
What fascinated me about this movie was how it inspired George Lucas in creating Star Wars so I wanted to see how similar it was. There are really only a few basic elements that were used in Star Wars like the two peasant characters Matashichi and Tahei who are alike to C-3P0 and R2-D2 with their bickering. There is also a princess character but storywise there isn't anything all that similar to a Galaxy Far, Far Away; I like how in Star Wars: A New Hope someone actually mentions the rebel's Hidden Fortress…
Technically The Hidden Fortress is first rate and in the interview with Lucas he talks about the amazing camera work like the scene with Toshirô Mifune riding on horseback towards his opponents and how the camera pans along with him. There are a lot of wide shots too which have been a huge influence on him.
The film itself isn't especially exciting and not a patch on Seven Samurai or Yojimbo; I found the two peasant characters endlessly annoying and never really took to them but as always Toshirô Mifune elevates it with his mere presence. He plays stoic warrior Rokurota who is loyally protecting Princess Yuki (played by first time actress Misa Uehara). In the bonus features Uehara is interviewed about the film and she talks about how nervous she was but everyone put her at ease. Yuki is a fierce character and once again not specially sympathetic but she's believable and her toughness I think rubbed off on Princess Leia.
The pacing definitely drags at times but the spear fight is arguably the best scene of the film and the use of sound is also stunning. The way you hear the encroaching horns of the enemies as they slowly close in on our heroes builds up the tension nicely.
The score doesn't really stand out with anything memorable but it's sparse and works for the material.
The Special Features really make this a must have especially for those who eat up anything Kurosawa related. Star Wars fans too will enjoy the interview with George Lucas which was informative and entertaining.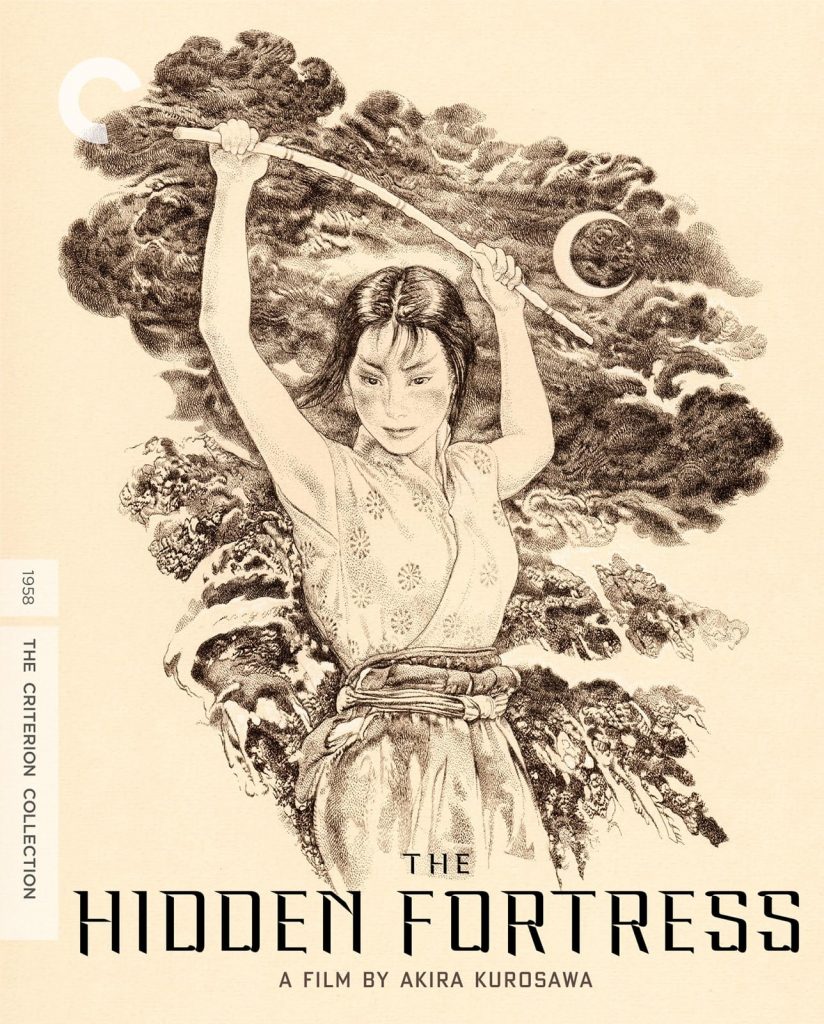 SPECIAL FEATURES
New 2K digital restoration, with uncompressed monaural soundtrack on the Blu-ray
Alternate 3.0 surround soundtrack preserving the original Perspecta simulated stereo effects, presented in DTS-HD Master Audio on the Blu-ray
New audio commentary by film historian Stephen Prince, author of The Warrior's Camera: The Cinema of Akira Kurosawa
Documentary from 2003 on the making of the film, created as part of the Toho Masterworks series Akira Kurosawa: It Is Wonderful to Create
Interview from 2001 with filmmaker George Lucas about Kurosawa
Trailer
New English subtitle translation
PLUS: A booklet featuring an essay by film scholar Catherine Russell
New cover illustration by Vania Zouravliov, type by F. Ron Miller
Overall, The Hidden Fortress may be a little slow for some tastes and I find the two peasant characters annoying but it's still an enjoyable tale with Toshirô Mifune tearing up the screen as always. The special features are what add to making this a must-have for any cineaste's collection.