Kino
Lorber and Giant Pictures are excited to announce 20 new films
now
available to stream on
Kino

Cult
, the free ad-supported streaming destination for lovers of horror and genre cinema. These films join a growing list of hundreds of new and rare, theatrically released cult hits, all presented in beautiful high definition. Additionally,
Kino
Cult is
now
offering an for $4.99 per month.
A full list of new titles appears below. Images for all
Kino
Cult titles are available to download
here
. Here's a selection of titles available:
CUB
dir. Jonas Govaerts, 85m, 2014, Horror/Thriller
Young Boy Scout Sam (Maurice Luijten) is the victim of bullying at the hands of the rest of his troupe and one of his pack leaders. On a camping trip Sam runs into a feral boy in the woods who suspiciously fits the description of an old folk legend called Kai. Sam tries to warn the others but is unaware the real danger comes from a crazed poacher instead.
THE DEAD ONES
dir. Jeremy Kasten, 72m, 2019, Horror/Thriller
For four outcast teens, summer detention means being assigned to clean their high school after a horrific incident. But they are not alone; a macabre gang wearing guises of The Four Horsemen Of The Apocalypse – Famine, Pestilence, War and Death – has locked them inside and is hunting them through the school's ravaged hallways. As the four students battle to survive, each must confront the supernatural echoes of past traumas they have struggled to forget – and may be condemned to relive.
DEMONIACS
dir. Jean Rollin, 100m, 1974, Horror/Erotica
A Poe-like study of guilt and revenge, Demoniacs (Les Démoniaques) concerns a band of "wreckers" who rape and murder two young sisters, the survivors (Lieva Lone, Patricia Hermenier) of a ship they have lured into coastal rocks and plundered. The ghostly sisters haunt the Captain and obtain help from a mysterious clown (Mirielle d'Argent) who leads them to an impressive disused cathedral. There they meet a gnostic priest (Ben Zimet) standing guard over a cell that harbors the Devil himself (Miletic Zivomir), who empowers the angelic girls sexually with the evil necessary to exact their revenge.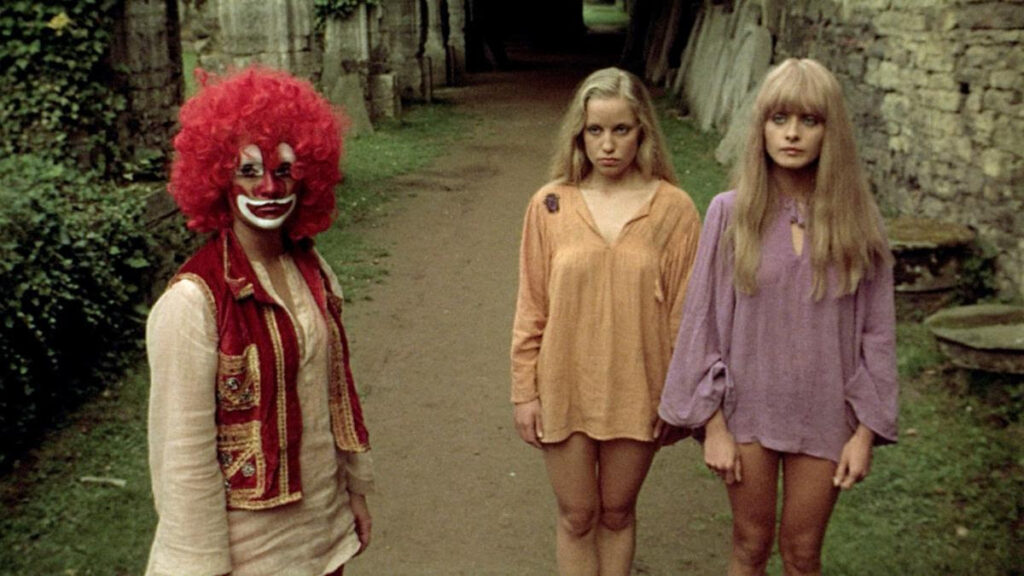 DRACULA'S FIANCEE
dir. Jean Rollin, 95m, 2002, Horror/Erotica
As Euro-horror pioneer Jean Rollin (Requiem for a Vampire, The Iron Rose) approached the sunset of his career, he distilled the dreamlike images and themes of his work into films that were deeply personal and unapologetically cryptic. Dracula's Fiancee stars Jacques Regis as a vampire hunter whose pursuit of the descendants of Count Dracula leads him to a convent (The Order of the White Virgins), where supernatural beings of a parallel world are unleashed, including a bloodthirsty ogress (Magalie Aguado), a wolf-woman (Brigitte Lahaie, Fascination), and a young woman who is being prepared as Dracula's bride (Cyrille Iste).
THE FLESH AND BLOOD SHOW
dir. Pete Walker, 96m, 1972, Horror/Thriller
Billed as "An Appalling Amalgam of Carnage and Carnality," Pete Walker's The Flesh and Blood Show is an homage to the blood-splattered, sex-smeared theatre known as the Grand Guignol. Still haunted by an especially tragic production of Othello, a seaside theatre reopens its doors as a groovy musical revue, only to have several of its performers fall victim to the deadly curse.
SCHOOL FOR SEX
dir. Pete Walker, 81m, 1969, Comedy/Erotica
British Sexploitation/Sex Comedy. Lord Wingate, acquitted after appearing in court for fraud, starts up a 'finishing school' to teach girls how to extract money from rich men, in return for a percentage of their gains. He enlists the help of the Duchess of Burwood (Alcoholic Aristocrat played by Rose Alba) as a teacher and Hector (Cockney Geezer played by Nosher Powell) as fitness instructor. A probation officer friend supplies the first batch of pupils fresh from Holloway prison via a clapped-out old minibus. Suspicious neighbors and police together with newspaper reports naming the prison girls
now
hobnobbing in high society results in a raid and a new court appearance for Lord Wingate. The Judge sentences him but plots to start up his own 'school for sex.'
WITHER
dirs. Sonny Laguna &Â Tommy Wiklund, 96m, 2012, Horror/Thriller
A group of naive young people has their carefree weekend in an isolated country house thrown into turmoil when one of them accidentally unleashes a mysterious and murderous creature trapped in the basement. As the demon begins to attack the couples, the blood-drenched body count mounts and, with it, more creatures with a taste for human flesh. The dazed young men and women soon mount their own desperate counter-attack, an attack that includes decapitations, dismemberment, spurting blood, flailing axes, and the kind of gore not normally associated with Swedish cinema!
ZOMBIE LAKE
dir. Jean Rollin, 87m, 1981, Horror/Thriller
Conceived by one master of erotic horror (Jess Franco) and pseudonymously directed by another (Jean Rollin), Zombie Lake weaves the tale of a contemporary French village haunted by water-logged Nazis slain by the Resistance. With little regard for narrative subtlety, the film veers from the shamelessly exploitive (as when a women's volleyball team skinny-dips in zombie-infested waters) to the tearfully sentimental (depicting a young orphan girl's psychic connection to one of the walking dead). Beneath its garish surface, however, Zombie Lake embraces several themes that run throughout Rollin's body of work, showing that this eclectic artist could not help investing even a playful film such as this with his personal sensibilities.
Featuring hundreds of hours of curated, theatrically released films all in High Definition, with new titles added monthly,
Kino

Cult
is available widely in the U.S. and Canada across web, mobile devices and connected TVs, with VOD apps on all major devices such as Roku, Amazon Fire, Apple TV, Google TV, iOS, Android, and more. From the art house to the haunted house, the channel dives deep into unapologetically weird genre cinema, blending recent art house discoveries fresh from cinemas with high quality restorations of notorious grindhouse gems. Download the
Kino
Cult app in the U.S. and Canada and watch free on Roku, Amazon Fire, Apple TV, Google TV, iOS, Android and at
kinocult.com
.
With a library of over 4,000 titles,
Kino
Lorber has been a leader in independent art house distribution for 35 years, releasing 30 films per year theatrically under its
Kino
Lorber,
Kino
Repertory and Alive Mind Cinema banners, garnering seven Academy Award® nominations in nine years. In addition, the company brings over 350 titles yearly to the home entertainment and educational markets through physical and digital media releases. With an expanding family of distributed labels,
Kino
Lorber handles releases in ancillary media for Zeitgeist Films, Milestone Films, Cohen Media Group, Greenwich Entertainment, Artsploitation, Palisades Tartan, Menemsha Films, Raro Video, and others, placing physical titles through all wholesale, retail, and direct-to-consumer channels, as well as direct digital distribution through over 40 OTT services including all major TVOD and SVOD platforms. In 2019, the company launched its new art house digital channel
Kino
Now
which features over 1300 titles from the acclaimed
Kino
Lorber library. In response to the COVID-19 pandemic, the
Kino
Marquee initiative was launched pioneering "virtual cinema" releases of art house films with revenue shares that allow audiences to support almost 500 local independent theaters.
Kino
Lorber was honored with a Special Award from the New York Film Critics Circle for this effort. In 2021, the company launched
Kino
Cult, an AVOD channel specializing in new and rare, acclaimed genre films.
About Giant Pictures
Giant Pictures is a digital distributor based in New York City and Los Angeles that works directly with filmmakers and rights owners to distribute movies and TV shows to VOD and streaming platforms around the world. A division of Giant Interactive, an award-winning digital media and technology services company, Giant Pictures has licensing and distribution agreements with more than 45 of the top movie and TV streaming services, including Tubi, Apple TV, Netflix, Roku, Peacock, Prime Video, IMDb TV, Pluto TV and Kanopy. Visit us at www.giant.pictures.