This July, visionary filmmaker Royce Gorsuch introduces audiences to his Mad Genius. In the film of the same name – out July 3 from Clay Epstein's Film Mode Entertainment – a young man tries to change the human mind in an effort to save humanity. We speak to Gorsuch about this very unique movie.
With its amazing premise and Hollywood's penchant for sci-fi right now, was there ever a moment when you considered taking Mad Genius to one of the big studios or did you always intend on doing it independently?
Great question. Three years ago, when I made the decision to make Mad Genius on my own terms, the movie marketplace was a little different, but the trends were clear. The business of financially successful feature films has since separated into two categories. One, is giant $200M dollar franchises. Or two, $1-5M high concept horror/thriller films.
For Hollywood to make Mad Genius, I think it would need to be on the scale of The Matrix, which it could have been, but without a "calling card" they wouldn't have let me make it.
So, for me Mad Genius is my calling card, to possibly do the next one with Hollywood.
I tried to model my trajectory off a few notables, like the Wachowski brothers, Nolan, Aronofsky all making their first films on their own merits and going on from there.
Tell me how much has changed since those early days on Mad Genius?
Wow. Well I can say I am incredibly happy for it to be coming out. I've been working and shepherding the project for three years, literally from script to screen and all the billion decisions and efforts in between. I certainly am wiser, more experienced, and my business acumen has multiplied exponentially.
Did it all work out for the better?
Absolutely. It has been a Herculean task, but I wouldn't trade it. There have been days I wanted to throw the hard drives off of a building and move to Iceland, but those are typical emotions for all filmmakers I believe. Mad Genius, is in fact, reflexive to the very task of creating something from scratch, on one's own merits. The obstacles, inner voices fighting you. I couldn't let them defeat me could I?
What are the benefits of doing Mad Genius independently, outside of the studios?
I would say the benefits range greatly from personal self-assurance, experience, growth as well as social respect from peers and the greater industry.
When people hear the lengths I went to to make Mad Genius, they typically shake their head in amazement. For myself, I can say this experience has made me immensely confident that I can accomplish what I set my mind to in the future.
This Charles Bukowski quote sums it up nicely
https://www.goodreads.com/quotes/39207-if-you-re-going-to-try-go-all-the-way-otherwise
Do you find the budget provides hurdles though? Are you constantly having to lose things from the script because you just don't have the money to do it?
Absolutely. If I had more than SAG ULB to make Mad Genius, I would have exponentially increased the action set pieces and stakes. I also had some insane stuff in mind for "going into Mason's mind" that was just out of possibility after wrapping production.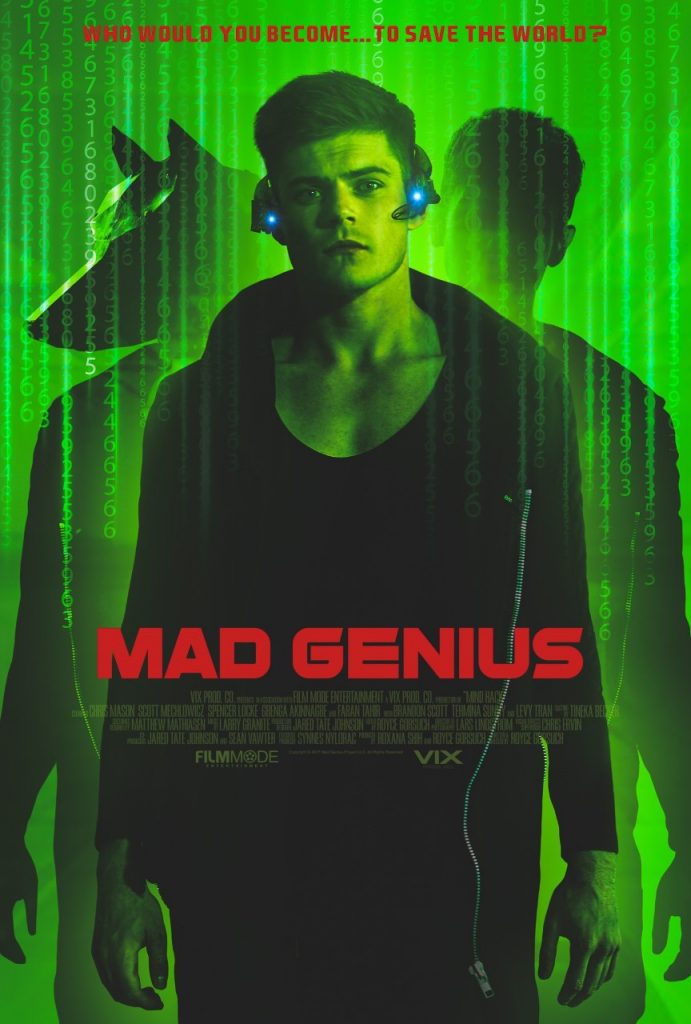 How easy was it to convince the 'name' actors to do the film?
Nothing is easy. Hah, but really, I was surprised by the actors' interest. Every actor in the film worked for far less than their usual quote. I asked our amazing casting director Tineka Becker, "How are we getting such great actors?" She said, "It's because of the script. They are usually auditioning for a medical or cop show. This is something so cool and unique."
And what was it shot on?
The film was shot on an Arriflex Alexa classic and old Japanese anamorphic lenses.
Where did you find the great locations?
During my years as a commercial filmmaker, I had the opportunity to see some amazing spaces in the downtown warehouse district of LA. I've never seen anywhere that is so "disgustingly beautiful." It's like apocalyptic in some areas, yet the big financial high-rises looming over everything just a few blocks away. In that warehouse district is everything from bio-hackers to flower shops…
One pivotal shoot location in the underworld of downtown Los Angeles changed my life. It was called Dear Raymer Studio. It was created and owned by the visionary production designer Jared Tate Johnson. Jared's world, was where my film about hacking the human mind had to take place. I first encountered Jared's studio on a location scout for a make-up company. We get to the location. The streets looked abandoned. Apocalyptic more like. Through the cage door to the elevator that looked like a tomb. Up the rickety shaft. Through the hall of flickering fluorescent lights, past the holes in the wall and the graffiti to a large black door with a massive thumb print painted over it. Through the door and into a world I had only seen of in fiction. A massive open warehouse space of brick and metal and wood. Raised platforms on the walls. Invisible stair cases. Secret passages. An underground world of real-life hackers, artists, and culture jammers. It was mind-blowing.
I wanted to "live in the world" of the film, and Jared's world, was it. I called Jared up, and he serendipitously had an open room. I moved in to his world and started re-writing "The Mad Genius Project."
Tell us about your producing partners on the film -were they encouraging of your unique vision?
Absolutely. Jared came on as a co-producer, and added a great creative element to the production, and producer Roxy Shih https://www.roxyshih.com/ is a wonderful director herself, so it was all creative collaboration.
Are you happy with how it's gone so far for the film?
Very much so. Our distributor Film Mode Entertainment is run by a fantastic CEO Clay Epstein, who believes in the film, and me as a filmmaker. It's a very positive collaborative relationship. And we've played at some awesome festivals like London's Frightfest, Austin Otherworlds, SF Indiefest and the Cannes Marche du Filme market.
The one thing I would do over, is the fact that I submitted to SXSW before the film was finished. Before it was even colored or mixed. In hindsight, I was trying to rush and get it noticed. I know we got into the final rounds even still, but in the end didn't make it. That was 2016. I think if I had waited to submit this final 90 minute cut we would have been there. Maybe I'll try again and see if the film gods respond.
Will you work with the same cast and crew on the next movie?
I will if I can. Hollywood can be political, and there is a need to "assure" success because people's careers are on the line, and there's big money at stake, so rightly, producers want the above the line crew to be "proven." But I will get my Mad Geniuses involved one way or another.
Thanks for the interview Movie Elite! – Royce
For more Mad Genius movie details and upcoming informational essays by the filmmakers check out:
http://madgeniusblog.com/