First of all, you've got a new movie out called Bezos: The Beginning, which is a biopic about Jeff Bezos. At what point did you become involved as an executive producer on this film, and what drew you to the project?
My best friend and Miami-based producing partner, Peter A. Lees pitched me "Bezos" during the Spring of 2020. It was after the first wave of the pandemic. The whole world was in a very dark place. A lot of people's lives had been pulverized. Jeff Bezos is one of the most important cultural icons of our time so of course, I was intrigued! I read an early draft by Allison Burnett & RV Romero (Autumn in New York and Underworld Awakening) based on the inspirational book "Zero to Hero" by Tashena Ebanks, and it was so altruistic I felt it was just the right tonic the world needed during this dark time in history. What sealed the deal for me however, was that "Bezos" would be the first-ever biopic on Jeff Bezos and it was a prime opportunity – no pun intended — to get lots of eyeballs watching it.
Â
Have you ever had any encounters or meetings with Jeff Bezos, and did that inform your approach to the film at all?
Actually — YES! I started my career at Warner Bros. Studios under Warner Home Entertainment in the Y2 era when Jeff was just branching out from online book sales to film and music content. He came to us to broker mass distribution and fulfillment for Amazon. So he'd occasionally be at the studio for meetings and on conference calls. You always knew his arrival was imminent when staff started running around in sheer panic or excitement yelling, "BEZOS IS COMING! BEZOS IS COMING!" He was initially very quiet in meetings, until the very end. Our film takes creative license, so it did not inform our approach to the film at all. For example, there's a scene in the film where Jeff's running late for a meeting. That would never happen. At least not back then. But it makes him relatable and fun.
Â
What are some challenges in adapting a book or a real-life person into a feature film like Bezos: The Beginning?
For "Bezos", I think honoring the source material. The writers did a good job honoring the narrative in "Zero to Hero", but not so much in listening to the wider audience, which is a good thing because we wanted to keep the theme altruistic. Jeff's been absolutely demonized in the media. He's gone from Zero-to-Hero-to-VILLAIN. There are a lot of haters out there buying that narrative. That said, our lead producer, Armando Gutierrez, who does a riveting job portraying Jeff (he even shaved his head for the role!) in the film has been getting bombarded by angry, threatening calls from viewers screaming all sorts of abuse at him for playing Jeff Bezos as a "humble, yet awkward entrepreneur." I mean, we laugh because it's just a film. But it's scary.
Â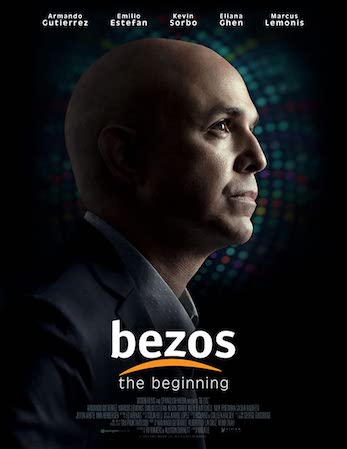 Talk a little bit about your background as a producer and your origins at Warner Brothers.
I had just returned from London after a 2-3 year run launching a new female-led comic book hero called "Velica" and was planning my next move. Do I go back to the Mothership…?Over lunch with two of my Warner brethren, Dr. Das Dasgupta (Chief Data Officer at Saatchi & Saatchi, where he leads Data Science Ops and Advance Analytics) and Thomas Tileston (SAS and Teradata Analytics, creator of the Netflix "thumbs up" algorithm feature) – both studio LEGENDS – I was able to hone my focus, and strategize my future on their advice. Das asked me, "Trace, what do you really want to do…? Do you want to go backward, or move forward?", Thom drove it home by saying, "Trace. You are such a great leader. You need to find an outlet where you can lead. It's time to rock-n-roll!" It never occurred to me until then, that I had the power to be the architect of my own destiny. So I created Trace Entertainment.
Â
How did your time at Warner Brothers give you a perspective on producing and help inform your career as a producer from that point on?
I've always loved the entertainment industry but was so focused on the daily grind that being a film producer or running my own production company, was nowhere on my radar. I worked in Sales Logistics, Marketing, and Distribution supporting management where we essentially built, marketed, fulfilled, and delivered filmed DVD content from Warner's vast video library and catalog. We're talking millions of units of iconic titles worldwide such as Harry Potter, The Matrix, and Lord of the Rings, amongst endless others. Being surrounded daily by industry legends such as Warren Lieberfarb "The Godfather of the DVD", and great leaders such as Michael Schlueter (Sales Logistics), Allan Eriksen (Marketing/Merchandising), and Rodney Satterwhite (Category Management), Griffin Gmelich (Physical/Digital Sales), Darryl Banks, David Camp, and Keith Hillyer (Finance), really shapes your perspective. Every day you bring your A-game just to be able to stand next to them. Some of the fairy dust was bound to rub off on me. I'm so blessed.
I noticed that you're branching into action and thrillers a little bit more. Discuss the film Prey of Wrath with Cynthia Rothrock. That one sounds really promising.
It's a bad-ass female-led action-revenge drama in the vein of Kill Bill, Atomic Blonde, The Girl With the Dragon Tattoo, and Captain Marvel. Cynthia came on board after meeting my childhood friend, Benny Tjandra (who produces and co-directs our film with Doug Tochioka) at Dragon Fest. I came on board when Benny called me saying, " Dang! Trace! I'm doing a badass female revenge-action movie with Cynthia Rothrock. I need a badass female producer. Are you in?  Oh. And by the way, can we film at your house?!" Of course, I jumped in. As any huge martial arts fan knows, Cynthia Rothrock is renowned as "The Dragon Lady" within the martial arts community. Credited with 30+ films and a worldwide following, she is the first woman to be inducted into the Sports Hall of Fame by Arnold Schwarzenegger and Dr. Robert Goldman. She's also an inductee of the prestigious Black Belt Hall of Fame along with Bruce Lee and Chuck Norris! She is a LEGEND. We are so blessed.
Â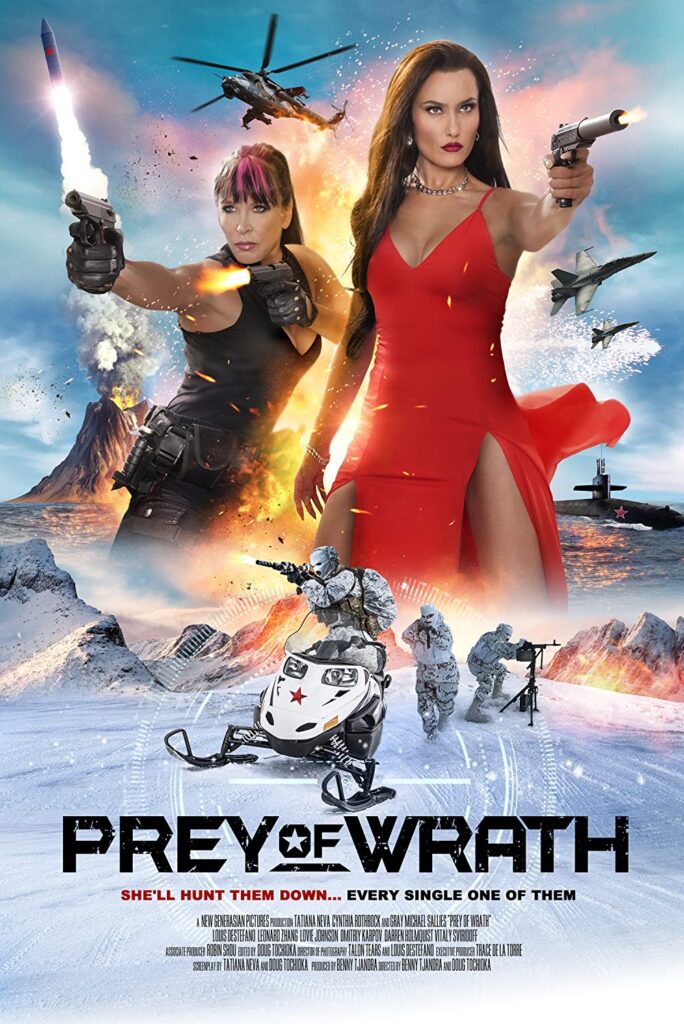 What are some challenges you've had in working in the independent world?
So far, I've been lucky. In the 6-7 years since I started my filmmaking journey in 2016, things have progressed rather quickly with a slate of continuous projects. Every film has had its different challenges. Weather. Logistics. Financing. Egos!
Â
What's one crazy example of something that has happened where you've had to "fix" it or scramble to make something better on the fly?
Prey of Wrath is set across numerous continents and locations so a huge chunk of challenges have been unpredictable adverse weather conditions. We shot in the snow, desert, rain, wind, and heat, in a dojo, warehouse, silo, bunker, and at sea. We spent a few days filming on location in the Channel Islands on a friend's fishing boat. With cast, crew, and equipment, that boat got small real quick. We were about an hour out at sea when one of our crew got an asthma attack from the cold sea air.  They were aspirating and could barely point out their backpack. The entire crew scrambled through a mountain of backpacks to find their inhaler and by the time we got to it, they were nearly passed out. We had a medic on board and a power boat trailing us for such emergencies. I made the decision to halt production to get back safely to shore with them. We lost a lot of daylight and shoot time and had to adapt the script accordingly, but it was better than losing a life. I love my crew and will always prioritize them.
Â
Some people might not really understand exactly what a producer does on a movie. Can you describe in a few words what your job description entails and how you'd explain that to a layman? Advise and sign off on all major creative decisions. Manage all logistics and business operations. Secure financing and distribution. Temper expectations and manage egos. Deliver on time. Keep the faith.
Â
It looks like you're working on a movie about Tito Puente. Everyone has heard the song Oye Como Va. What's your approach to this film, and will it sort of be in the lines of some recent movies like Bohemian Rhapsody or I Wanna Dance With Somebody? I remember the movie The Mambo Kings with Antonio Banderas. Maybe it will be something in that vein? "TITO" is basically the Latino Forrest Gump with The Mambo Kings flavor. I can't say more than that. It's such an honor to be working on something so special with Mr. Damon Whitaker, David Guzman, and Tito Puente Jr. – Dream team!
What is it about Tito Puente that you think audiences will respond to?
Everything! Tito Puente is known worldwide. He is music royalty. Most people know his music but not his story. Our film, "TITO" will change that.
Â
What would be your advice to up-and-coming female producers or young women coming into the entertainment industry who might be right for producing or production roles in the industry, but don't really know what's right for them yet or how to "break in" into the industry?
Know your craft. Work hard. Be relentless. Network. Pay it forward. Never give up!
BEZOS: THE BEGINNING is available on all major VOD platforms now. Watch the trailer: https://youtu.be/xPGTeTOY5_Y