First of all, the movie opens and closes with some eye-catching animated sequences. Talk a little bit about how these sequences were developed and used to sort of advance the story and put viewers on your wavelength.
"Poughkeepsie is for Lovers" is an apocalyptic romantic drama – but I'm also heavily influenced by psychological horror. Hitchcock, Aronofsky, Ari Aster, and others. The animation and graphics were inspired by designer Saul Bass, and all those great Antonini posters from the 1960s. The characters in the film are going about their daily lives – but their inner experiences are like the surreal graphics by animator and art director Natascha Johnson. Their world is spinning out of control – like the animation.
Faith and sexuality are central issues and themes in this film. Can you say something about what you were trying to say with these themes in relation to the overarching theme of the end of all things, as it's presented in the film?
What's more important than faith and sexuality? You don't have to believe in religion, but you have to believe in something. The characters are searching for meaning as they sense the end may be near. For the character of Charles, even though he has some serious personal struggles, his faith is where he finds his strength. Eve and Charles are having problems in their marriage: their way of trying to work things out is in the bedroom. Ultimately they love each other deeply, and their sexuality is the physical manifestation of that love.
There seems to be a lot of fear and worry running through the movie and through its characters; we see the emergency alerts of mass shootings, bombings, and we see your character Charles having nightmares. Talk about your own fear versus the fears of the characters in the movie and how you injected your own personality and concerns into the film.
Well, I wrote the film a few years ago. Unfortunately a number of mass shootings have happened between then and now. I wrote this before the attack on the Capitol in Washington. I wrote it before the governor of Michigan was almost kidnapped in a domestic terror plot. I don't think I have more fears than the average person, but I am a concerned citizen. The film is set a few years in the future, and things are meant to be escalating from what is happening now. You could say the film is a warning – "Let's make sure this doesn't happen." Part of the fear in "Poughkeepsie is for Lovers" is that they leave New York City for a "safer" area – a rural area outside of Poughkeepsie, New York, in the Mid-Hudson Valley. The irony is that is where they actually meet their end. Bombs that are meant for a nuclear power plant in upper Westchester County, and for the state capitol in Albany fall far from their targets – and fall near where the characters are. Randomness is a big contributor to the fear of the story.
 How closely does Charles resemble you as a person and as an artist? These seem to be very Bohemian, artistic characters, and they are specifically drawn with their wardrobes, the props they use, their piercings, jewelry, and that sort of thing. Do you know people like this? How much of them are drawn from reality, and how much of them are simply fabrications?
Well, I must resemble him in some way, or else I wouldn't be able to play him. But on a surface level I'd say we are pretty different. I put on 30 pounds to play the role at the gym. I don't have any piercings or tattoos – my wardrobe is more on the understated side: think J. Crew. I had never had a long beard either, which turned out to be very thick and very black. As an actor I'm drawn to characters where I need to transform. I wanted to explore his passion, his faith, his anger. When we were on location in Poughkeepsie and the surrounding area, I felt like I stood out. I felt like an outsider. Which is what Charles is when he's upstate. But Charles and Eve live in an edgy, artsy part of Brooklyn. In that area, there are many like-minded people. Do I know some people who are very Bohemian and artistic? Yes. So I tried to be true to how those people dress, behave, think and live.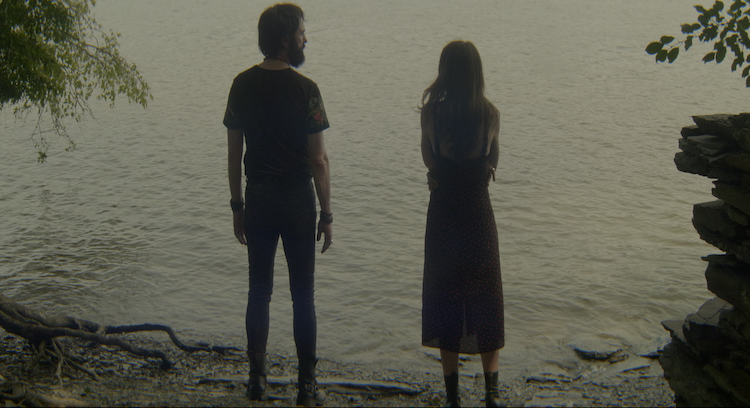 Are you a fan of end of the world movies? What are some of your favorites? Which ones scare you the most, and why?
I loved the way "A Quiet Place" was written and admire the performances of Emily Blunt and John Krasinski gave in that post-apocalyptic film. Certain aspects of the story are extreme, but the performances are so realistic and relatable – so you get scared for the characters. (They shot the film in the Hudson Valley, by the way. And the horse barn we used at the end of our film was used as for the offices of "A Quiet Place.") I guess the classic film "On the Beach" is a mid-apocalyptic film? I appreciate its realistic pacing. The characters are ordinary people living their lives – people you can relate to. The horror comes from knowing what's going to happen to them, as the nuclear fallout creeps slowly toward Australia. And of course, the classic film "Dr. Strangelove" which is a funny and horrifying tale starring Peter Sellers and George C. Scott. The story and the performances are so audacious and extreme. The contrast between the humor and the dread is so powerful. Three very different films dealing with similar themes.
Talk a little bit about some of the locations in the movie. There are some nice green areas where you and your costar Natia Dune walk through. Where are these lovely places?
We filmed "Poughkeepsie is for Lovers" on the actual walking bridge in Poughkeepsie, and its historic downtown. But mostly what you're seeing in the outdoor areas are in Dutchess County in the town of Lagrangeville, and other towns and villages nearby. My friend Julie Donato was my location scout. She lives in the area and helped find locations that were all nearby. Some were in the backyard of the house we were using. The scene in the shed was shot on the property next door. Several scenes were set in a park nearby with a stream, lake, green areas, with a small mountain behind. Dutchess County is very beautiful. Where we shot is semi-rural, which was needed for the story. The beauty of the area is meant to contrast with anxiety and dread of the story.
How did you find your costar Natia Dune? Talk a little bit about your process in simulating intimacy with her on screen.
We saw a number of actors for the role of Eve, but Natia was a real stand-out. She was recommended by my friend actor Chris McGinn ("Kidnap"). We all have the same manager, Tsu Tsu Stanton. Natia was so natural, artistic, and stylish. She's from an acting family in the country of Georgia. She had an instant understanding of the story, since Georgia used to be a part of the Soviet Union, and the country has gone through some tough times. I altered some of the story to involve the country of Georgia. Natia was generous in talking about it. For the intimate scenes we were lucky to work with a great intimacy coordinator Claire Warden, who is one of the leaders in her field. Claire walked us through the steps of how to realistically show scenes of intimacy – to make it look as though Natia and I had been a couple for some time, even though we didn't know each other at the beginning of the shoot.
You co-directed the film with Kelley Van Dilla, but the script is credited just to you. Say something about the possibly improvised nature of the script, and how you and Kelley collaborated on the film.
I wrote a few different versions of the script, and showed them to Kelley. Then we agreed on the final version of the screenplay. On the set, there was discussion about the dialogue – and sometimes a clarification of it. But there wasn't much improvisation. Kelley directed us on set; I oversaw the post-production process.
The film climaxes with an unusual, almost Terrence Malick-style elegiac way where the characters sort of cross over into the afterlife where there's music and song and they're greeted by some kind of angelic entity. Talk a little bit about this style you use where the audience is meant to interpret the events as they choose. It's not a typical way to tell a story.
Mentioning Terrence Malick is a big compliment – thanks! I'm glad you understood what we were doing with the ending. I guess you could say most of the film is realistic – it's about people going about their everyday lives. Then they get caught up in unfortunate world events. Once their worldly lives are over – they cross over into another dimension – so maybe you could call that surrealism. You can look at it through a Christian lens, or a Buddhist lens, or you could look at it in a mythological way, like Ovid's "Metamorphosis." In that book no life ends – when it comes to the end of its current life cycle, it transforms into another kind of life force. The simplest way to put it is that their love transcends their deaths.
If you were to compare Poughkeepsie is for Lovers to other films or works of fiction, what would you compare it to?
In no way would I compare my work to his genius – but I deeply admire John Cassavetes. He told the stories he wanted to tell, in the way he wanted to tell them. It's scrappy, edgy, and he got the movies made.
If you were to find yourself in a time and place where the world is teetering on the brink of oblivion like the characters in the film do, do you think you'd survive that scenario, or would you perish?
I must have a surface fear of death, like everybody else. But deep down, I don't think I'm afraid of dying, because I've tried to live in the way that's right for me. So whether I lived or died in this scenario, I would be ok. Just like the characters in "Poughkeepsie is for Lovers" end up being okay.
Poughkeepsie is for Lovers is now available to rent or own on VOD platforms across North America.