On digital platforms June 9 from Global Digital Releasing, the highly-anticipated documentary PLAYING WITH FIRE : JEANNETTE SORRELL and the MYSTERIES OF CONDUCTING from Academy Award Winner filmmaker Allan Miller (called "The finest maker of documentary films on music in the U.S" by the New York Times.) and starring GRAMMY®-winning conductor Jeannette Sorrell.
Jeannette Sorrell, after being told by the Juilliard School and the Cleveland Orchestra that no one will hire a woman conductor, forms her own Baroque orchestra, Apollo's Fire.  She shows us how she can transform the notes on the page into musical sounds in her ear and express them with her gestures to the musicians.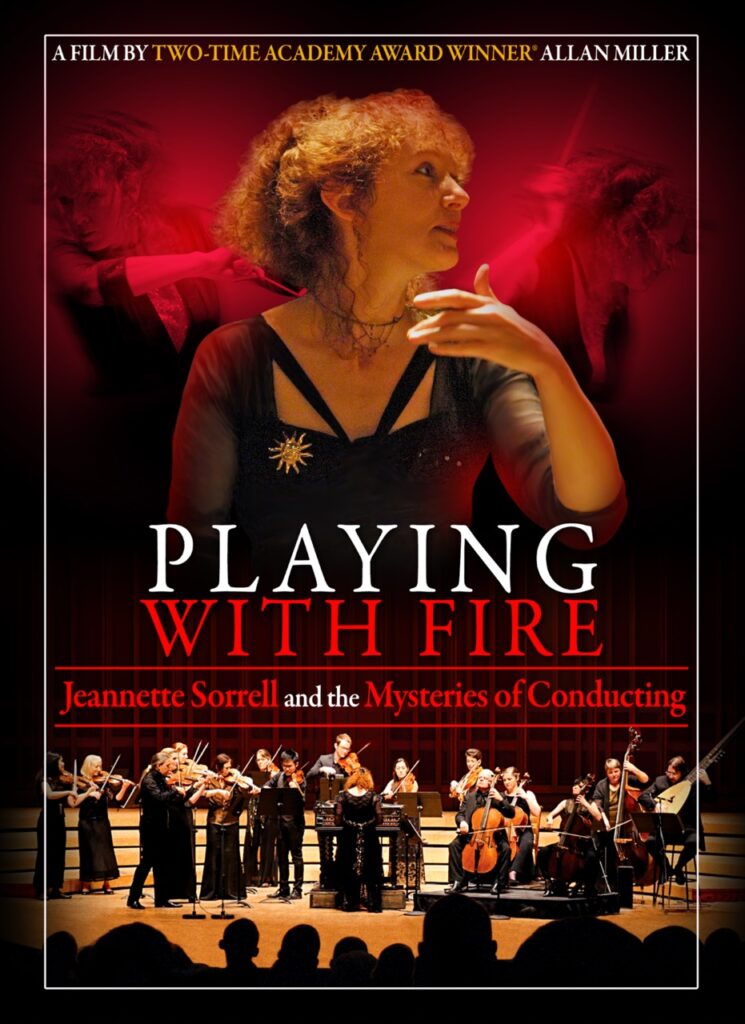 DIRECTOR'S STATEMENT
What is the mystery of conducting? What combination of talent, study, experience and personal magnetism brings a conductor to a position of trust and authority with the musicians?  
And what if the conductor is a woman?   
Meet Jeannette Sorrell.  She has been recognized internationally as one of today's most creative early-music conductors and credited by the U.K.'s BBC Music Magazine for forging "a vibrant, life-affirming approach to the re-making of early music…a seductive vision of musical authenticity."  She has led her renowned orchestra, Apollo's Fire, the Cleveland Baroque Orchestra, in sold-out concerts at London's BBC Proms and Wigmore Hall as well as many other national and international venues.  Last season her orchestra made its Carnegie Hall debut, and the concert sold out in one day.
Playing With Fire is a study of the conductor's art.  It takes us inside the musical imagination of this acclaimed conductor.  It explores the intensely private as well as the public activities of a conductor, with never-before filmed scenes of Sorrell preparing a score, then drawing her conception of the music from the orchestra in the almost magical process that is rehearsal and performance.
This journey into the mind of a conductor has never before been captured on film.