The time-travelling assassin love story "Same Boat" stars Chris Roberti, who also directed, as a time-traveler sent to take out a young woman on a cruise ship. Instead, he falls in love with her.
We spoke to the actor and comedian ahead of the release of the film on digital next Tuesday from Dark Star Pictures.
Where did the idea for Same Boat come from, sir?
Thank you for calling me sir. Josh Itzkowitz had a vision to make a film on a cruise, so we wrote a script about a diamond heist aboard a cruise ship and took a test cruise to scout the ship and to see if it was feasible. We immediately realized that we could make a film, but not the film we had written: it was too big and would have caused too much commotion so we set about writing a new story and that became Same Boat.
And did it start with the character – a time-traveler – or the story itself?
We had the idea that it would be crazy for someone to dump their partner on the first night of a cruise: you'd be trapped with them. Separately we thought an assassin story might be fun. And then added time travel.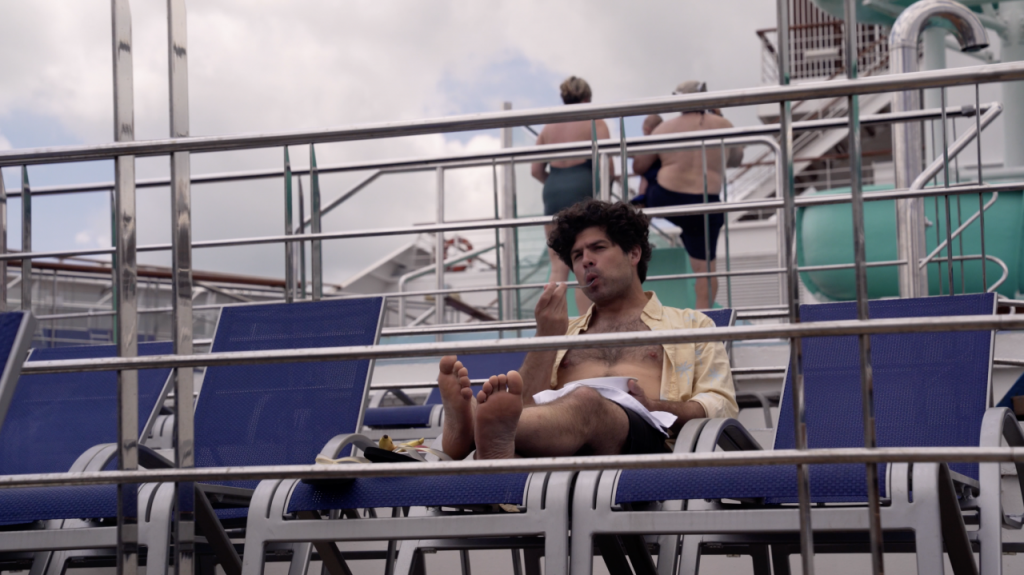 It's a hard one to pigeon-hole this one. How would you categories the movie?
We call it a low fi sci-fi rom com time traveling assassin film. It's a mix of a lot of things, my friend describes it like the Thai food of comedy – a little taste of everything.
What movies would you compare it to?
We checked out Terminator 1 and 2. And Monsters Inc.
How important was it that the film's tone be kept light throughout?
I like to keep things light and fun and silly, I also wanted it to seem grounded and deal with some philosophical moments. But we always conceived of it as a comedy.
Best time-travel movie ever?
Any Terminator with Arnold Schwarzenegger – He is an indisputable movie star. Even in the more recent, stupid Terminators, he shines and is wonderful. Also Interstellar.