FREESTYLE DIGITAL MEDIA ACQUIRES PERSONAL DRAMA "THE PILGRIM" FOR MARCH 14th RELEASE
Freestyle Digital Media, the digital film distribution division of Byron Allen's Allen Media Group, has acquired North American VOD rights to the personal drama THE PILGRIM. THE PILGRIM will be available to rent and own on North American digital HD internet and satellite platforms on March 14, 2023, through Freestyle Digital Media.
THE PILGRIM tells the story of Will, an American architect living in London, who is thrust into an odyssey through the American West upon learning of his estranged mother's death. Confronted by his sister, Jeannie, he is tasked with transporting his mother's remains to their final resting place at his aunt's ranch.  Reluctantly agreeing, Will sets off on a journey that brings him back in contact with the ghosts of a life he had long since left behind – its landscapes, its history, and its traditions – before meeting a young Shoshone woman, Alva. The two share a brief but powerful connection through which he endures a reckoning with nature, family, and his past.
A Copeland Pictures production, written and directed by Joshua Benson, THE PILGRIM was produced by Joshua Benson and Jeff Worden. The cast of THE PILGRIM features Jeff Worden ('Will'), Rachel Colwell ('Alva'), Julie Oliver-Touchstone ('Kay'), Rebekah Stein ('Jeannie'), Lou Llobell ('Claire'), and Emerald Clark ('Ruth'). THE PILGRIM was filmed over the course of two consecutive summers throughout Wyoming, Nebraska, and South Dakota. In addition to a short stint in the UK, the team shot with no more than a skeleton crew and a few actors, working almost exclusively by natural light in order to bring an authentic portrayal of the American West to the screen.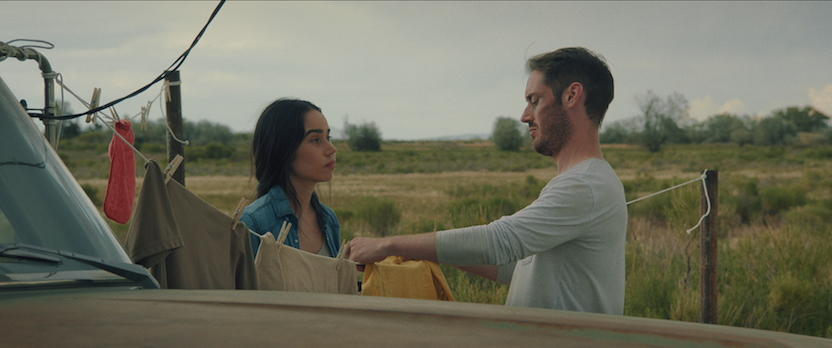 "THE PILGRIM took much of its inspiration from James Baldwin's essay 'Stranger in the Village' — specifically the line: 'People are trapped in history and history is trapped in them,' explains filmmaker Joshua Benson. "Personal trauma commands such influence over our lives, and I wanted a film that meditated on how, if ever, we move forward. The American West, with its problematic and complex past, seemed a fitting backdrop to breathe life into these themes."
Freestyle Digital Media negotiated the deal to acquire THE PILGRIM with Alex Nohe of Blood Sweat and Honey.
THE PILGRIMÂ website:Â www.thepilgrimfilm.com
THE PILGRIM trailer:Â www.youtube.com/watch?v=vPwrXj8BBvI
About Freestyle Digital Media
The digital distribution unit of Byron Allen'sÂ
Allen Media Group
,Â
Freestyle Digital Media
, is a premiere multi-platform distributor with direct partnerships across all major cable, digital and streaming platforms. Capitalizing on a robust infrastructure, proven track record and a veteran sales team,Â
Freestyle Digital Media
 is a true home for independent films. Recent releases includeÂ
DEAR ZOE
 starring Sadie Sink from the hit Netflix series STRANGER THINGS, Jessica Capshaw and Theo Rossi,Â
BEST SUMMER EVER
 the teen musical featuring a fully integrated cast and crew of people with and without disabilities, produced by Jamie Lee Curtis, Maggie Gyllenhaal, Mary Steenburgen and Ted Danson,Â
THE WEDDING YEAR
 starring Sarah Hyland and Anna Camp,Â
THE LAST PHOTOGRAPH
 starring Danny Houston,Â
BERSERK
 starring Nick Cannon,Â
UNTOGETHER
 starring Jamie Doran, Jemima Kirke, Ben Mendelsohn, Alice Eve and Billy Crystal. Other Freestyle titles include the action-comedyÂ
BETTER START RUNNING
 starring Academy Award-winner Jeremy Irons and Maria Bello,Â
THE BACHELORS
 starring Academy Award-winner J.K. Simmons, Julie Delpy and Odeya Rush, the award-winning documentaryÂ
HONDROS
 produced by Jamie Lee Curtis and Jake Gyllenhaal, horror documentaryÂ
DEMON HOUSE
 starring Zak Bagans, host of Travel Channel's highest rated show Ghost Adventures, sci-fi thrillerÂ
THE RECALL
 starring Wesley Snipes,Â
MILES
 starring Molly Shannon and Paul Reiser.
For more information, visit:
www.allenmedia.tv
www.freestyledigitalmedia.tv