To celebrate the latest in the comedy-horror-disaster film franchise, UK distributor Tribal Films has partnered with Northern Monk Brew Co. to produce a limited edition Sharknado themed beer, with unique flavour and packaging.
The special "Sharks Blood and Sea Salt IPA", made with blood orange, is available across the UK and Europe.
Northern Monk, homed in a Grade II listed mill in Leeds, is known to produce seasonal and limited edition drinks and currently brews 20,000 pints of beer each week.
The iconic film franchise, produced by US company The Asylum, recently announced that the upcoming Sharknado 6 will mark the end of the popular series.
Neil Ouzman, CEO of Tribal Films said, "We are very excited to be partnered with Northern Monk for Sharknado 5 and we wanted something original and eye catching to help amplify the film on DVD. Not many brands would have the imagination and sense of fun to brew this up but Northern Monk has set a benchmark, and the beer tastes amazing."
Russell Bisset, Managing Director of Northern Monk said, "We're all huge Sharknado heads at Northern Monk so when the opportunity to work with them presented itself, we threw aside our usual product categories and dove deep into the Sharknado world. We wanted to create a beer that was as left field as the films are. With this in mind we brewed a blood orange and sea salt IPA which has a totally unique taste and distinct blood reddish hue."
In Sharknado 5, with much of North America lying in ruins, the rest of the world braces for the inevitable: a global sharknado. From London to Asia, South Africa to Mexico, Fin and his family must put a stop to the sharknados once and for all.
Marking the latest in this epically entertaining film series, Sharknado 5: Global Swarming stars Tara Reid (American Pie), Ian Ziering (Beverley Hills, 90210), Cassie Scerbo (Make It or Break It), Masiela Lusha (George Lopez), Cody Linley (Hannah Montana, Dancing with the Stars), Chris Kattan (Saturday Night Live) and features a whole host of celebrity cameos.
So grab your chainsaw, shark helmet, ice skate or anything you can get your hands on to save the world from "a tsunami of shark-filled terror".
And don't forget to order your Sharks Blood and Sea Salt IPA before it's gone!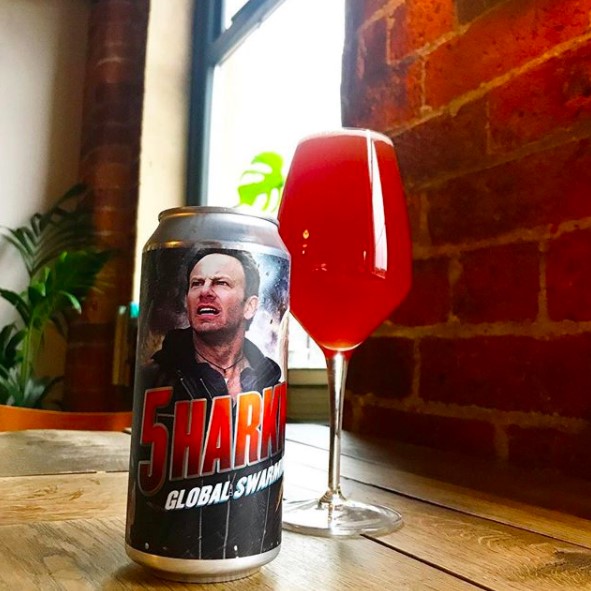 Sharknado 5 is out now on DVD exclusively in ASDA
For more information on Northern Monk, click here www.northernmonkbrewco.com