Chilean martial arts dynamo turned action star Marko Zaror has been hard at work for the last 20 years blazing a path unique unto himself, treading where no Latino performer has tread on screen before, in terms of martial arts physicality and creating for himself a career that completely showcases every aspect of his persona, philosophy, and talent as an athlete in ways only he can translate to audiences around the world. He's finally found his breakout role as a heavy in this year's smash hit John Wick 4, but much more interestingly he also stars and co-created his best work yet, the meditative martial arts quest film Fist of the Condor, written and directed by his most frequent collaborator Ernesto Diaz Espinoza, which is out now from Well Go USA and Hi-Yah!
Â
For my previous interviews with Zaror, please check out my overview interview with him HERE, and another interview with him where we discuss the next leg of his career, culminating in his film Redeemer HERE, and finally, with my on-set visit interview with him on the set of Jesse Johnson's Savage Dog HERE.
I'm glad to see that you've been busy and it seems like you're all over the place right now.
Â
Thank you, man. I appreciate it. Same thing: Work hard, training, nothing has changed.
This week, all over the trades and blogs I see everyone's talking about Diablo, the new one that teams you with Scott Adkins again, directed by Ernesto Diaz Espinoza, your friend and most frequent collaborator. I'm glad to see that you're taking Scott to Chile this time!
Â
Yeah, man. That's gonna be fun. We're gonna have some fun. We've got a big one to do. I really want to surprise the fans with this one. I really want to make something powerful.
Well, you're good at that! The last time we spoke was on the set of Savage Dog, so I want to try to catch everybody up to what you've done since then. I remember the first or second time we did an interview before you did Redeemer or right after it, you'd mentioned a movie called Green Ghost and the Masters of the Stone, which finally got released last year in some theaters. I caught it in a theater, and I liked it. It was a cool little movie. It was a neat family film that had some interesting things going on in it.
Â
Yeah, that was a movie we did a long time ago, but it took a very long time in post, so it got a little lost. It finally came out. The Green Ghost movie was the reason why, during quarantine, I got back to Los Angeles to premier it at the Latino film festival. That's when I sent my trailer of Fist of the Condor to JJ Perry, and then it got to Chad Stahelski for John Wick. The Green Ghost movie took me out of Chile after quarantine. That movie was pretty awesome. Back in the day I remember receiving this email from Charlie Clark, the writer and the star of that movie, and he wanted me to be the villain of the movie. They also wanted me to direct the action scenes, and I said, "Okay, look, if you want me to do that, I need this, this, this, and that." They agreed on that, and we were flying down to Austin. With Ernesto, we did the previz fights, and we ended up shooting all the fight scenes, and I was kind of the fight director on that one. I put them together, and did the editing, and I was lucky that the director trusted me on that to do my work and was able to do these cool fight scenes because they were able to give us the time to shoot them the way we wanted. Sometimes it's really hard when you come from the outside, when it's not your movie, to try to tell them they need to do it this way. I'm happy with the movie. It turned out pretty cool. It's a fun family movie. It was a fun project.
I remember when you were doing Savage Dog, it seemed like you were going back and forth to the set of From Dusk Till Dawn, the TV series. I thought that show was really good, and it solidified your relationship with Robert Rodriguez, who was the producer of the show. Say something about working on that show, which, I suppose, led you do getting on board Alita: Battle Angel. Your part in that movie was small, but so what? You got to be in this huge cool movie.
Yeah. Robert is always an inspiration for me to work with him. I don't care what it is. I'm just in. He was a big inspiration for us when we were starting our careers as filmmakers, to just get out there and shoot. That's how I started my career, me and Ernesto. Ernesto was a big fan of Robert since he was a kid. Working with Robert is the best. Watching him and learning from him on set. It's crazy. From Dusk Till Dawn was an amazing experience because he was producing on it. It was his show, but he was not directing the show, it was different directors for every episode. He let me do a previz of my fight scenes and be in charge of my fight scenes. That was fun. I was so happy that he let me do that. One of the episodes, he came in, and we did it together. He directed one with me, and it was amazing. Working with him has always been amazing. For Alita, we did a nice scene, and he had me on there in this role for a character named Ajakutty, who was supposed to be a close friend of Alita. They cut out a lot of the movie because it was really long, and a lot of stuff we shot didn't make it into the movie. A lot of side stories, you know how it is. A lot of big studios cut a lot of stuff out to trim the cut to make it flow better, but unfortunately, my scenes didn't make it. My scenes were part of that world that they decided to cut back on. But it was fun to work there, to be on that set of that massive production, it was crazy. It was amazing. I'm looking forward to seeing what will happen with Alita 2. Maybe I can be back. I don't have any news for that.
I'm trying to remember your character. I remember you were in the bar scenes with Jeff Fahey and all those weird looking bounty killer people. Did you have prosthetics or funky dots for CGI enhancement?
Â
No, no. My character was a regular guy. I was one of the stars of the roller ball. I was part of that world. There were scenes where they were fixing me and she was playing with other players, that whole world, but they just cut all that out. I had a fight scene with her in the bar. All that got cut out. It's part of the industry.
There's something else you did with Robert Rodriguez, a film called 100 Years. What the heck is this? I've been really interested but confused by it.
Â
That was a commercial. Remy Martin, the liquor. Cognac. It was a strategy of marketing. This movie was supposed to be put in this box that is going to be ready in 100 years, like the process of the cognac. It was pretty fun to work with John Malkovich and Robert again. I didn't care. It was fun. (Laughing.)
Oh, I see. Did people get to see this? I haven't seen it.
Â
No, it's just a trailer. It repeats in different time frames. I think you can see it on the Remy Martin page or something. Or YouTube.
We don't have to talk about this movie too much if you don't want to, but I thought I'd bring it up. Invincible, the film you did in Thailand with Johnny Strong. You played a character who's sort of a Universal Soldier kind of a guy, a killing machine soldier resurrected from the dead. Would you like to say anything about that one?
Â
No, yeah. That was a cool experience to work in Thailand. It is what it is. It was a fun movie to do. I loved the team in Thailand. I would love to do a project there again.
John Wick 4 is all over the place in the public consciousness right now; it blew up and certainly has put you on the map on everyone's radar. You belonged in that movie. Scott Adkins also belonged in that movie, even though he isn't easy to recognize. I'm sure all of your interviewers this week and forever after are going to want to talk about this movie with you, but these Wick movies have really powerful pedigrees, each one of them. The first one had Daniel Bernhardt, the third one had Mark Dacascos and the guys from The Raid, and this fourth one has Donnie Yen, you and Scott. When you shoot pool with someone, you've got to shoot pool with someone who's as good as you, same as poker, fighting, or chess, and these movies certainly keep everyone sharp.
Â
Of course. Working with Chad and Keanu, an honor, man. Passionate and so good at what they do. They're really changing the game. They're opening doors for all of us. They're showing the industry how this genre should be done. This is it. Nobody can say something different. Chad's vision as a stunt man and martial artist and a director comes from a place where … that's why the movies are doing what they're doing. That's why the fans are reacting. Me, as a fan, to see them work, and being there and learning how they put things together in this massive production … you just have to smile and enjoy it. I know that I've been working my whole life to be on that set. This is what I've been training my whole life for. I was so excited to be there, and yeah, there's a lot of pressure to be your best because everybody there is the best at what they do. Everybody. You're on a set where everyone is so good at what they do that you need to make sure that you've delivered your 200%. For me, it was pure joy to there. To see Keanu work, his passion and how humble he is. How human he is. Chad is like a big kid making movies making what he loves. And then you forget how good he is. He's just such a cool guy. He's an amazing martial artist. The vision he has is just on another level. You see a kid having fun, and that's the most beautiful thing.
When you look at a script for Wick 4, I would imagine there's not much on the paper as concerning your character. What kind of notes were you given, and what kinds of concerns did you have going into that? Were you given feedback on performance?
Â
Yeah, well I worked with Ernesto, and he helped me develop the character. The character grew up a lot from the script. Actually, my character didn't have a lot of action. My character was more like you saw in that first scene, coming into the lobby of the hotel and challenging Hiro, and all that business was my character. I didn't get my hands dirty because I had this army of guys, right? But then Chad started adding me into the action scenes. "Marko, no, I rather you go after him. I rather you go in." Man, I was like, dreaming. I was in heaven. I was ready. We shot that first scene at the hotel and that was about the point where we discovered my character. I had a few proposals to Chad, I wanted to throw that little bit of Spanish, a little bit Latino kind of flavor that was not in the script. In the script, I was a French guy like the Marquis. So, I think Chad really engaged with it, and he let me play. He gave me the time to play and to discover the character. We tried a few things, and it was a fun process.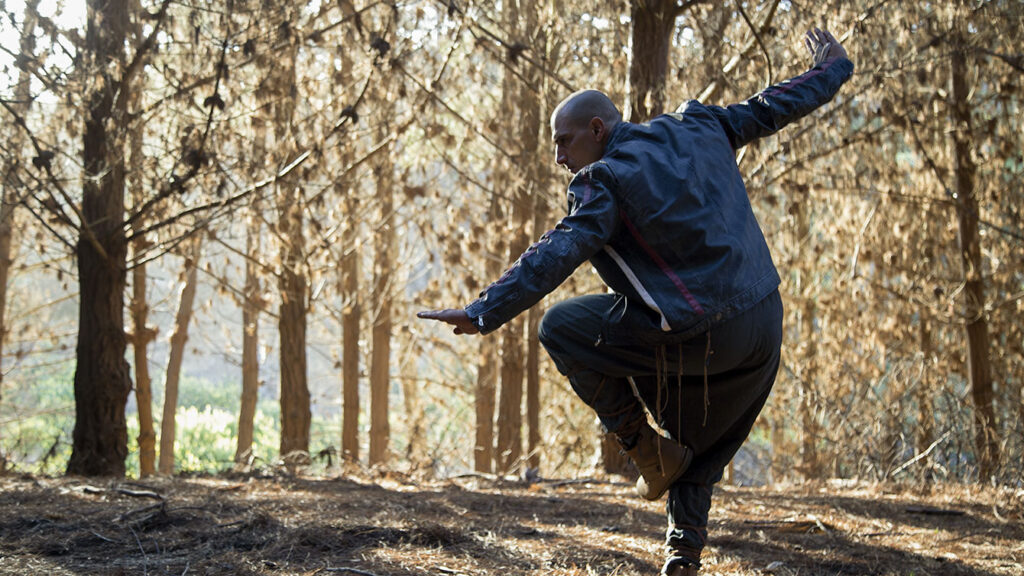 So, Fist of the Condor: I went to see it at the Alamo Drafthouse when it came out for a day or two, and I felt really lucky that I got to see it in a theater. Dude, this movie was really, really good. I'm not so much interested in the fight scenes as I am in the mythology that you guys created for this movie. The mythology was really interesting and cool; you guys created an obscure South American, Aztec-ian, some kind of mythos … it felt like an Alejandro Jodorowsky comic book.
Â
Wow!
That's what it felt like.
Â
Wow, that's cool, man. Actually, we are throwing some lines from a comic book. We love that. Look, man. This movie came out in such a special way. When we were in lockdown during COVID and thought that the end of the world was coming, we kind of did this movie from the honest place of just expressing ourselves as filmmakers, as martial artists, to write a love letter to the genre and to all the people that inspired us. All the influence and the reference … we put it all together, knowing that this could be the last time we could do this, our last movie because we didn't know what was going to happen. For us, we didn't hold back on anything on how we wanted to express ourselves. We just wanted to shoot it and try to put it out there. When things opened again, then we tried to find a distributor, and I got the John Wick thing, this huge thing, so it helped us redirect Fist of the Condor into a movie. And then into the business of a movie. We did this with no expectations, just wanting to express this love to the genre. This movie means my journey as a martial artist through Latin America. From Latin America. How a Latino can live with this influence. You know what I'm saying? How you do your own version of your kung fu movie, with your culture, with your mythology, with your music, with your stories, and we created this Fist of the Condor as a kind of book, right? A book that possesses all that knowledge, and it's based on my knowledge as a martial artist, as a nutritionist, all my research through my years through my journey as I've become better as a human being, not just as a fighter. You know? So, Ernesto found a very creative way to tell this story through this book and to tell it in this way. I love it. It's beautiful. I want to keep doing more.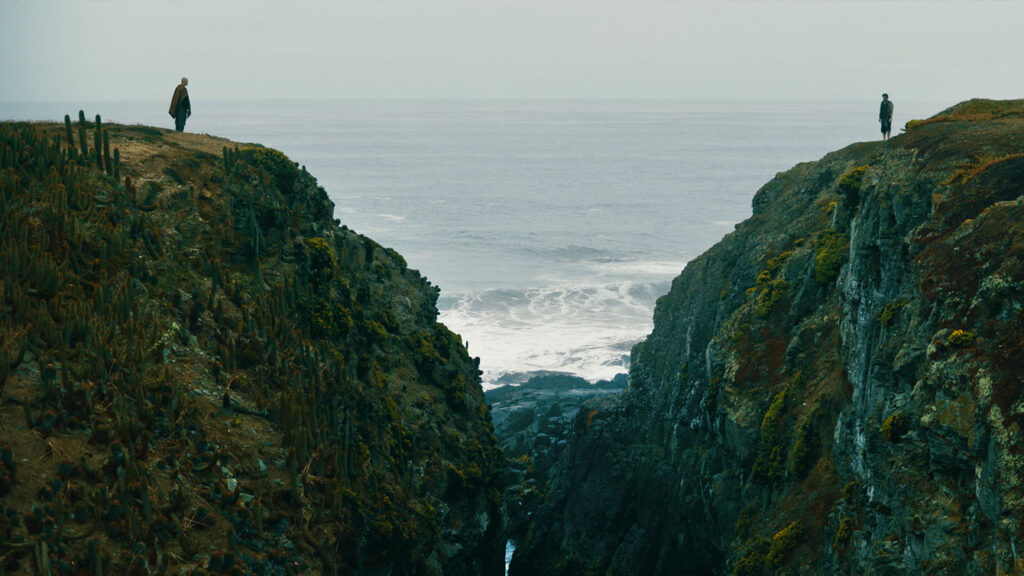 Well, you have to because that's the most frustrating aspect of the movie is that there's no ending. At the end of the movie I sensed that you guys had no idea how you were going to get your character to fight his twin brother. It felt like you guys stopped because it would be too much of a challenge at the level you guys made it to try to figure that out. I had no idea it was a part one. If you guys don't end up shooting a sequel, there needs to be a graphic novel or something to wrap it up. That's the thing with Marko and Ernesto: You guys are creating something brand new that nobody's ever seen before, stuff like Kiltro and Mirage Man. These are very unique movies that are tailor made for you. But they're also expressing something that's never been expressed before on film, and I'm a guy who's seen everything. I've never seen these movies before.
Â
That's cool.
Fist of the Condor was so different, so unique, and yet it does have the Shaolin, Shaw Brothers style, but it's quite unlike anything else I've seen. As soon as I saw it, I was texting my friends that it was like El Topo and The Holy Mountain with martial arts.
Â
(Laughing.) Man, I really appreciate it. I love it, I love it! It's all about Well Go USA, and Hi-Yah, and the fans to support the movie. If it does well, there will be a part 2 for sure. We didn't create this as a movie. We created this world as a story. We were just shooting. That's why it's broken up into episodes. We didn't know how far we could go, you see? That was part of the journey. When we put it into a movie, that was part of the journey. Now we want to continue some more. Our goal is to see who will be the real brother, the real warrior of the fist of the condor. Then we will follow that path as part of the journey. You have all these people around the world who want this book. Basically, this book came out as notes as our life journey, me and Ernesto. As martial artists, we pick up all this philosophy, you know, how you see life, and what helped me as a human being to become a better person. So, the martial arts philosophy, the samurai philosophy, it's all kind of mixed for me as a Latino guy who gets into this journey as a martial artist. There's all these notes, and the nutrition is because I study nutrition a lot, and I've done my own experiments. I've taken a lot of voltage and energy and emotion, it's what I've studied in my journey that I apply in my day to day life. Basically, all that you hear in that movie is what I've applied in different stages in my own journey, my life. The same thing with the wooden dummy. I created that wooden dummy as a need because I didn't feel comfortable with the classic style – I've done boxing, I've done MMA, so I needed the high attacks, and those high blocks. All those changes that started from this original, the classic ways that you've seen, I adapted into my own way. That was the process of the Fist of the Condor.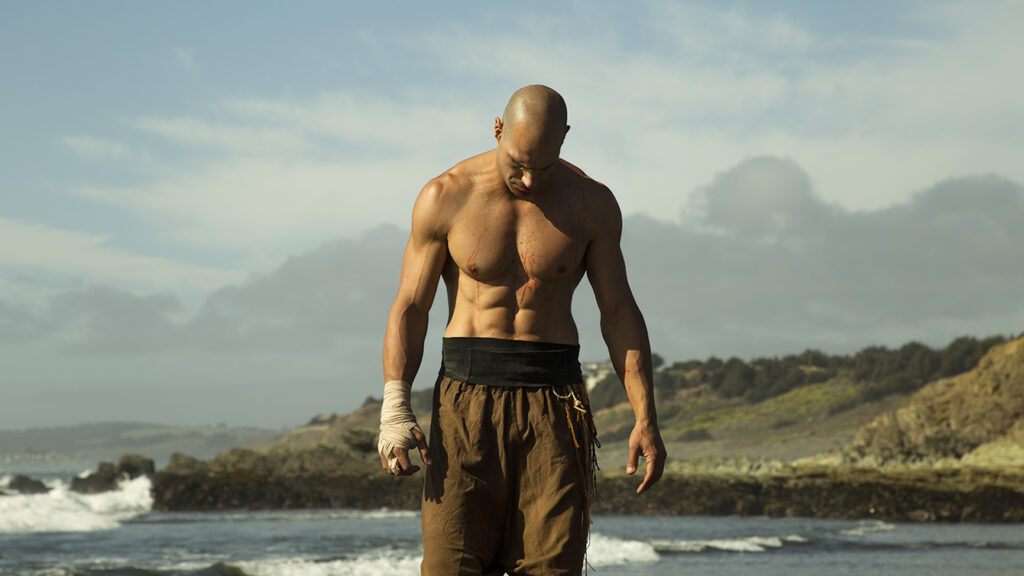 I was just thinking, and not to bring race or ethnicity into this, but you talking about yourself as a Latino guy, there's a rich culture that you're drawing from that I don't even know if you can tap into even a little bit of it because it's so vast, just hundreds or thousands of years of culture dating back to the Mayans or the Aztecs behind you. I grew up with guys like Michael Dudikoff or Chuck Norris, these cool white guys who step into someone else's culture and put a ninja suit on. That's why this movie in particular – Fist of the Condor – I felt like you were touching something that belonged to you. This is mine. It's only yours. That's what made that movie really special. You were holding something – you touched it. It was electric. It really felt that you really belonged right there in that story. Nobody else on earth could touch it but you.
Â
Man, it's really beautiful that you say that because that was my main objective for Fist of the Condor. To stay honest to who I am as a martial artist. Without any labels, without any … No. It was my journey since a kid. I had all these influences from Asia, I saw all the Bruce Lee movies, Jackie Chan movies, and I got inspired through that, and I've learned some Asian philosophy, but then I also did other stuff. I did boxing, I did MMA, I did acrobatics, Tae Kwon Do, and then animal flow, mobility, free movement, how I can express myself honestly with all those elements and put that in front of a camera. How do I do all that without any holds back? How do I do it without being judged for doing the wrong thing? Who cares? My only commitment was to stay true and honest with who I am as a person, you see? That was the main objective for this movie, and by the end, Ernesto also got it. He did the same thing from his seat as a director and writer. Yeah, man.
That's 100% how I feel about it as well, and that's why this is your best movie. It's your most personal, and I loved it. I've seen them all, going as far back as Hard as Nails!
Â
(Laughing.)
Here's hoping that it's a success and I hope you do another one.
Â
It's all about you guys. You have the power to do that. Thanks for everything and for the support. I'm training hard to continue the story of Fist of the Condor, and I promise you that it will be amazing.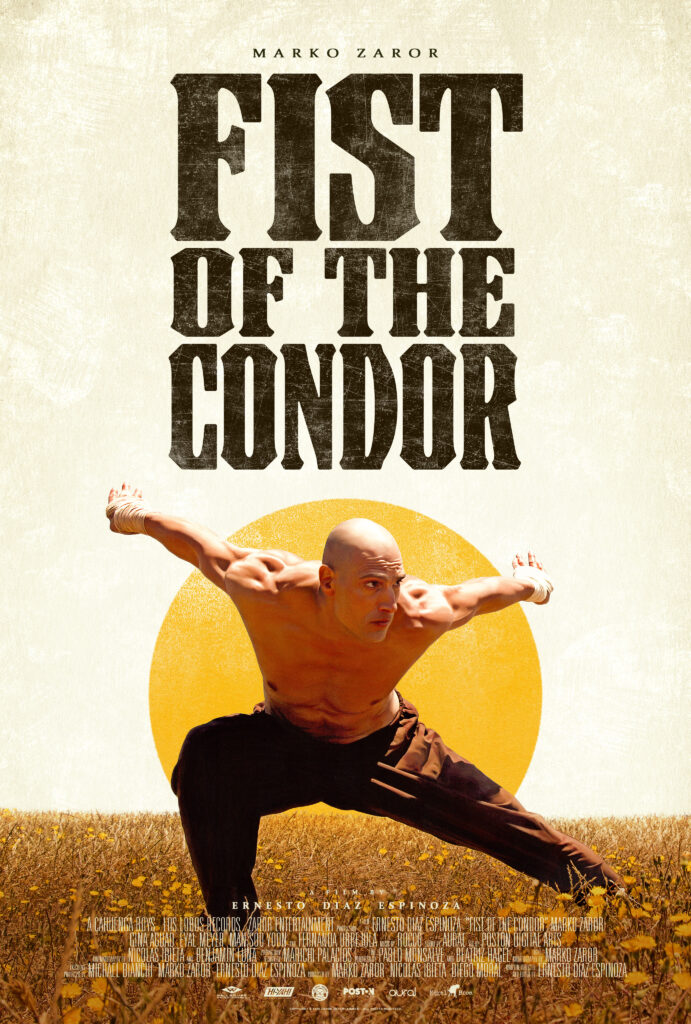 Â
Â