Mike Cochnar's Addicted to You, the Best Comedy Feature winner at the April 2019 Los Angeles Film Awards, is now available on DVD and Digital from Leomark Studios.
Buzzstory producer Luke Peters, even though he would prefer a hassle-free life, becomes sexually involved with work colleague Aimee. Evidently no one has ever told Luke that he shouldn't dip his quill in the company ink.
Recognising that his job could be on the line, something he should have thought about before sleeping with Aimee, Luke devises a plan to present himself as a recovering sex addict. Luke unforeseeably stumbles into uncharted territory when he executes his plan.
Unbeknownst to Luke, something that had been kept away from the workplace, his boss is a sex addict. Luke, after Mr Adams reveals he's a sex addict, is invited to a sex addict meeting. At his first meeting, something Mr Adams had pressured Luke into attending, we find the lead character coming face-to-face with Kara. Could Kara be the woman for Luke?
We spoke to Mike for the release.
Â
When did you know you had the ability to write a comedy?
Comedy is a very hard thing to write. It came with time. I, along with my co writers, Choni Francis and Steev J Brown, all started with writing sketch comedy. It is short form and allows you to engage in a very structured format with immediate feedback. This trained me to take the same method of dialogue and character development into a full script. When you think about it, each scene is sort of its own mini script. Each scene has a beginning, middle, and end. So, I've always loved comedy and writing a comedic script was always in the cards. But it did take multiple joke rewrites and punch ups to get it exactly right. Now, I'm on a roll. I've written 5 comedic screenplays in the last 4 years.
Â
I imagine it's hard to write laughs? Or do many of the funniest moments in a comedy come together on the day?
There are some things that are just funny. Set up and punch line type of things. With those, you can easily swap out your punch line for the best one. That's where Choni and I would go back and forth with every single joke in the written script and discuss whether it would land or not. There were 187 planned jokes or bits that we wrote. I actually have a spreadsheet. That's either nerdy or very detailed. 🙂 But there was always an understanding that we would allow the actors to improvise. My general approach to directing them was, "do it as it's written first, then have fun with it." It allowed for some obnoxious material in the end. Everything that happens when Cat Alter and Shane Hartline have their late night hook up is improvised. Sometimes it's just better to let them play and let those moments organically manifest themselves.
Â
How important is the casting though with a movie like this?
The casting is key. We wrote the script with a few of the actors in mind. Cat Alter was always going to be Aimee. Garrett Mendez and Choni Francis were always going to be David and Jackson. Those parts were the glue that kept the movie together. And even though we knew a lot of the actors, we lucked out when it came to bringing on Shane Hartline and Melissa Paulo.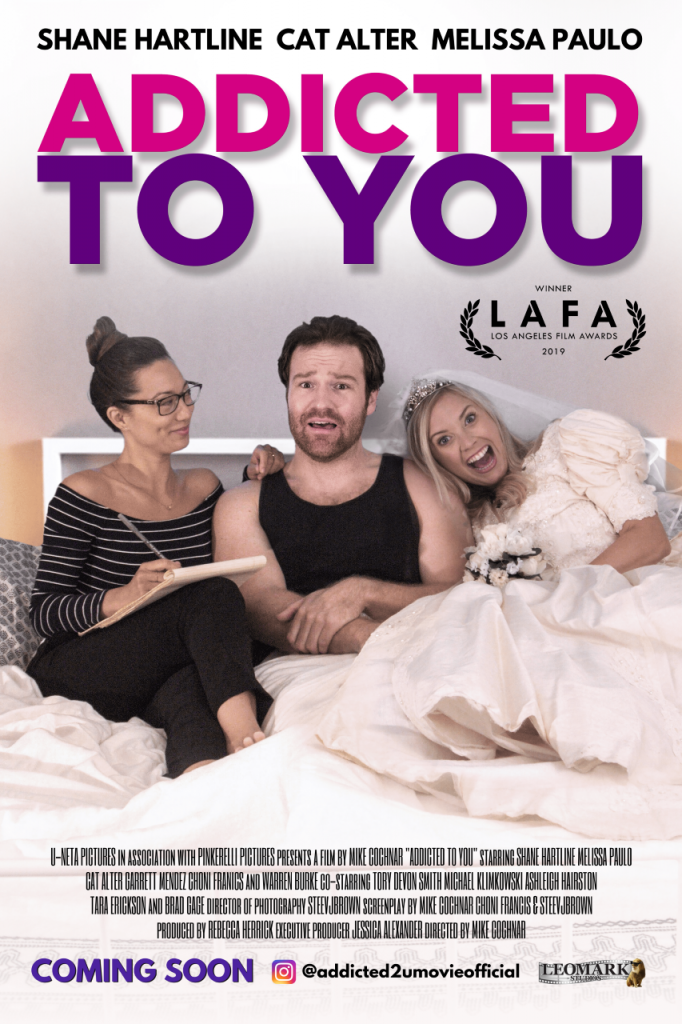 Are you a romantic at heart?
Totally. I blame that on all of the Adam Sandler and Drew Barrymore movies.
Â
Have to ask then, how similar are you to our lead are you? Anything personal in there?
I think subconsciously there are absolutely parts of me in a lot of the characters. Especially when I've written them from scratch. But with the main character, it comes out more in dialogue and emotion, less with the situation he is in. There are some of those moments of vulnerability that Luke shows when he's falling in love that I feel were plucked from my personal life.
Â
Tell us about the film's journey - has it taken long for it to reach audiences?
The journey of this film began in 2016. It was sort of a slow snowball effect. We got serious about it by Fall of 2016 when we brought on Rebecca Herrick to produce it with us. We did a few test shoots in the Spring of 2017 and were filming by Fall of 2017. It took an entire year to edit because we were doing it in our free time. There were a lot of long nights when I'd get home from my other job, spend a few hours with my kids, and jump to the edit room for another 4+ hours. Once we had it done we entered it into festivals in 2019. Then we connected with Leomark Studios to distribute the movie. We could have released the film in 2019, but waited for Valentine's Day 2020. It's been a journey for sure. I can't wait to jump into the next one!
Â
Buy the DVD from the official store and get 20% with the coupon code IamAddicted!