From her breakout work in Legends of the Fall (1994) opposite Brad Pitt and Anthony Hopkins to playing Guinevere in Jerry Zucker's integral King Arthur epic First Knight (1995), and then opposite Harrison Ford in Sydney Pollack's lovely remake of the classic Sabrina (1995), actress Julia Ormond segued into the lead role in Smilla's Sense of Snow (1997), which was based on a series of books by Peter Hoeg. Thereafter, Ormond appeared in a variety of films in a plethora of genres, including working with David Lynch in Inland Empire (2006), with David Fincher in The Curious Case of Benjamin Button (2008), and Jennifer Lynch's dark one-two punch films Surveillance (2008) and Chained (2012), which put Ormond in the center of darkly themed motion pictures. In 2021, she has two notable releases in the stylish and starkly moody picture Reunion (out in theaters and on demand now) where she plays a character quite unlike any other she's played before and the period piece race drama Son of the South (in theaters and on demand now), starring Lucas Till as the real-life character Bob Zellner, a Civil Rights advocate in the deep south. Ormond's career is as diverse as it has been successful, and in this exclusive interview she discusses some of her best and most notable works, including her two new films.
---
Â
You started your film career with Peter Greenaway, a very singular filmmaker whose films simply cannot be compared with any other filmmaker's work. Your first movie out of the gate was The Baby of Macon, a staggering film for a lot of different reasons. What was it like working with Greenaway so early on in your career?Â
So, Greenaway was my first film. I must have been quite irritating as an actor because I've had directors tell me that I have to fight being camera shy. I don't think I'm so challenged by it now, but it was very daunting to go onto a set with Greenaway. He is a brilliant auteur. I don't know that if The Baby of Macon is his best work at all, but he very much left you alone as an actor to find your own way. I think I probably do better with direction. When you go to work with Peter Greenaway, I think you have a pretty good idea of what it's going to be like. There's an edge to it. Quite often – and it's not necessarily a good thing – people see the actors as being much higher in the hierarchy. It's not because they need to be kept happy or deserve it, but it helps to make things run smoothly. That's the hierarchy that is given up with a certain amount of resentment, and this of course depends on the actor and how they behave. That's not how it is with Peter Greenaway. Everybody is the same. I quite like that. Back then he was still making movies for under a million pounds or a million dollars or whatever it was.
Â
Shortly after working on Greenaway's smaller art-house picture, you landed Legends of the Fall and were working beside Anthony Hopkins and Brad Pitt. This launched you on a worldwide scale and put you on the map. What was that like to be working on a huge studio picture of this caliber?Â
(Laughing.) It was exciting and terrifying at the same time. When you have an opportunity like that, you know that a lot of people are going to be assessing how well it goes. There's this risk. You have somebody who hasn't had much time in front of the camera. How am I going to do this? In all honesty, we were all wonderfully ensconced in this extraordinary landscape in Native American land in Calgary. The studio was held at quite a distance. Ed Zwick, the director, had to go home at night and talk on the phone because the studio … they made very few visits to the set. We were very ensconced in the world we were making. All of the actors – whether it was Brad or Anthony Hopkins – everybody was kind of great to each other. Everybody worked very hard. There was a real pursuit of excellence and commitment around it. There was also a concern that we were all crying too much! (Laughing.) That was a big concern. That was great fun. In terms of being thrust into the limelight, I continued to work, and I didn't even get to go to the premier. I wasn't really aware of it until there was this one particular year when everything came out at once, and that's when it hit me.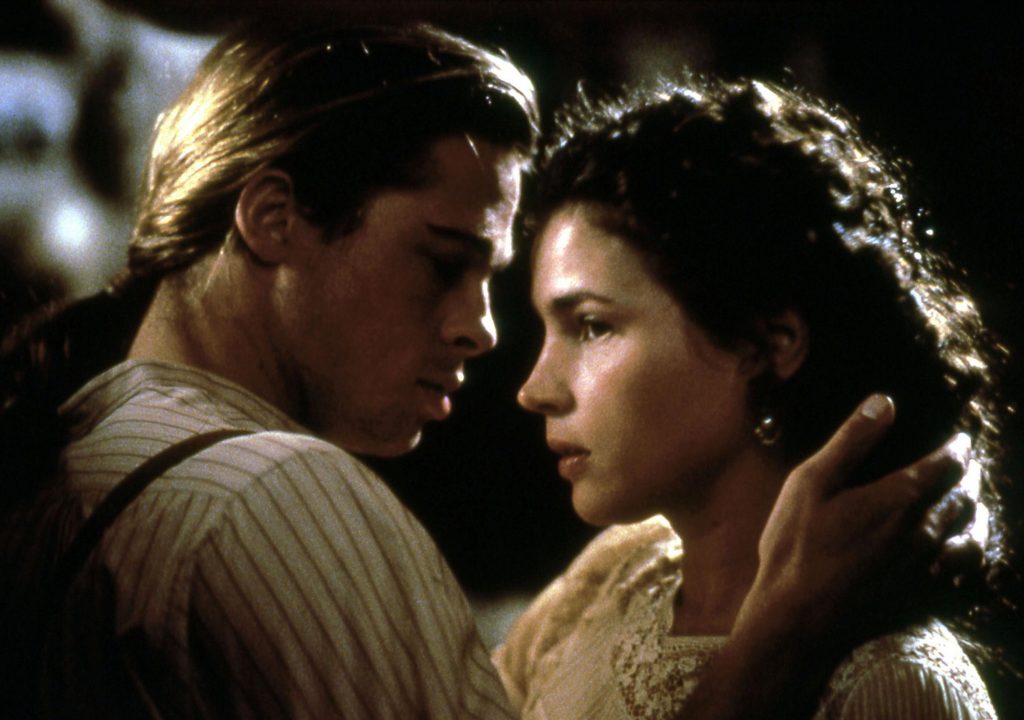 Â
Julia, I'm a huge fan of First Knight. It's one of the very best – if not the best – film to capture the essence of King Arthur and the Knights of the Round Table, and you are by far my favorite actress to play Guinevere. What was it like for you to play in such a beautiful, gorgeous playground like that at that stage of your career?
Aw, that's very sweet. I had this really extraordinary experience. It's a slightly strange history, I guess, in that my connection with acting came through art. I was very heavily influenced by my grandparents who had done a lot of painting, so it was one of the things that I grew up around. My mom came to see where we were shooting the Valley of Leoness, and Jerry Zucker, the director, and Hunt Lowry, the producer, had hunted all over Europe, and they ended up in this valley in Northern Wales. I showed it to my mom. I took her to lunch, and as we drove past it, I told her that this is where we'd be shooting the Valley of Leoness. And she gave it its proper Welsh name and said, "You know this valley well. You used to come to this valley as a kid. A lot of the paintings your grandparents did were of this place. That was such a great thing. It felt oddly familiar to me. I didn't really know why.
What was it like to play opposite the greatest actor to ever play King Arthur, the great Sean Connery?Â
Aw. I know sadly we've lost Sean recently. He and I had a great deal of fun together. He had a very silly sense of humor, which was perfect. He was just very funny. For us, at first he pulled a bit of a power dynamic on me, and I kind of pushed back a bit. I think there was a shot where he felt that I wouldn't be able to see him … but we became really good friends. I really loved him. To me, at the time, there was just this thing where there was this bond that broke this notion that he as an actor … and it sounds so silly to say it now … I remember seeing him die and be killed in The Untouchables. It was literally shocking to me. I don't know if you can relate to that. "Oh, no! That's Sean Connery! He doesn't die!" Right? So, I remember the death scene that we had. Sean's a big guy. He's tall. He was muscular. We had to lift him up. Once he gets killed, we had to lift him up and carry him out. We had to do it over and over and over again because he kept giggling. He did not play dead well. I loved him. He was really fabulous.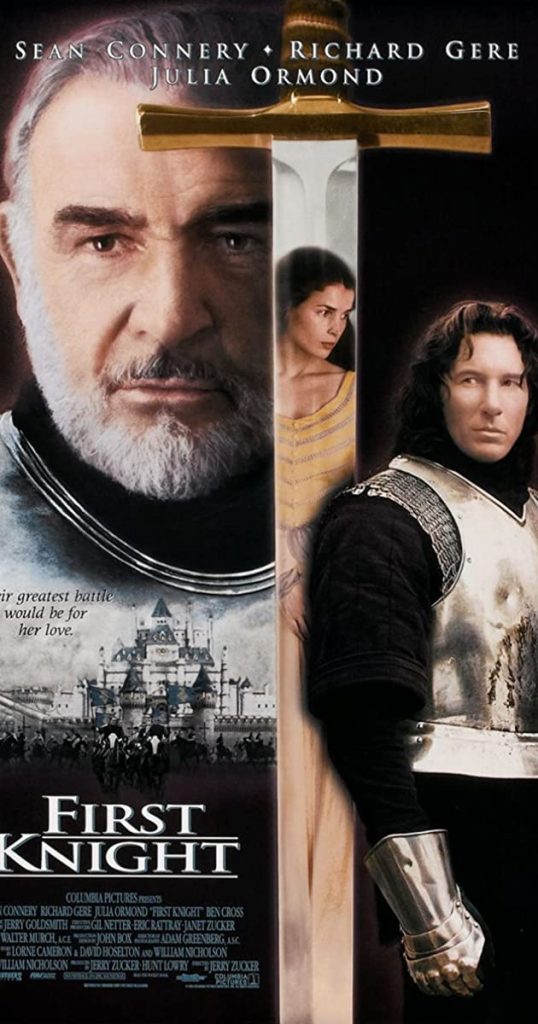 Say something about working with Richard Gere, who played Lancelot in the film.Â
We had so much fun on the movie. Richard was so generous. He would take me on the weekends to see Van Morrison play. Me and my boyfriend at the time would take him out too. We went to see Joe Coker in Dublin. We had a lot of fun externally. I sat between the two big male leads who had very different working styles. I was so lucky. I think I sometimes come across as a bit grumpy when I look back at some of the things I've said when I was younger. People sometimes tell me the things I've said, and I go, Oh, my god, did I really? If anything, I was incredibly lucky to have actors of such great weight and standing … when someone of that level treats you well, they just make it about craft. Whether it's Joan Plowright or Sean Connery or Richard Gere, you learn how to … I feel like I was given a great example of what acting is all about. It's how you make it really pleasant or make it really miserable for other people, it can be an odd profession like that. I haven't necessarily had a happy time with everybody. We had such great fun on First Knight because you've got Jerry Zucker at the helm, who did Airplane. He is quite possibly the nicest man in Hollywood. Everybody would say the same thing immediately. I have never heard anybody say anything bad about him. He is just a lovely man.
What's your favorite King Arthur movie?Â
Oooh …um. Well, I have to say, I'll be really honest. I've enjoyed all of them. There are times when I look at First Knight and I think it kind of romanticized it. When you're playing a love story, there has to be something about the euphoric era of when you're in a love relationship. It has to have a sense of buoyancy to it, a softness. I like the Monty Python version of the round table. If we're talking about enjoyment, that's my favorite. If I wanted to have a joyous time, I'd be watching Monty Python.
I've always felt that Sabrina is highly underrated, even when it was first released. It was predictably compared to the original, which was bound to happen, but the film is charming and you're quite lovely as Sabrina. Say something about working with Harrison Ford and Sydney Pollack on that film.Â
To me, Sabrina, I had the movie as a kid, and when I was offered it I think what I really like as an actor is going into different genres. There are some that are more appealing than others. I kind of feel that part of your flexibility or your range as an actor is perhaps to be in genres that are not everyone's cup of tea. What I really, really wanted to do was to do some comedy. So doing a romantic comedy and to be offered a romantic comedy with Sydney at the helm was just a gift. My agent at the time did say, You've been offered the role, and now you've got it. You did the screen test, but I want you to understand that this is a remake. In England, they redo the classics over and over again. I think I was a bit dim about it. I wanted to work with Harrison Ford and Sydney Pollack, and I didn't think that would circle back around again. In all honesty, if it was offered to me again today, I would still go do it. I learned a lot from Sydney, from both of them. I remember Harrison can be quite quiet on set, and so you need to break the ice with him. I was very lucky in that I was working on First Knight and the audition to do Sabrina came up in England, and I was working with Sean. Sean said, You must let Harrison Ford know that you've got a sense of humor. I said, Oh, God. Really? How do I do that? Thanks a lot! He said, Tell him a joke for me. You're going to tell him this joke, and he tells me this joke about yodeling. He knew that Harrison needed a bit of shaking up. I honestly feel the only reason I got it was because Sean sent me out with a joke about yodeling.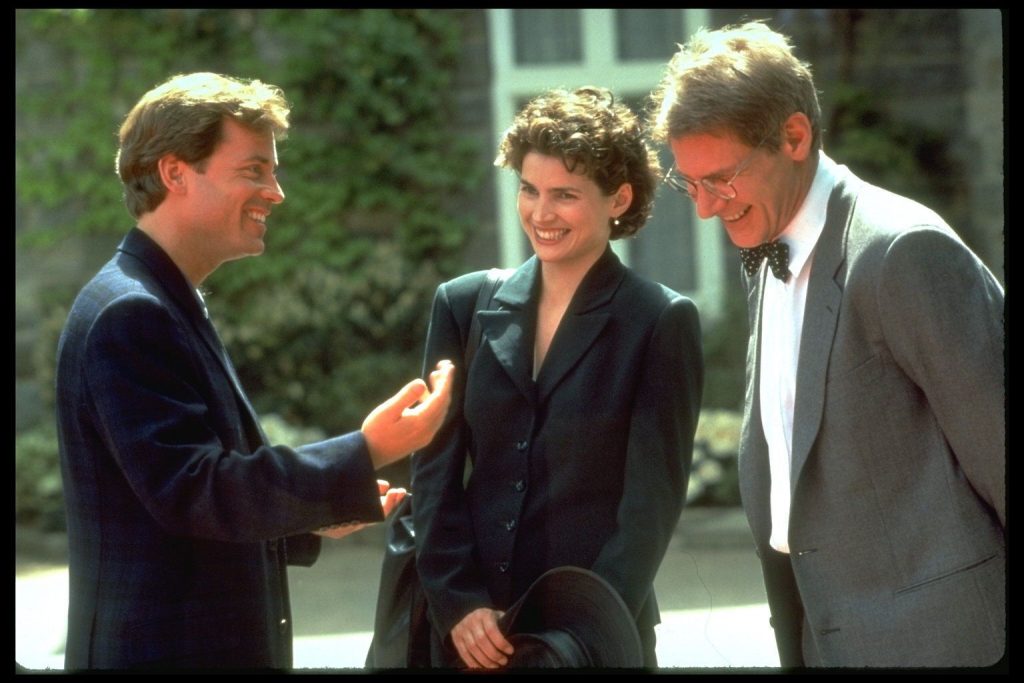 Another notable film you did was Smilla's Sense of Snow. I really feel this film is underrated, and in a way it foreshadowed The Girl With the Dragon Tattoo. I always wish there had been a sequel or something to this.Â
Smilla is amazing. I think it's one of those roles nowadays that diversity inclusion casting would end up casting somebody who is Greenlandic. I feel pretty lucky to have played that part. It was amazing to work with director Billie August. I'd been a huge fan of The Best Intentions as well as Pelle the Conqueror. I love working with kids, so the little boy who was in it was … to me, there was something very moving about Smilla. Underneath all the toughness and bravado and posturing she does to survive, there was this very vulnerable kind of abandoned child in exile, wanting to come back to her mother. People always ask me, if you've travelled around the world as an actor, where is it that you would suggest that somebody go, and I always say absolutely Greenland. It was just the most extraordinary experience. It's at the top of the world. We went in one of the prep times, they took us on a dog sled. It took us down this hill and straight onto a lake, where the ice was transparent, so it looked like we were going onto water. The ice was frozen about six inches underneath the water, and it was like some kind of extraordinary fairy tale being taken by this sled led by these extraordinary dogs across the lake while the sun set in Greenland. It was absolutely … in Greenland, there are more dogs than people, and the feeling of the dryness of the air. People would do their washing and then they would hang it on the line outside. How do the clothes not freeze stiff? The clothes would dry incredibly quickly.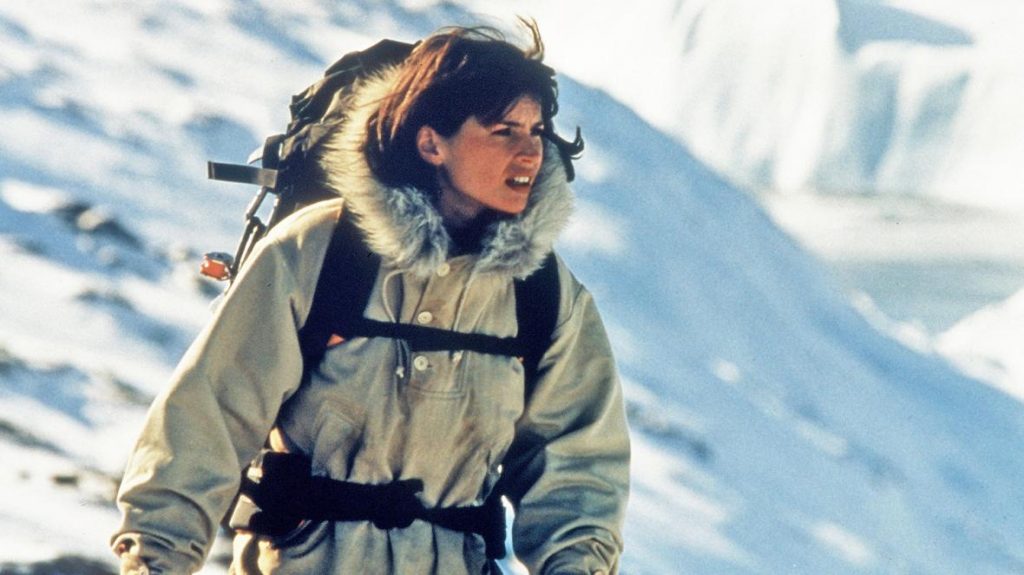 You worked with David Lynch on a pretty innovative film called Inland Empire. What was it like working with him?Â
He's a painter, he's an artist, he's very, very different. I have to say I had a soft spot for David Lynch. He had kind of an elegant, old school charm to him. He's also got this fantastic modern edge to him, which is such a cookie mix. He was pretty groundbreaking in terms of how he was shooting it on video. He was shooting this on video over a long period of time. But I missed not having an anchoring, and knowing more about my character. I don't think I necessarily produced my best work in those circumstances, but I loved working with him. I loved the experimental aspects of it, and I trusted that he had the artistic ability to pull it off. And I went on to go work with his daughter Jen, which was also great. Both Peter Greenaway and David Lynch had the courage to go out and step out and see something that is a little bit different. The feeling I have with David Lynch is that he holds your hand as he takes you into this dark tale. You get the sense that he's with you, but there's something much more brutal about Peter Greenaway. Maybe that's just the difference between Englishmen and Americans. There's a cultural difference deep inside that.
You did The Curious Case of Benjamin Button with David Fincher, another very singular filmmaker. What was he like to work with?Â
Fincher was an absolute joy to work with. And brilliant. And quite a revelation to me because he gets such a bad rap for being such a hard taskmaster. I was blown away by how on point he was as an actor's director. I don't necessarily think people consider him an actor's director. But he really cleared the deck to have character-driven discussions and I think people like Fincher are hard taskmasters, but everybody knows that this would be a film that you look back on and were glad that someone put you through the paces. If you messed up, if you mess up on something that should have been practiced and rehearsed and it's something you should have gotten there before, the tension can go up a bit, but if in terms of the acting, I never felt that with him. I felt he was spectacular, and he had this ability to hold this big vision of something and had such a great grasp of it. It was all extraordinary.
You've got a supporting role in Son of the South, and it's a very timely picture. It's from producer Spike Lee and director Barry Alexander Brown, who is an Oscar winning editor. What drew you to this project, and what was it like shooting in Alabama?Â
I really liked the script, and I very much enjoyed meeting Barry. He had written a movie that wasn't a typical white hero that glamorized being a hero. It's about a white person's perspective of the south. I'd been a big fan of Spike Lee's work for a long time, and there was something about Barry that was so competent, and I like the story a lot. We actually went to work in the buildings from the true story. There's something provocative when you're actually in the actual places, where we shot in the house, the actual house was quite nearby. There is something haunting about all the things that have gone on, and I do work against traffic in slavery, and Congressman John Lewis was someone who is a very, very special person who I connected with quite early on as a Goodwill Ambassador. It was quite cool being in a film where someone was playing him as a young guy at the start of his extraordinary life.
Â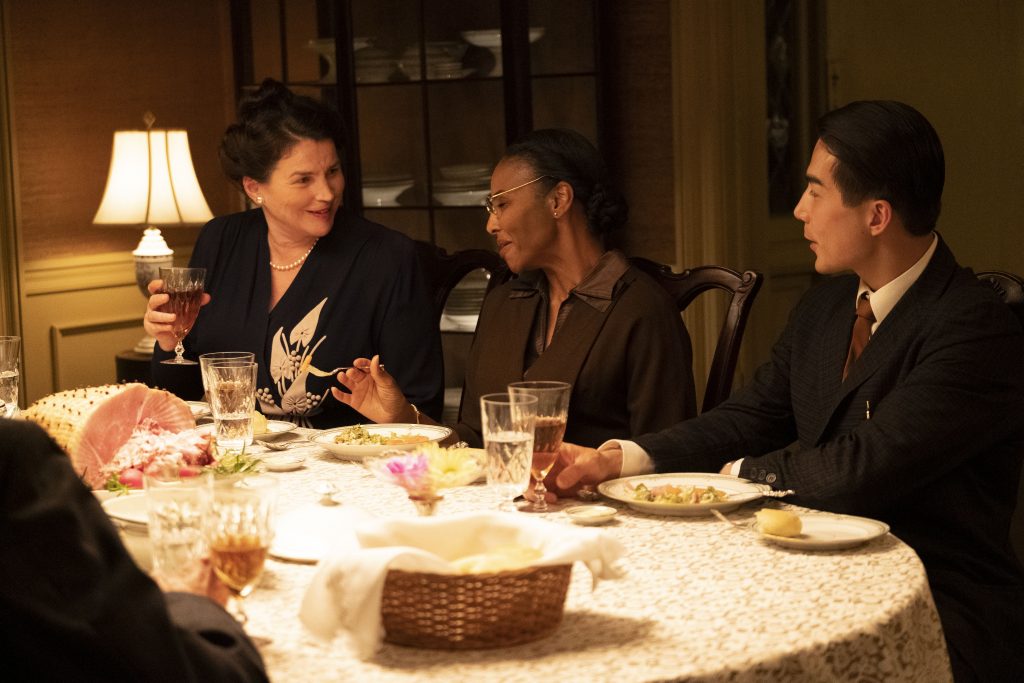 I did watch your latest film Reunion, and I'm glad I had seen some of your other films before watching this one. You did two films with David Lynch's daughter Jennifer: One was called Surveillance and another one was called Chained. These films are quite noticeably darker than say Legends of the Fall or Sabrina. These movies appeal to a different demographic. Reunion is a really emotionally harrowing journey. You're no stranger to this kind of genre. I would hesitate to even call it a genre. It's like a subgenre of cinema. It's not quite horror. It's something else. Would you say that working with Jennifer Lynch on those two films might have prepared you for working on something like Reunion?Â
Yeah! I love that you've seen such a wide variety of stuff. For me, the joy of being an actor is bringing the changes and pulling off characters that have quite a range. My understanding is that there are independent films, and there are auteurs and art directors. I would definitely say that … the first film I did was with Peter Greenaway. That was kind of, uh, being thrown in the deep end, let's say. (Laughing.) There is something slightly different about art, and Jake Mahaffy, the director of Reunion, and the team that was around him and the cinematographer, for me as an actor – whether it's an art film, whether it's a studio film – there's still a logic that the actors needs to understand that even if this part of the film isn't going to make sense for the audience until Act 5, you still have to adhere what the actor is doing, and I guess what I would say about Reunion, you are given a license in an independent movie. I don't believe that I would have been cast as Ivy if Reunion had been a studio movie, and I wouldn't have gotten to play Ivy the way I played Ivy if it had been a studio movie. That's interesting. Another thing about making art movies or independent movies, or making the sort of horror film that this is, is that one of the things that never happens in movies is you don't get to stand up and say, We had "X" number of people on our crew, we had this much time to do it, this was the budget in comparison to other movies. It was extraordinary what the crew actually pulled off. They were very loyal to Jake and his vision. He has a real passion for telling this story and how it was going to be done. I think what I would say that when playing a character like Ivy, it gets under your skin a little bit. People always say that actors always have so much fun playing characters that are cool or dark. I have to say that it got to me. I couldn't take enough baths at the end of the day to wash off whatever it was that was that woman I was playing. There was just something that went bone deep. It went marrow deep into what was going on. It was a really tough one for me. It can be quite isolating. Emma Draper, the lead in the film, was a godsend for me. She was just lovely.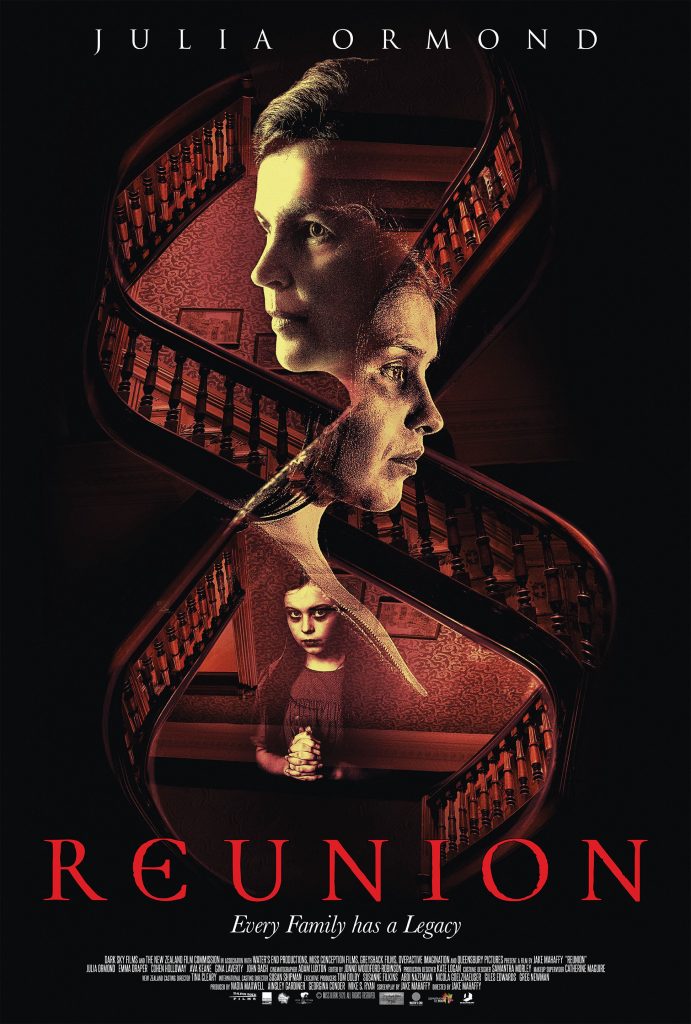 You mentioned the word joy. The word "Joy" is in my notes. Joy is important because I can feel joy in performances and in the mood and the sprightliness and loveliness of movies like Legends of the Fall or Sabrina, for example. But when I watch something like Reunion, I always wonder as actors and as creators, how do you tap into joy when you're making something that is inherently depressing? How do you find joy in a story like that when you're acting?Â
That's such a great question. I think as I've gotten older, I don't feel such a detachment to things at home and other aspects of my life. I think someone brilliant to ask that question to would be Emma herself. She was pregnant making this movie. I would've been too weirded out by it. She tapped into meditations, which I thought was so beautiful and necessary to put yourself through a process where you are creating a kind of creative and emotional boundary. And within that you can work in a safe space in a safe way. I learned a lot from Emma because there just was something about how she did it. I think if you were to go to a place … it just hollows me out, playing characters like that. It's grey. The color is grey, and it's joyless. It's other things that give me joy that I get my stability from. I think where I find a character like this, I like to joke around on set, we have these great makeup women that I like to giggle with … we just try to find this sense of fun moments on set. At some point during the process, you just end up absorbing more and more of it, and then it becomes internalized. I don't know at what point a character becomes internalized, but this character did reach a point for me so much so that even finishing it and getting on a plane and coming home, I can't shrug it off.
Julia, thank you so much for taking the time to speak with me. It was really a pleasure.
Not at all! It was nice to have an interview that carried on like this! You've looked into quite a bit, which is not always the case, so thank you! Take care!
Â
***Both Reunion and Son of the South are in select theaters and on demand now.***Â
david j. moore is the author of The Good, the Tough, and the Deadly: Action Movies and Stars and World Gone Wild: A Survivor's Guide to Post-Apocalyptic Movies.
Â