Moscow born actor, athlete and bodybuilder Alexander Nevsky is increasingly establishing himself and helping continue the fine tradition of action cinema on an international level through his abilities both in front of the camera and behind the scenes. Also a writer and producer in several of his films, Nevsky has both been featured in and produced over 10 projects, a handful of which he has also written. His latest to reach US audiences, Maximum Impact, was directed by Andrzej Bartkowiak, action veteran of several recognizable films including Exit Wounds and Street Fighter: The Legend of Chun-Li. Maximum Impact includes the talents of such names as Eric Roberts, Kelly Hu, Mark Dacascos and Tom Arnold. Alexander once again provides his valuable time in discussing the film with The Movie Elite in this interview.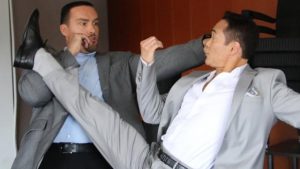 Your most recent feature, Maximum Impact, puts you with veteran action director Andrzej Bartkowiak, known for such films as Exit Wounds and Doom. Were you familiar with his work prior to this, and did you have an idea of what to expect from his directing style?
Hi Nathan! First of all, thank you for the nice review, I'm glad you liked Maximum Impact! And thanks to Movie Elite for all the support! Regarding Andrzej  Bartkowiak: yes, I liked his films and I knew him personally since 2010 (Andrzej offered me a part in his project with Scott Adkins at the time but this film was never made unfortunately). Maximum Impact was the first independent film for Bartkowiak because before he always worked with the big studios. I think he did a pretty good job.
Your character works alongside Kelly Hu in a Russia-US partnership, not unlike your partnership with Casper Van Dien in Showdown in Manila. What were the key differences between them? What did Kelly Hu bring to the table this time around as opposed to Van Dien?
Casper is a friend and it was a huge fun to work with him on Showdown in Manila! Kelly Hu is a professional, I think our characters in Maximum Impact has some kind of chemistry (and mutual respect for sure). She was good in martial arts scenes too. And I did cut her hair in a movie which I couldn't do to Casper 😉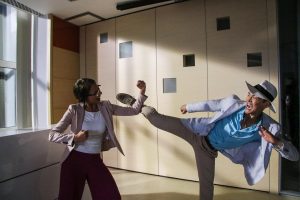 Mark Dacascos takes on a very different role as a villain in Maximum Impact, something he also did in Hawaii Five-0 but not with nearly the amount of humor. How much creative input did either of you have during filming, building up to your eventual onscreen clash? How much preparation did it take for you to choreograph your scenes together? Do you learn a lot from guys like Dacascos, who have been veterans for so long?
Mark Dacascos is a good actor and he showed it in Maximum Impact. He can do comedy, especially when he has a nice material in his hands. Maximum Impact was written by great Ross LaManna (creator of Rush Hour franchise). James Lew was our fight choreographer and we rehearsed all the martial scenes a lot. Sometimes we were shooting one fight for several days but no more than that because it's an independent film and you have to think about staying on budget all the time. I produced many movies already so I know what I'm talking about.
Maximum Impact, like several of Bartkowiak's other films, is loaded with humor and gag characters, such as Tom Arnold and Alphonso McAuley. Were they bringing that same energy to things behind the scenes? Any interesting stories?
Yes, Tom and Alphonso were very funny and full of great energy on and off camera! But my friend Matthias Hues was super funny too and you can't expect it from such an action icon! He had strange clothes and hats in Maximum Impact, did British accent and was improvising all the time.
Maximum Impact, like Black Rose and Showdown in Manila, carries a storyline about groups in the US and Russia working together, this time to prevent an international incident. How much input do you have in getting to insist upon this theme, and are you pleased with the results?
I'm pleased with the results. And yes, I did have an input because I created a story for Maximum Impact. It is a very timely movie suddenly. It's an action comedy but an idea about Russians and Americans working together, not fighting each other, is very important now. We really don't need another Cold War, I said it before many times in mass media (in Russia and in the U.S.). I just hope that Hollywood also stops to portrait Russians as bad guys in almost every movie.
Being a slightly different kind of movie for you in its tone, what differences were there in how you had to approach this film? What kinds of adjustments were made?
I had to study acting more and I'd like to thank my teacher Natalija Nogulich, she is a great actress and director. I never did comedy before so I hired a lot of nice and experienced actors from Hollywood and Russia (I think I never had SO MANY co-stars in the film). I hired a huge writer to write the script and I signed studio director to make a movie. Maximum Impact is my biggest project to date for sure!
What were you most looking forward to when filming Maximum Impact? Any new ideas or opportunities to play off the other cast members?
I really wanted to work with director Bartkowiak and to try action comedy. And it was great to shoot a film with so many great actors. Don't get me wrong, I got a chance to work with many of my action idols in Showdown in Manila but I never worked with Eric Roberts, William Baldwin, Danny Trejo, Tom Arnold and Kelly Hu. But I was really happy to have Matthias Hues in it again, it's our third movie together and I'm sure we'll make many more!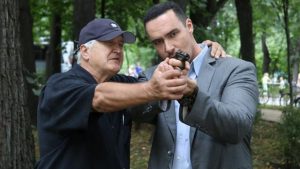 What do you hope people take away from Maximum Impact, now that it has been released?
I hope people will be entertained! Maximum Impact is a big and fun ride, it was released pretty much everywhere already and I'm really glad that now it's available in North America in limited theaters and on Blu-Ray/ DVD/ VOD/ iTunes etc.Â
What else can we look forward to seeing from you next?
I just finished principal photography on my new film Wild League, it's historical action drama. I'm not acting in it, just producing. Co-producer is Eric Brenner (Erased), director is Art Camacho (Half Past Dead franchise). I'm going to start my next starring vehicle Savage Attack very soon.Â
Thank you once again for your time and we look forward to your next film!
Thank you very much, it was a pleasure! And your readers can always get news and updates regarding my projects on my official Instagram @realalexnevsky and Twitter @NevskyAlexandr ?